School starts at the end of this month for much of the US. This means one of three things:
1) Time to read as many books as possible! Get them in that Ripped Bodice Bingo card before vacation ends!
2) School will be back in session and your kids will be gone so now you can finally read!
3) Nothing new, but let's read a bunch of books while eating peaches and soaking up the last of the summer sun!
No matter what, the message is that you can read these new books we're excited for AND you get an exclamation point.
This post includes affiliate links.
***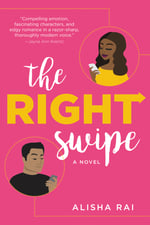 The Right Swipe, by Alisha Rai - August 6

Alisha Rai returns with a sizzling new novel, in which two rival dating app creators find themselves at odds in the boardroom but in sync in the bedroom.
Rhiannon Hunter may have revolutionized romance in the digital world, but in real life she only swipes right on her career—and the occasional hookup. The cynical dating app creator controls her love life with a few key rules:
- Nude pics are by invitation only
- If someone stands you up, block them with extreme prejudice
- Protect your heart
Only there aren't any rules to govern her attraction to her newest match, former pro-football player Samson Lima. The sexy and seemingly sweet hunk woos her one magical night... and disappears.
Rhi thought she'd buried her hurt over Samson ghosting her, until he suddenly surfaces months later, still big, still beautiful—and in league with a business rival. He says he won't fumble their second chance, but she's wary. A temporary physical partnership is one thing, but a merger of hearts? Surely that's too high a risk…
Suzanne - I really enjoyed Wicked and the Wallflower, the first in this series. This one is about the brother of the first hero and the heroine is curvier than most regency heroines, so I'm excited to read it!

Dylan - I'm a huge fan of Alisha Rai's writing and am really looking forward to this one. From what I've gathered it's a little bit of a second chance romance with sizzling chemistry, a strong, unapologetic female lead and a sweet cinnamon roll hero so I'm super excited to read this one.
Margrethe - I know almost nothing about the plot, but I do know that I love everything Rai has published. If she published a manual on how to write code for a dating app, that would also be amazing.
Ana's review recommending this book is here.
Buy a copy: Amazon, Apple Books, Barnes & Noble, Kobo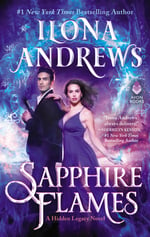 Sapphire Flames, by Ilona Andrews - August 27

From #1 New York Times bestselling author Ilona Andrew comes an enthralling new trilogy set in the Hidden Legacy world, where magic means power, and family bloodlines are the new currency of society…
In a world where magic is the key to power and wealth, Catalina Baylor is a Prime, the highest rank of magic user, and the Head of her House. Catalina has always been afraid to use her unique powers, but when her friend's mother and sister are murdered, Catalina risks her reputation and safety to unravel the mystery.
But behind the scenes powerful forces are at work, and one of them is Alessandro Sagredo, the Italian Prime who was once Catalina's teenage crush. Dangerous and unpredictable, Alessandro's true motives are unclear, but he's drawn to Catalina like a moth to a flame.
To help her friend, Catalina must test the limits of her extraordinary powers, but doing so may cost her both her House–and her heart.
Suzanne - I am so amped for this. I read the novella and it was like an appetizer. BRING ME THE MEAL.

Ana has a recommending review of this coming up!
Buy a copy: Amazon, Apple Books, Barnes & Noble, Kobo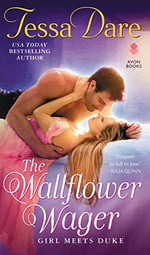 The Wallflower Wager, by Tessa Dare - August 13

They call him the Duke of Ruin.
To an undaunted wallflower, he's just the beast next door.
Wealthy and ruthless, Gabriel Duke clawed his way from the lowliest slums to the pinnacle of high society—and now he wants to get even.
Loyal and passionate, Lady Penelope Campion never met a lost or wounded creature she wouldn't take into her home and her heart.
When her imposing—and attractive—new neighbor demands she clear out the rescued animals, Penny sets him a challenge. She will part with her precious charges, if he can find them loving homes.
Done, Gabriel says. How hard can it be to find homes for a few kittens?
And a two-legged dog.
And a foul-mouthed parrot.
And a goat, an otter, a hedgehog . . .
Easier said than done, for a cold-blooded bastard who wouldn't know a loving home from a workhouse. Soon he's covered in cat hair, knee-deep in adorable, and bewitched by a shyly pretty spinster who defies his every attempt to resist. Now she's set her mind and heart on saving him.
Not if he ruins her first.
Suzanne - These are my rainy day books. Fluff and cuddles and banter. I listen to them on audio when I need to block out the world.

Margrethe - I'd be a lying liar if I wasn't super excited about this book. Dare's books are a lovely escape and I'll never have enough.
Ana - I loved the previous two books in this series so much I haven't even looked at the blurb because I know that I can count on Dare delivering genuine emotion in a comedic storytelling style that fills me with lightness despite her frequent tackling difficult subjects.
Buy a copy: Amazon, Apple Books, Barnes & Noble, Kobo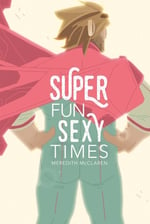 Super Fun Sexy Times, by Meredith McClaren - August 20

Cartoonist Meredith McClaren (Hinges) tells five short, sexy stories featuring superheroes, supervillains, sidekicks, and the people who love them.
Showing consent and character-driven erotic relationships, Super Fun Sexy Times answers the age-old question: what happens when the mask comes off?
Two sidekicks on opposite sides get stuck in an underground lab together, and find a great way to pass the time. A tactician and superhero discuss their desires, limits, and kinks before their first time, and perhaps get a little too excited in the process. A pair of supervillains explore gender and sex together, while growing closer in their relationship. Lesbian heroes try out a kinky rolepaying scenario, and discover how to make it work for both of them. And an exhausted assassin relaxes after a long day with the kind (yet firm) attentions of his husband.
Told with care, sex-positivity, and humor, and featuring a wide variety of sexualities and bodies, Super Fun Sexy Times aims to create an erotic reading experience that lives up to its name!
Suzanne - I really liked these erotic comics! Review here.

Buy a copy: Amazon, Barnes & Noble, Oni Press/Limerence/Simon & Schuster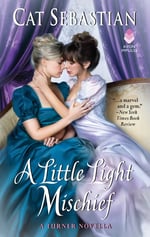 A Little Light Mischief, by Cat Sebastian - August 6

A seductive thief...
Lady's maid Molly Wilkins is done with thieving - and cheating and stabbing and all the rest of it. She's determined to keep her hands to herself, so she really shouldn't be tempted to seduce her employer's prim and proper companion, Alice. But how can she resist when Alice can't seem to keep her eyes off Molly?
Finds her own heart....
For the first time in her life, Alice Stapleton has absolutely nothing to do. The only thing that seems to occupy her thoughts is a lady's maid with a sharp tongue and a beautiful mouth. Her determination to know Molly's secrets has her behaving in ways she never imagined as she begins to fall for the impertinent woman.
Has been stolen.
When an unwelcome specter from Alice's past shows up unexpectedly at a house party, Molly volunteers to help the only way she knows how: with a little bit of mischief.
Suzanne - Full disclosure, Cat is a friend so I don't review her books. But I'm hoarding my Audible credits because Avon has like 5 of her books coming out on audio all on August 6, including this f/f historical! The ebook is out that day, too. (Print is in September.)

Ana - Having just finished Hither, Page, where the meddling queer old ladies stole the show, I'm highly anticipating Cat Sebastian's Histrom f/f, A Little Light Mischief.
Buy a copy: Amazon, Apple Books, Barnes & Noble, Kobo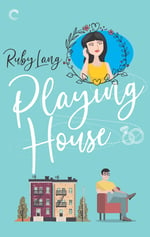 Playing House, by Ruby Lang - August 12

Romance blossoms between two city planners posing as newlyweds in this first in a bright new series by acclaimed author Ruby Lang
The last thing Oliver Huang expects to see on the historic Mount Morris home tour is longtime acquaintance Fay Liu bustling up and kissing him hello. He's happy to playact being a couple to save her from a pushy admirer. Fay's beautiful, successful and smart, and if he's being honest, Oliver has always had a bit of a thing for her.
Maybe more than a bit.
Geeking out over architectural details is Oliver and Fay's shared love language, and soon they're touring pricey real estate across Upper Manhattan as the terribly faux but terribly charming couple Darling and Olly.
For the first time since being laid off from the job he loved, Oliver has something to look forward to. And for the first time since her divorce, Fay's having fun.
Somewhere between the light-filled living rooms and spacious closets they've explored, this faux relationship just may have sparked some very real feelings. For Oliver and Fay, home truly is where their hearts are.
Andrea - Light-filled living rooms! Spacious closets! Fake names for real estate tours! Finally feeling joy again! This sounds SO delightful. Playing pretend while being heart-eye-emoji at architectural details is my kind of love language.
Margrethe - Technically, I've already read this; however, I adored it (review to come). But Lang writes adults dealing with adult issues and this is all about figuring out who you are when it isn't what you expected.
Ana - Also on my TBR is Ruby Lang's Playing House, the first in her new series for Carina. I beta read the second book in the series, so I'm eager to finally read the kick off book!
Buy a copy: Amazon, Apple Books, Barnes & Noble, Kobo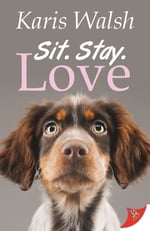 Sit. Stay. Love., by Karis Walsh - August 13

City girl Alana Brendt accepts a one-year contract as an event coordinator in remote Yakima, Washington, to reboot her career. So what if she padded her résumé a little…doesn't everyone? Then she discovers she has to lead trail rides and whitewater adventures, not just coordinate them. Add a litter of puppies underneath her rickety farmhouse's porch, and Alana is desperate enough to accept help from the local vet―the gorgeous, sexy, outdoorsy vet who is absolutely not Alana's type. At all.
Veterinarian Tegan Evans avoids the tourist side of Yakima, venturing there only when an animal needs her. Tourists only break your heart. Still, she can't resist helping Alana, who, despite being in over her head with rambunctious puppies and a job she is barely qualified to perform, seems determined to make a success of things.
Alana and Tegan both know they don't belong together. Only problem is, they're falling in love.
Andrea - 100% only clicked into this book because the dog on the cover pulled at my heartstrings. 200% glad it happened though because wow this sounds like fun!
Buy a copy: Amazon, Apple Books, Barnes & Noble, Kobo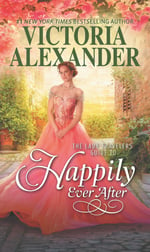 The Lady Travelers Guide to Happily Ever After, by Victoria Alexander - August 27
Before there was a Lady Travelers Society, there was just one lady traveler…
Some marry for love. Some marry for money. But Violet Hagen's quick wedding to irresponsible James Branham, heir to the Earl of Ellsworth, was to avoid scandal.
Though her heart was broken when she learned James never wanted marriage or her, Violet found consolation in traveling the world, at his expense—finding adventure and enjoying an unconventional, independent life. And strenuously avoiding her husband.
But when James inherits the earldom it comes with a catch—Violet. To receive his legacy he and Violet must live together as husband and wife, convincing society that they are reconciled. It's a preposterous notion, complicated by the fact that Violet is no longer the quiet, meek woman he married. But then he's not the same man either.
Chasing Violet across Europe to earn her trust and prove his worth, James realizes with each passing day that a marriage begun in haste may be enjoyed at leisure. And that nothing may be as scandalous—or as perfect—as falling hopelessly in love. Especially with your wife.
Andrea - This might be my favourite dress I've ever seen on a Romance cover, and the courtyard behind her gives me 'sparkly love moment at the end of a rom-com' feels. I am very interested in unfolding the details of this couple's complicated history, and seeing the ways they've both changed since their wedding.
Buy a copy: Amazon, Apple Books, Barnes & Noble, Kobo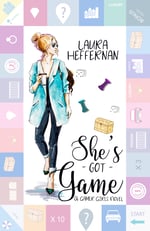 She's Got Game, by Laura Heffernan - August 13

Travel blogger Gwen Williams is about to live the dream—competing in the annual American Board Game Championship. She's up against some stiff competition, namely legendary gamer and four-time champ Cody McKay. The seriously buff hottie and shameless flirt is going all-out to seduce her. That's when Gwen lays her cards on the table: She never, ever mixes gaming with romance . . . until resisting Cody becomes a losing proposition.
As Gwen gives in to temptation, everything's in play for a major heartache. With the rounds heating up and players eliminated, she knows she's gambling a lot more than a seat at the final table in Vegas. But Cody's kisses promise more than a fleeting romance. If she plays her cards right, Gwen just might walk off with the championship and the man of her dreams.
Suzanne - Bisexual blogger heroine. *raises hand* GAMING. Was this book written just for me? Maaaaybe.

Buy a copy: Amazon, Apple Books, Barnes & Noble, Kobo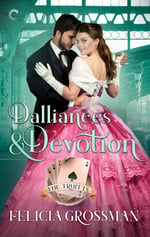 Dalliances and Devotion, by Felicia Grossman - August 26

A change in course can be refreshing…when it's done together.
1871
After two disastrous marriages, beauty columnist Amalia Truitt's life is finally her own—well, it will be if she can get herself back to Delaware and demand access to her share of the Truitt family fortune. After all, the charity she's organized for women who can't afford their own divorces won't fund itself.
However, not everyone wants her to reach her destination. When her family learns she's been receiving anonymous death threats, a solo journey is out of the question.
Enter David Zisskind, the ragtag-peddler-turned-soldier whose heart Amalia broke years ago. He's a Pinkerton now, and the promotion he craves depends on protecting his long-lost love on the unexpectedly treacherous journey across Pennsylvania.
That their physical connection has endured the test of time (and then some) is problematic, to say the least.
In very close quarters, with danger lurking around every curve, with each kiss and illicit touch, the wrongs of the past are righted. But David can't weather another rejection, especially with his career in jeopardy. And Amalia can't possibly take a lover, never mind another husband…not with so much depending on her repaired reputation. Not when she's hurt David—her David—so badly before.

Publisher's Note: Dalliances & Devotion contains content that some readers may find challenging, including PTSD, depression, war, sibling death and antisemitism.
Margrethe - I adored the first and I've been eagerly awaiting Grossman's second with a twice-divorced heroine. Grossman writes with such heart that I'm angry I'm not reading it this second.

Buy a copy: Amazon, Barnes & Noble, Kobo, Apple Books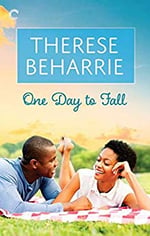 One Day to Fall, by Therese Beharrie - August 12
Of all the taxis in all of Cape Town, Sophia Roux had to stumble into his.
She should be at her "perfect" sister's bedside, awaiting the arrival of the newest member of her family. But the thought of spending hours at the hospital with her suffocating relatives has Sophia hailing the first taxi she sees. Only to realise too late that the man at the wheel of her getaway car is the most unpleasant one she's ever had the misfortune to meet.
Parker Jones, the handsome yet surly driver in question, is used to dealing with baggage of the family variety. And it just so happens he's in need of temporary escape from his own. Witty banter with a beautiful—if exasperating—woman while chauffeuring her around the city on a gorgeous spring day makes for an ideal break from reality.
But a lot can happen in twenty-four hours: babies can be born, family can reconnect. And maybe the most unlikely pair can fall in love.
Dylan - I love everything about the premise but was super sold when the blurb included the following magic words: Witty banter. If I were Superman, witty banter would be my kryptonite. Therese Beharrie writes some incredibly swoon worthy romances so I'm anxious to get my hands on this one.
Buy a copy: Amazon
Also Releasing in August: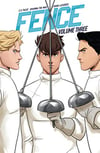 Fence, Vol. 3, by C.S. Pacat (Author), Johanna the Mad (Cover Art, Artist), Joana Lafuente (Colorist) - August 14 in Digital, August 20 in Print
Three Part Harmony, by Holley Trent - August 19
The Love Solution, by Ashley Croft - August 15
The Aussie Next Door, by Stefanie London - August 27
Henri, by Ella Frank - August 19 (Link not available at this time)
Dylan - I'm a little wary of dipping my toe back into these particular waters because a scene in the last book of this series was really unsettling and a bit of an unexpected gut punch for me, BUT Ella Frank is a not-so-guilty pleasure of mine and I've been curious to know more about Henri since he appeared on the page in previous books so I'm pretty eager to see him front and center in his own story.
What books are you looking forward to this month?