Need to spend some holiday gift cards? Here are a bunch of December romances we can't wait to read!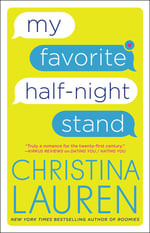 My Favorite Half-Night Stand - Dec. 4
By the

New York Times

bestselling author who "hilariously depicts modern dating" (Us Weekly),

My Favorite Half-Night Stand

is a laugh-out-loud romp through online dating and its many, many fails.
Millie Morris has always been one of the guys. A UC Santa Barbara professor, she's a female-serial-killer expert who's quick with a deflection joke and terrible at getting personal. And she, just like her four best guy friends and fellow professors, is perma-single.
So when a routine university function turns into a black tie gala, Mille and her circle make a pact that they'll join an online dating service to find plus-ones for the event. There's only one hitch: after making the pact, Millie and one of the guys, Reid Campbell, secretly spend the sexiest half-night of their lives together, but mutually decide the friendship would be better off strictly platonic.
But online dating isn't for the faint of heart. While the guys are inundated with quality matches and potential dates, Millie's first profile attempt garners nothing but dick pics and creepers. Enter "Catherine"—Millie's fictional profile persona, in whose make-believe shoes she can be more vulnerable than she's ever been in person. Soon "Catherine" and Reid strike up a digital pen-pal-ship...but Millie can't resist temptation in real life, either. Soon, Millie will have to face her worst fear—intimacy—or risk losing her best friend, forever.
Perfect for fans of Roxanne and She's the Man, Christina Lauren's latest romantic comedy is full of mistaken identities, hijinks, and a classic love story with a modern twist. Funny and fresh, you'll want to swipe right on My Favorite Half-Night Stand.
Suzanne - I really enjoyed Christina Lauren's last book, Josh and Hazel's Guide to Not Dating, so it's no surprise that I'm looking forward to this one, too. But now they're doing a take on online dating and I'm a sucker for epistolary romances. My wallet is very happy that my library has started buying CL's books.
Buy a copy: Amazon, Apple Books, Kobo, Barnes & Noble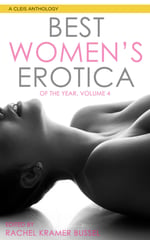 Best Women's Erotica of the Year, Vol. 4 - Dec. 11
In Best Women's Erotica of the Year, Volume 4, award-winning editor Rachel Kramer Bussel has gathered the hottest sexy stories starring outspoken women who daringly pursue love and lust.
You'll read about a single mom who goes back to college and gets some very hands-on education from her hot professor, an Amish woman tenderly revealing her most intimate desires, and a woman who crafts the man of her dreams. From outsiders who passionately claim their place without apology to women taking the boldest of risks with their hearts and their bodies, these sizzling stories are sure to make your heart pound.
Featuring stories by popular authors including Alyssa Cole, Megan Hart, Tamsen Parker, Sofia Quintero, and Alessandra Torre, along with a variety newcomers to the genre, these tales will turn you on and stay with you long after you've finished.
Suzanne - I read this back in the summer and the whole thing is fantastic. This volume has a combination of authors you know and new writers, but the stories are almost universally excellent. It's erotica, not romance, but all of these anthologies are written by women and nonbinary writers, so they cater to the female/nonbinary gaze. I'll have a review up soon!
Buy a copy: Amazon, Apple Books, Barnes & Noble, Kobo
Not the Duke's Darling, by Elizabeth Hoyt - Dec. 18
New York Times bestselling author Elizabeth Hoyt brings us the first book in her sexy and sensual Greycourt Series!
Freya de Moray is many things: a member of the secret order of Wise Women, the daughter of disgraced nobility, and a chaperone living under an assumed name. What she is not is forgiving. So when the Duke of Harlowe, the man who destroyed her brother and led to the downfall of her family, appears at the country house party she's attending, she does what any Wise Woman would do: she starts planning her revenge.
Christopher Renshaw, the Duke of Harlowe, is being blackmailed. Intent on keeping his secrets safe, he agrees to attend a house party where he will put an end to this coercion once and for all. Until he recognizes Freya, masquerading among the party revelers, and realizes his troubles have just begun. Freya knows all about his sins-sins he'd much rather forget. But she's also fiery, bold, and sensuous-a temptation he can't resist. When it becomes clear Freya is in grave danger, he'll risk everything to keep her safe. But first, he will have to earn Freya's trust...by whatever means necessary.

Suzanne - I stuck with Hoyt's Maiden Lane series long after it went off the deep end, so I'm really excited to start a new series. I have a review copy of this and can't wait to dig in.
Buy a copy: Amazon, Kobo, Barnes & Noble, Apple Books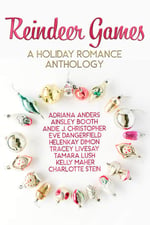 Reindeer Games Anthology - Dec. 1
These are the games people play when they're snowed in, caught in a storm, and stuck with the ones they can't resist.
Nine best-selling and award-winning authors bring sexy stories to steam up your holiday nights.

**In celebration of the holidays, a portion of proceeds will be donated to No Kid Hungry.**

HIS FOR THE HOLIDAY, by HelenKay Dimon
Jonah Stark's crush on Cameron Meade, everyone's favorite professor, lasted through graduate school. Years later and no longer a student, Jonah is back and still drawn to the mysterious recluse who lights up a classroom with his lectures. With the help of a meddling friend, a secluded cabin and some holiday cheer, these colleagues might finally make the move from hot for each other to can't live without each other.

DYSFUNCTIONAL, by Eve Dangerfield
Country club waitress Jessica's track record is so bad she's sworn off men for the foreseeable future. But a girl has needs and when a handsome customer asks her out, she informs him a pre-Christmas one night stand is as far as things can go. Of course, that was before Austin kissed her. That was before she realised he's not like anyone who came before.

SAVED BY THE MOUNTAIN MAN, by Adriana Anders
I pulled her out of a near-fatal car crash, brought her home, patched her up. Now we're stuck together, snowed in for the holidays. And I never want her to leave.

SNOW ANGEL, by Tamara Lush
Charlotte King has known Oliver Menendez since she was born. When she was was five, she kissed Oliver. When she was fifteen, Oliver kissed her. Now they're older and stuck in a Vermont ski cabin during Snowmageddon — and they do a whole lot more than kissing.

GRIEVANCES AND GLITTER, by Kelly Maher
When a rock star and an attorney find themselves stuck in a cabin in the woods, the reluctantly reunited lovers aren't sure if they should curse their matchmaking friends...or thank them.

HAVE YOURSELF A BILLIONAIRE FOR CHRISTMAS, by Tracey Livesay
Five nights… Four well-meaning friends… Three sexy challenges… Two strangers…
Only one way for this to end…

ALL THEY WANT FOR CHRISTMAS, by Andie J. Christopher
Twas the night before the night before Christmas, and Frankie's snowed in with her ex... and his new boyfriend. What could go wrong? Or right?

STUCK, by Ainsley Booth
The hot guy in a suit across the aisle is trouble. He's the cold-day-in-hell type Aibhlin knows all about. But when their train gets stuck on the tracks and day turns into a long, cold night, Sam's devilish smile is hard to resist.

WAITING IN VAIN, by Charlotte Stein
When Nancy is invited to spend Christmas with her sister-in-law's family, she is pretty sure it's gonna be wall to wall wholesome, polite party games and stuffing her face with mince pies. But then sexy, sultry Mick Hennessy turns up, and the sedate affair she was banking on takes a turn for the too hot to take...
Suzanne - I first heard about this anthology when it was just an idea, back at NECRWA in April 2018, when I was on a panel about blogging. Andie and Adriana said something like "this is going to be such a dirty anthology. All snowed in, all the time." I have been hounding them for a copy ever since! Well, folks, it's FINALLY here. Look at this author lineup!
Buy a copy: Amazon, Apple Books, Barnes & Noble, Kobo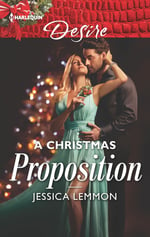 A Christmas Proposition, by Jessica Lemmon - Dec. 4
"I need to get married…

And the only one who can help me is

you."

Trading one scandal for another, Stefanie Ferguson must marry to save her brother's political career. Luckily, her brother's best friend wants to help. But until this moment, Emmett Keaton has been off-limits. Now their convenient vows on Christmas Day unleash a passion too long denied. Will this marriage for scandal become a marriage for real?
Suzanne - When you need a quick, tropey hit of romance, category romance can't be beat. I'm reading this one right now and will have a review for you soon!
Buy a copy: Amazon, Apple Books, Barnes & Noble, Kobo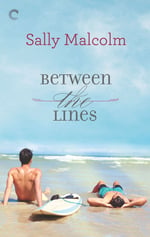 Between the Lines, by Sally Malcolm - Dec. 10
Theo Wishart has given up on finding love.
Luca Moretti doesn't want to find it.
A handful of summer days may change their lives forever—if they're brave enough to look between the lines.
Eyes might be windows to the soul, but for Theo Wishart they're all shuttered. His dyspraxia makes it hard to read people. He doesn't do relationships and he certainly doesn't do the great outdoors. Two weeks spent "embracing beach life" while he tries to close the deal on a once great, now fading seaside hotel is a special kind of hell.
Until Luca. Gorgeous, unreachable Luca.
Luca Moretti travels light, avoiding all romantic entanglements. Estranged from his parents, he vows this will be his last trip home to New Milton. His family's hotel is on the verge of ruin and there's nothing Luca can do to save it. He's given up on the Majestic, he's given up on his family and he's given up on his future.
Until Theo. Prickly, captivating Theo.
No mushy feelings, no expectations, and no drama—that's the deal. A simple summer fling. And it suits them both just fine. But as the summer wanes and their feelings deepen, it's clear to everyone around them that Theo and Luca are falling in love. What will it take for them to admit it to themselves—and to each other? .
Margrethe is looking forward to this after enjoying Malcolm's last romance. Plus, it's a summer romance in a sea of winter!
Buy a copy: Amazon, Apple Books, Barnes & Noble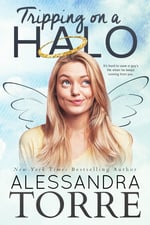 Tripping on a Halo, by Alessandra Torre - Dec. 7
It's really hard to save a guy's life when he keeps running from you.
You might be asking yourself why I'm waving an inflatable penis in the air and screaming at the top of my lungs. If I took time to explain, Declan Moss would get hit by a bus.
Let me back up. I didn't ask for this. I was perfectly happy—and perfectly sane—before I was tasked with keeping Declan Moss alive. It was a thankless job until the moment that my panties dropped and his delicious smirk found his way in between my thighs.
Hello, toe-curling ecstasy. Goodbye, professional boundaries. And suddenly, there's a new danger to avoid: the falling of my heart.
Andrea - This book seems like the kind of show The CW would bring out for summer, and I would definitely watch it. It's the time of year where we are all so over being at work, feeling exhausted and stretched too thin for too long, wishing we were outside enjoying the perfect beach days, and I think this is gonna be a fun read to take the edge off.
Buy a copy: Amazon, Apple Books, Barnes & Noble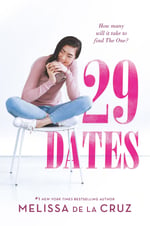 29 Dates, by Melissa de la Cruz - Dec. 18
How many dates will it take to find The One?
Ji-su's traditional South Korean parents are concerned by what they see as her lack of attention to her schoolwork and her future. Working with Seoul's premiere matchmaker to find the right boyfriend is one step toward ensuring Ji-su's success, and going on the recommended dates is Ji-su's compromise to please her parents while finding space to figure out her own dreams. But when she flubs a test then skips out on a date to spend time with friends, her fed-up parents shock her by shipping her off to a private school in San Francisco. Where she'll have the opportunity to shine academically—and be set up on more dates!
Navigating her host family, her new city and school, and more dates, Ji-su finds comfort in taking the photographs that populate her ever-growing social media account. Soon attention from two very different boys sends Ji-su into a tailspin of soul-searching. As her passion for photography lights her on fire, does she even want to find The One? And what if her One isn't parent and matchmaker approved?
Andrea - This book sounds so fun and lovely and interesting!! I want more South Korean rep in books! I'm so excited to meet Ji-su!
Buy a copy: Amazon, Apple Books, Barnes & Noble, Kobo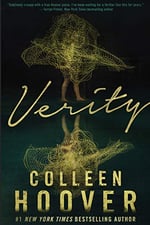 Verity, by Colleen Hoover - Dec. 18
Lowen Ashleigh is a struggling writer on the brink of financial ruin when she accepts the job offer of a lifetime. Jeremy Crawford, husband of bestselling author Verity Crawford, has hired Lowen to complete the remaining books in a successful series his injured wife is unable to finish.
Lowen arrives at the Crawford home, ready to sort through years of Verity's notes and outlines, hoping to find enough material to get her started. What Lowen doesn't expect to uncover in the chaotic office is a rough draft of an autobiography Verity likely didn't intend for anyone to read. Page after page of bone-chilling admissions, including Verity's recollection of the night their family was forever altered.
Lowen decides to keep the manuscript hidden from Jeremy, knowing its contents would devastate the already grieving father. But as Lowen's feelings for Jeremy begin to intensify, she recognizes all the ways she could benefit if he were to read his wife's words. After all, no matter how devoted Jeremy is to his injured wife, a truth this horrifying would make it impossible for him to continue to love her.
Andrea - Colleen Hoover is !!!!! to me. So a book that's Colleen Hoover + struggling writer character gets the job of a lifetime + big dark secret that could ruin lives? YES please. It's also giving me Me Before You vibes, and I am so keen to see how she turns the 'tell the husband the truth so he stops loving her and loves me instead' thing on its head, because I know she will.
Buy a copy: Amazon
Dance All Night, by Alexis Daria - Dec. 11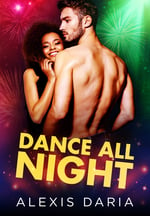 Broadway hotshot Nik Kovalenko is a confirmed bachelor.
Ballroom champion Jess Davenport is a bona fide Scrooge.
Last year, they shared a midnight kiss at a New Year's Eve party that made both of them believe—briefly—in the magic of the holiday season. The magic was cut short when Nik went on tour the next day, but he never stopped thinking about that kiss—or Jess.
When the holidays roll back around, Nik runs into Jess again. He doesn't want to spend another year pining for the Scrooge who got away, so he tells Jess he'll stay if she'll give him a shot at being her Christmas Present.
Jess thinks he's full of it, but she agrees to three dates. If Nik can make her believe in holiday magic in a place as un-wintery as Los Angeles—and convince her that he's ready to stick around—she'll give him a chance. But he won't know until New Year's Eve. If she kisses him at midnight, he'll have his answer…
Amy - There's a new Dance Off novella and I can't wait! I read the series this summer and couldn't get over how good it was. A holiday dancing book sounds like the perfect thing to distract from my crazy family this December.
Ana - Because it is that time of year, Holiday novellas are starting to multiple on the TBR. I'm very eager to read Alexis Daria's holiday novella, Dance All Night. I love stories about missed connections and second chances, especially when the leads think they can throw down a challenge not fall in love. I also have Olivia Waite's The Best Worst Holiday Party Ever, and Talia Hibbert's Merry Inkmas's novellas waiting to warm up the cold night ahead.
Buy a copy: Amazon, Apple Books, Barnes & Noble
What books are you excited for?