When they're not creating entirely new worlds, fantasy authors love to play with different historical time periods. Remember when steampunk was all the rage? Renaissance Italy? Okay, that last one is just a dream of mine, but roll with it.
Today, Leanna Renee Hieber is here to talk about the subgenre she writes in -- Gaslamp Fantasy. She tells us what it is, including how it relates to Gothic novels, why you may want to check it out, and a bit about her new series! And yes, we wouldn't be sharing this if there wasn't a pretty strong romantic element running through her work, so fear not, historical fantasy romance fans.
***
Gaslamp Fantasy is a relatively new term for a genre classification adjacent to Steampunk, but they differ in a major way. In Steampunk, a steam-powered-era setting is blended with new technologies and 'gadgetry' associated with the Science Fiction genre, where problems are created and solved with technology. In Gaslamp Fantasy, the same 'gaslit' setting helps set tone and scene, but magic, prophecy, spirits, paranormal occurrences and other tropes seen most often in the Fantasy genre are in play. In Gaslamp Fantasy, problems are solved more with mysticism than machines.
The term Gaslamp Fantasy wasn't yet popularized when my debut novel, The Strangely Beautiful Tale of Miss Percy Parker (now reissued by Tor as Strangely Beautiful, containing volumes I and II) came out in 2009, but Tor describes Strangely Beautiful as a 'foundation work of Gaslamp Fantasy'. That is an honor.
So why do I write it? I'm interested in where history meets spirit, in every sense of the word. I am a keen believer in the supernatural, having had one too many inexplicable experiences to think otherwise. The 19th century was filled with obsessions and interests in regards to Spiritualism, ghosts, séances, pseudo-sciences relating to spectral phenomenon, so I just make the question of the fantastical and the paranormal very real for my characters. In doing so, working with the paranormal opens up certain freedoms in an otherwise highly restrictive society. There weren't mainstream etiquette books on how to talk to the dead in high-society so my characters operate on their own terms. I enjoy challenging the traditional idea of what a 'ghost story' means. In the Spectral City series, I operate from my heroine's prerogative; she wants people to think of ghosts as a 'help, not a horror'.
It's important for me to note I'm a Gothic author too. Publishers have tended to shy away from the word "Gothic" but alongside Gaslamp Fantasy, that's my work.
A Gothic novel is a psychologically focused narrative driven by a sense of dread and fascination. Setting is tantamount. Paranormal events or characters are often in play. An inherently cross-genre classification, the Gothic often includes elements of Romance and/or Horror. Sometimes characters are unreliable narrators. There is always a razor-thin edge between beauty and terror. Gothic novels are emotional, high-drama, intense stories and the style is not everyone's cup of tea. Reading and writing a Gothic requires a certain abandon and in that abandon, incredible things can happen. I find a freedom in that abandon and my characters do too. Similarly, with Gaslamp Fantasy, the elements of ghosts and mysticism power the world and give my characters the ability to move within it.
Gothic, Gaslamp settings are what I gravitated to since I could hold a pen and read words. But one thing stood out for me in nearly every traditional Gothic novel; the plight of women and marginalized identities as mere plot devices, victims, prizes, one to two-dimensional tropes either angels or villains, hardly allowed to be independent or fully-realized, denied agency to self-determine a future. While these aspects were written historically to draw attention to limitations and diminished rights, those trappings don't need to be repeated now without examination and upending.
I try always to write characters who live into their most comprehensive capacity, in spite of historic circumstances, using anything and everything to their advantage. Each of my characters have unique talents and specialties, in addition to being from a diverse set of identities; racial, religious, cultural, orientation or otherwise, they each have growing gifts to bring to the team. I hire a range of sensitivity readers who help me be the best steward I can be to my characters and audience. In that wide range of selves and abilities lies the true strength of The Ghost Precinct and my Spectral City series.
The Gothic, as well as Gaslamp Fantasy, relies heavily on setting and atmosphere as one of the most vital aspects of storytelling. My work has been hailed consistently as atmospheric and character-driven, which are the very best of compliments. I adore setting a scene, drawing readers into the hectic, gaslit streets of New York City and all its grit and grandeur, charm and cruelty. There is a pendulum from one aspect of the city to the next that is as dizzying as it is thrilling.
I've been a New York City tour guide for fourteen years and I want to bring you along with me through all the historic streets and all the fascinating places I walk by and tell stories about daily. I hope you'll join me for the adventure, the magic, mystery and slow-burn romance of the Spectral City series as it plays out on the gaslit cobblestones of this great metropolis.
***
Leanna's latest book is A Sanctuary of Spirits (The Spectral City Novels, Book 2), out November 12th!
About the Book:
As the twentieth century approaches, New York's Ghost Precinct crosses a threshold into the land of the dead in this paranormal gaslamp mystery.

New York City, 1899. The NYPD's Ghost Precinct, an all-female team of psychics and spiritualists led by gifted young medium Eve Whitby, is unconventional to say the least. And now they're stepping even further outside the bounds of normal police work—into an otherworldly realm known as the Ghost Sanctuary. It's a place where the dead can provide answers. But will Eve and her colleagues pay a price for venturing beyond the land of the living?

Investigating a mortician's sudden disappearance, Eve encounters a charismatic magician and mesmerist whose abilities are unlike any she's seen before. Is he connected to the mysterious deaths around the city—or a link to the Ghost Sanctuary? Torn between the bonds of her team and her growing relationship with the dashing Detective Horowitz, Eve must discern truth from illusion and friend from foe before another soul vanishes into the ether.
Buy a Copy:
About the Author: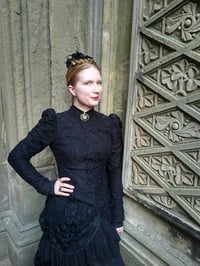 Leanna Renee Hieber is an actress, playwright, ghost tour guide and the award-winning, bestselling author of twelve Gothic, Gaslamp Fantasy and Supernatural Suspense novels for adults and teens for Tor, Sourcebooks and Kensington Books. Her Strangely Beautiful saga, beginning with The Strangely Beautiful Tale of Miss Percy Parker, hit Barnes & Noble and Borders Bestseller lists and garnered numerous regional genre awards. Tor Books notes Strangely Beautiful as a "foundational text of Gaslamp Fantasy" and new, revised editions are now available via Tor. Darker Still was named an American Bookseller's Association "Indie Next List" pick, a Scholastic Book Club "Highly Recommended" title and a Daphne du Maurier award finalist. The Eterna Files trilogy is now complete with Tor Books. The Spectral City, her new Gaslamp Fantasy series with Kensington, was a # 1 bestseller across several genres and digital platforms. A 4-time Prism Award winner for excellence in the genre of Fantasy Romance, Leanna's short stories have been featured in notable anthologies and her books have been selected for national book club editions as well as translated into many languages. She lectures on Gothic fiction and paranormal themes for prominent institutions such as New York University and at conventions and conferences around the country. A proud member of Actors Equity and SAG-AFTRA, Mystery Writers of America, SFWA, Historical Novel Society and International Thriller Writers, she lives in New York City where she is a licensed ghost tour guide with Boroughs of the Dead and has been featured in film and television on shows like Boardwalk Empire and Mysteries at the Museum. She presents a one-woman show as 19th century designer Clara Driscoll and is represented by Paul Stevens of the Donald Maass agency. She tweets often @leannarenee.