Welcome to our second giveaway! Today we've got an historical romance set in the Gilded Age in NYC: A Daring Arrangement, by Joanna Shupe. You can read Suzanne's review over here at H&H.
The rules, in case you need them:
1 copy of a book or comic to a randomly selected winner. Could be digital, could be print, will definitely have queer or romantic elements, because that's who we are. (If it's a print copy, you'll have to give us your mailing address, so if you're moving, keep that in mind.)

The giveaway post will go up in the afternoon on Friday and will run through midnight on Sunday.
Use the Rafflecopter widget below for a chance to win.
This weekend, we're giving away a print copy of A DARING ARRANGEMENT!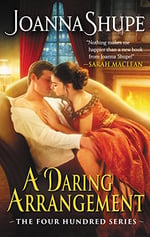 Set in New York City's Gilded Age, Joanna Shupe's Avon debut introduces an English beauty with a wicked scheme to win the man she loves--and the American scoundrel who ruins her best laid plans...
Lady Honora Parker must get engaged as soon as possible, and only a particular type of man will do. Nora seeks a mate so abhorrent, so completely unacceptable, that her father will reject the match--leaving her free to marry the artist she loves. Who then is the most appalling man in Manhattan? The wealthy, devilishly handsome financier, Julius Hatcher, of course....
Julius is intrigued by Nora's ruse and decides to play along. But to Nora's horror, Julius transforms himself into the perfect fiancé, charming the very people she hoped he would offend. It seems Julius has a secret plan all his own--one that will solve a dark mystery from his past, and perhaps turn him into the kind of man Nora could truly love.
More details on the Amazon listing if you're curious or want your own copy.
Without further delay, let's get to the giveaway!
a Rafflecopter giveaway