We have a special giveaway for you today from Author Sionna Fox! She's giving away two (2) print copies of the Mated Anthology from Carina Press.
The rules, in case you need them:
1 copy of a book or comic to a randomly selected winner. Could be digital, could be print, will definitely have queer or romantic elements, because that's who we are. (If it's a print copy, you'll have to give us your mailing address, so if you're moving, keep that in mind.) Print is US only, sorry. This is still a labor of love and we can't afford int'l postage.

The giveaway post will go up in the afternoon on Friday and will run through midnight on Sunday.
Use the Rafflecopter widget below for a chance to win.
This weekend, we're giving away two print copies of Mated, a Paranormal Romance Shifter Anthology!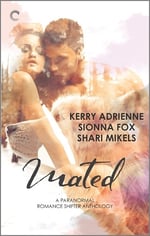 One anthology. Three wolf shifter romances. Don't miss this collection of stories from USA TODAY bestselling author Kerry Adrienne, Sionna Fox and Shari Mikels
A woman born blind and without the ability to shift yearns to seek her own fate away from her watchful, devoted wolf pack. Vulnerable and stuck in human form, she's alone and at risk when she's rescued by the bear shifter who is her destiny.
An accident forces a man to change the best friend he's loved for years…or leave her for dead. There's no reason to hide his true self anymore—but can she ever forgive him?
And a pack alpha finds that rescuing his fated mate from a violent confrontation with two wolf shifters is easy. Helping her move from fear to acceptance of the animals—and him—is a challenge.
This anthology includes:
Saving His Wolf by Kerry Adrienne
Wolf Summer by Sionna Fox
Drawn to the Wolves by Shari Mikels
Stories also available for purchase separately.
More details on the Amazon listing if you're curious or want your own copy. Thanks to Sionna Fox for sponsoring this week's giveaway!