We have a brand-new copy of A DUKE IN SHINING ARMOR by Loretta Chase! It's a run runaway bride roadtrip romance with a very cinematic quality.
More details on the Amazon listing if you're curious or want your own copy. The paperback is SUPER on sale right now ($4?!).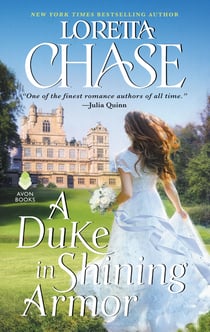 Not all dukes are created equal. Most are upstanding members of Society. And then there's the trio known as Their Dis-Graces.
Hugh Philemon Ancaster, seventh Duke of Ripley, will never win prizes for virtue. But even he draws the line at running off with his best friend's bride. All he's trying to do is recapture the slightly inebriated Lady Olympia Hightower and return h
er to her intended bridegroom.
For reasons that elude her, bookish, bespectacled Olympia is supposed to marry a gorgeous rake of a duke. The ton is flabbergasted. Her family's ecstatic. And Olympia? She's climbing out of a window, bent on a getaway. But tall, dark, and exasperating Ripley is hot on her trail, determined to bring her back to his friend. For once, the world-famous hellion is trying to do the honorable thing.
So why does Olympia have to make it so deliciously difficult for him . . . ?
The rules, in case you need them:
1 copy of a book or comic to a randomly selected winner. Could be digital, could be print, will definitely have queer or romantic elements, because that's who we are. (If it's a print copy, you'll have to give us your mailing address, so if you're moving, keep that in mind.) Print is US only, sorry. This is still a labor of love and we can't afford int'l postage.

The giveaway post will go up in the afternoon on Friday and will run through midnight on Sunday.
Use the Rafflecopter widget below for a chance to win. You only have to do 1 of the 3 things to enter! We're using Rafflecopter to allow folks without Facebook/Twitter/whatever to enter. You can always use good old-fashioned email and leave a comment.
a Rafflecopter giveaway