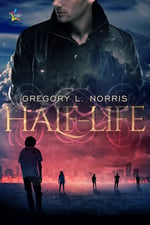 Whitney Abbott travels to the seaside Maine town of Window to begin a new life in his uncle's home. Robert Abbott is well-to-do and owns several high-end restaurants. Whitney will start at the bottom and work his way up at the flagship. But from the moment Whitney exits his car in the drive of the big, brooding house, he senses the sinister atmosphere surrounding his relations.
His cousin November, princess of the estate, feigns joy at having Whitney in town. And November's handsome athlete boyfriend, Griffin, is an enigma. Soon after his arrival, Griffin warns Whitney to leave. With nowhere to go—and certain that his attraction to Griffin goes both ways—Whitney is drawn into November's malevolent plans. Plans that will pit Whitney against dark supernatural forces in order to save both his and Griffin's lives.
Content warnings: homophobia, Griffin is mind-controlled into having a relationship with November which obviously has implications but they are never gone into*
Tropes: forbidden love
Heat: R
Genre: paranormal, romance
Tags: novella, zombies, witches, gay
* I'm not sure if that would be a spoiler. While reading I guessed that very quickly and I assume most people will
Review:
Whitney's parents lost all their money when their business failed. Now his uncle offers him the opportunity to live with him (rent-free) and work in one of his restaurants. Whitney's not overjoyed at the prospect but things change when he meets Griffin. He's hot, acts strangely and keeps alluding to mysterious happenings. And he is the boyfriend of Whitney's cousin November. She and Whitney never got on and now November seems to be hiding something.
The story starts in the middle of the climax: Whitney, the narrator, finds Griffin seemingly zombified. Then we jump back and get a "How we got here". In that introductory scene, when Whitney sees zombie!Griffin whose skin is grey and cold, we are informed that despite all this his feet still look very sexy. At this point, I already suspected that the book wouldn't be for me and the rest of it didn't prove me wrong.
Half-Life is a rather short novella (about 14k words) and with a main plot about having to defeat an evil witch it doesn't leave too much space for other things. But if something is advertised as romance I want romance.But I only got two people who were instantly attracted to each other and instead of describing any actual developing feelings beyond that, they just decide they're soulmates and meant to be together.
And then there's the misogyny. November is the only female character that appears in this book. She's described as typical feminine in her looks and pursuit but Whitney quickly brands her as fake ("The longer she held onto me, forcing me to inhale her floral scent, the more I sensed she was like the flowers in the urn on the big dining room table - pretty and happy at first but the impression was quick to wear off, a disguise") and informs us that her singing and dancing is horrible. (Meanwhile Griffin's "clean male sweat" smells of manly things like "summer rain and pine" and not of girly fake flowers. Yes those are actual quotes). And of course, November is the villain of the story who is behind everything - including things that seemed to be the fault of male characters at first. Her motivation seems to be that she enjoys being evil.
And of course, she's homophobic and comments at every possible opportunity how disgusting she finds Whitney. Just to make sure that we really don't like her. You know, in case "evil witch who wants to turn people into zombies" wasn't enough of a turn-off. I think you should be very careful with including characters that make comments like this fiction. Especially in romance, which is for many a form of escapism where they don't need to read the same things, enough people in real life still say regularly.
I'm not saying that homophobia should never come up in lgbt-romance. There are books where it does come up and I found it handled well. Because they handled it at all. Characters reacted to comments aimed at them or their friends. Sometimes a character's prejudice influenced the plot. None of this is the case in Half-Life. November just hurls those slurs around but nobody reacts to them (and as I mentioned, she is evil enough without it). There is absolutely no need for this kind of "homophobia as short-cut to make the character really evil".
If you want to buy the book, it's here
.