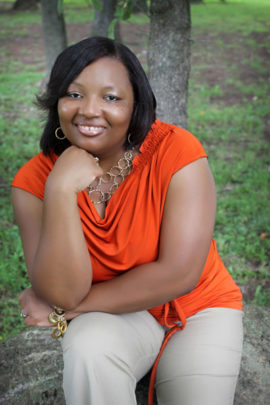 Back during #RomBkLove, a group of very passionate readers were simply aghast that I hadn't read A.C. Arthur's paranormal romances yet. I knew A.C. Arthur for her Kimani books - contemporary romances and, most recently, a series of royals with some truly great covers. I immediately hopped over to her website, only to realize that she's written many paranormal romances and I had no idea where to start. When I met her at the RWA conference in July, I asked if she'd be willing to do an interview... and here we are!
Before we dive in, a couple of things you may want to know:
- We're going to give away an eBook at the bottom of this interview (winner gets to choose from her published works).
- A.C. Arthur writes paranormal, contemporary, small town, erotic... Something for everyone!
On with the interview!
***
Can you tell us about the Shadow Shifter world and how you came up with the idea?
It all began with two pictures. One of a male torso and the other of a black panther. I saw them both while browsing through pictures for inspiration for another story I was writing at the time. My first thought was that they were one and the same. This man was this panther! I had written one paranormal book before about a phoenix who was sent to save the love of his life. But I knew that this man and panther would be different. I wrote a novella about him first—Dreamweaver by Sapphire Blue published by Ellora's Cave. A few years later I was talking to an editor from St. Martins Press and she said "we don't have enough shifter books". I immediately pitched my idea and the Shadow Shifters were born!
These books delve deeper into the Gungi Rainforest where the Shadows originated. A totally different species born from an Amazon rainforest and migrated into the human world. I loved mixing the contemporary world with these fantastic feline shifters, blending age-old prejudices into a world of man vs. beast was terrific fun!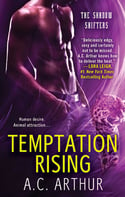 Where should a new reader start if they want to dip a toe in?
I know it may seem daunting with 7 books and 2 spinoff trilogies in a series, but I really think starting at book #1 (Temptation Rising) is best. While each individual story in this series can stand on its own, the world and some of the stakes in this world, build from one book to the next, so starting at the beginning will give the reader useful background info to really connect with these shifters and their goals in the human world.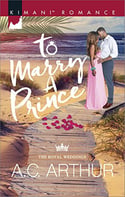 You've also written category romance for Harlequin's Kimani line, including a royals series. What do readers need to know about your contemporary romances?
Contemporary romance is my first love. I began reading Nora Roberts when I was a teenager and I knew that I wanted to write stories that took readers on a journey to places they may never have imagined or just down the street to find love. I've written twenty-one books for Kimani, including the introduction to my most popular contemporary series, The Donovans, The Royal Weddings and just recently, The Taylors of Temptation. One of the things I really enjoy doing with contemporary romance is building stories around families because I get to explore the dynamics of close blood relationships as well as venturing into the journey of finding a true love match.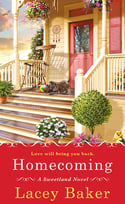 You've written as Sapphire Blue and Lacey Baker as well. Can you tell us a bit about your Sweetland series? Those covers are adorable.
Sapphire Blue was the pseudonym I used for writing erotic romance. Now, I write all contemporary steamy and/or erotic romance under A.C. Arthur.
The Sweetland series was my first venture into small town romance. My publisher wanted to use a pen name because these books were a little sweeter than my normal romance. I loved the Chesapeake Bay town of Sweetland because I'm from Maryland and enjoy visiting the Eastern Shore frequently. And true to my love of family based stories, the Cantrell siblings come together again for their grandmother's funeral where they learn that the woman who raised them has given them a task—they each have to take possession of one of the prized chocolate Labrador Retrievers to raise as their own or find a loving home for. Each book is a mix of puppy mayhem, town gossip, a dash of mystery and a wonderful love story.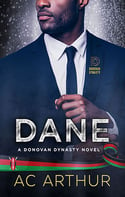 Whew! You're a prolific author. What's it like balancing so many different series and pen names?
Chaotic!
LOL
It can be a lot to juggle on some days, which is why I've decided not to use Sapphire Blue anymore. There are no immediate plans to write another Lacey Baker story, but with so many changes going on in the literary industry, I'm not ruling out a return to Sweetland or other sweet, small town romances under that name. I've also written young adult paranormal as Artist Arthur and will not rule out a return to that genre either. As for A.C. Arthur, I think I have a pretty good handle on her stories and am able to move in and out of her different series without too much confusion.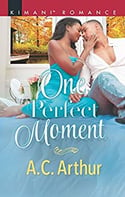 What else should readers know about your books?
I am and always have been dedicated to writing diverse stories with characters from many ethnic backgrounds or living with situations such as mental or health issues. We live in a colorful world and I enjoy reading stories that showcase every nuance of our real world on a fictional landscape.
What can we look for next from you?
I am currently working on the first book in a new series called The Game Changers—about six friends who bonded as teenagers while in a group home and are now taking a second chance at building their adult lives through a sports bar called Game Changers. These guys think they're changing the game by beating the odds that were against them while growing up, but it's really the dynamic women who walk into their lives that change all the rules the men have set for themselves. This series will be published by Entangled Publishing.
Book #8 in the Shadow Shifters series, Cougar's Kiss is also slated for release in October 2018. Readers will be thrust into the next stages of the shifter rebellion with a surly cougar and a sheltered jaguar! I will be releasing this book through my publishing company, Artistry Publishing.
What have you read (and loved) lately?
The Belles by Dhonielle Clayton. It's a young adult fantasy that was lush and vivid and with a great plot that touched on some very real self-identity and appearance issues.
Giveaway!
We're giving away one of AC Arthur's ebooks, winner's choice. The giveaway will run from now (8/13/18) through midnight EST on 8/17/18. Void where prohibited, no purchase necessary to win, must be 18 to enter, international okay (you just have to have an email address). Good luck!
Want to keep up with AC?
And her website: www.acarthur.net