June is packed with new books, just in time for summer reading! We've got a bunch of books to look forward to, plus a couple that are already out, sneaking in at the end of May. Enjoy!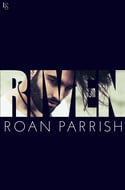 Riven, by Roan Parrish - May 29
Two tortured musicians inspire each other to risk their hearts in this edgy and emotional novel.
Theo Decker might be the lead singer of Riven, but he hates being a rock star. The paparazzi, the endless tours, being recognized everywhere he goes—it all makes him squirm. The only thing he doesn't hate is the music. Feeling an audience's energy as they lose themselves in Riven's music is a rush unlike anything else . . . until he meets Caleb Blake Whitman. Caleb is rough and damaged, yet his fingers on his guitar are pure poetry. And his hands on Theo? They're all he can think about. But Caleb's no groupie—and one night with him won't be enough.
Just when Caleb is accepting his new life as a loner, Theo Decker slinks into it and turns his world upside-down. Theo's sexy and brilliant and addictively vulnerable, and all Caleb wants is another hit. And another. That's how he knows Theo's trouble. Caleb can't even handle performing these days. How the hell is he going to survive an affair with a tabloid superstar? But after Caleb sees the man behind the rock star, he begins to wonder if Theo might be his chance at a future he thought he'd lost forever.
Andrea - Just EVERYTHING about this blurb makes my whole heart need it!!!!!!!!!
Buy a copy: Amazon, iBooks, Kobo, Barnes & Noble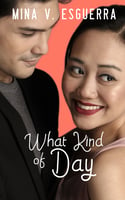 What Kind of Day, by Mina V. Esguerra - May 31
It's a bad day for Ben. After years of earnest work, he's been fired from his job as a speechwriter for a Philippine senator. Name tarnished and bridges burned, he steps into what he thinks is a shuttle ride home, and accidentally joins a tour of his own city.
It was supposed to be a good day for Naya. Her passion is traveling, her hobby is discovering cool things to see and do, and taking people on tours of Metro Manila is her only job right now. An extra person at the last minute isn't ideal, especially if the person is a former colleague and the subject of the day's hottest political trash fire. But work is work, and she decides to let him stay in the tour.
She's hoping she won't regret it. He's hoping his day turns around. What kind of day could it be? Maybe the best kind.
Margrethe - Review soon!
Buy a copy: Amazon, iBooks, Barnes & Noble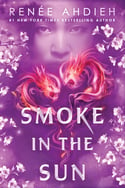 Smoke in the Sun, by Renee Ahdieh - June 5
The highly anticipated sequel to New York Times bestselling Flame in the Mist--an addictive, sumptuous finale that will leave readers breathless from the bestselling author of The Wrath and the Dawn.
After Okami is captured in the Jukai forest, Mariko has no choice--to rescue him, she must return to Inako and face the dangers that have been waiting for her in the Heian Castle. She tricks her brother, Kenshin, and betrothed, Raiden, into thinking she was being held by the Black Clan against her will, playing the part of the dutiful bride-to-be to infiltrate the emperor's ranks and uncover the truth behind the betrayal that almost left her dead.
With the wedding plans already underway, Mariko pretends to be consumed with her upcoming nuptials, all the while using her royal standing to peel back the layers of lies and deception surrounding the imperial court. But each secret she unfurls gives way to the next, ensnaring Mariko and Okami in a political scheme that threatens their honor, their love and the very safety of the empire.
Suzanne - I fell in love with Ahdieh's writing when I read The Wrath and the Dawn, and Flame in the Mist didn't disappoint me at all. Her writing is a lush, sensory experience with mystery and romance and everything you could want in a YA Fantasy Romance. I'm looking forward to figuring out how *spoiler* gets out of *spoiler.*
Buy a copy: Amazon, iBooks, Kobo, Barnes & Noble, The Ripped Bodice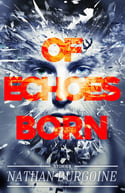 Of Echoes Born, by Nathan Burgoine - June 12
Outside a hospital in Ottawa, a heartbeat returns long enough for a good-bye. Downtown, a man steps into shadows of the past to help those who have died find their way free from their memories. In Niagara, an icewine vintage is flavored with the truth of what happened on a dark evening of betrayal. In British Columbia, the snow itself can speak to someone who knows how to listen.
The past echoes through these queer tales--sometimes soft enough to grant a second chance at love, and other times loud enough to damn a killer--never without leaving those who've heard it unchanged.
Of Echoes Born is the first short story collection from Lambda Literary Award finalist 'Nathan Burgoine.
Andrea - Nathan is one of my favourite authors on twitter. I am heavily invested in his life and WIPs (all featuring queer characters) but haven't yet read any of his books. The fact that his new release is a collection of short stories feels like destiny and I am so excited to finally delve deep into his words. Things I am especially excited about: 1) Ownvoices queer rep 2) The stories are set all around Canada, where Nathan lives. 3) It looks like Nathan's writing leans toward sci-fi / fantasy, and these short stories are a great way for almost-always-contemporary readers like me to dip my toes into the genres.
Buy a copy: Amazon, iBooks, Barnes & Noble, The Ripped Bodice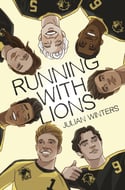 Running with Lions, by Julian Winters - June 19
Bloomington High School Lions' star goalie, Sebastian Hughes, should be excited about his senior year: His teammates are amazing and he's got a coach who doesn't ask anyone to hide their sexuality. But when his estranged childhood best friend Emir Shah shows up to summer training camp, Sebastian realizes the team's success may end up in the hands of the one guy who hates him. Determined to reconnect with Emir for the sake of the Lions, he sets out to regain Emir's trust. But to Sebastian's surprise, sweaty days on the pitch, wandering the town's streets, and bonding on the weekends sparks more than just friendship between them.
Andrea - This YA debut is centered on so many things I love and always want more of in the world (especially in my reading world!): Soccer teams! Being on camp! Teens who do not have to hide their sexuality! Boys in love! Muslim boys! Openly bisexual boys! Most of the characters in the book are not white, and not straight! It just seems wholesome and wonderful and would you LOOK at that DELIGHTFUL cover! Added bonus: it's set over a summer, which is wonderful because it's winter in South Africa right now and the rain just keeps pouring down.
Buy a copy: Amazon, iBooks, Kobo, Barnes & Noble, The Ripped Bodice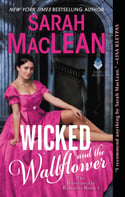 Wicked & The Wallflower, by Sarah Maclean - June 19
When Wicked Comes Calling . . .
When a mysterious stranger finds his way into her bedchamber and offers his help in landing a husband, Lady Felicity Faircloth agrees to his suspicious terms--on one condition. She's seen enough of the world to believe in passion, and won't accept a marriage without it.
The Wallflower Makes a Dangerous Bargain . . .
Bastard son of a duke and king of London's dark streets, Devil has spent a lifetime wielding power and seizing opportunity, and the spinster wallflower is everything he needs to exact a revenge years in the making. All he must do is turn the plain little mouse into an irresistible temptress, set his trap, and destroy his enemy.
For the Promise of Passion . . .
But there's nothing plain about Felicity Faircloth, who quickly decides she'd rather have Devil than another. Soon, Devil's carefully laid plans are in chaos and he must choose between everything he's ever wanted . . . and the only thing he's ever desired.
Suzanne - It's Sarah Maclean. C'mon.
Buy a copy: Amazon, iBooks, Kobo, Barnes & Noble, The Ripped Bodice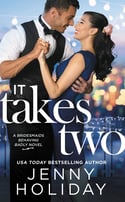 It Takes Two, by Jenny Holiday - June 26
In this hilarious romantic comedy, USA Today bestselling author Jenny Holiday proves that what happens in Vegas doesn't always stay in Vegas...
All's fair in love and war
Wendy Liu should be delighted to be her best friend's maid of honor. But after years spent avoiding the bride's brother - aka the boy who once broke her heart - she's now trapped with him during an endless amount of wedding festivities. Luckily she's had time to perfect her poker face, and engaging Noah Denning in a little friendly competition might just prove that she's over him for good...
Noah Denning is determined to make his little sister's wedding memorable. But it seems Wendy is trying to outdo him at every turn. Challenging each other was always something he and Wendy did right, so when she proposes they compete to see who can throw the best bachelor or bachelorette party in Sin City, Noah takes the bait - and ups the stakes. Because this time around, he wants Wendy for keeps. And when you're fighting for love, all bets are off.
Suzanne - One and Only was one of my favorite reads this Spring. It's so funny and sweet and hot. I'm really looking forward to this follow-up.
Buy a copy: Amazon, iBooks, Kobo, Barnes & Noble, The Ripped Bodice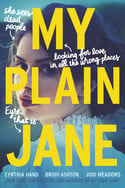 My Plain Jane, by Cynthia Hand, Jodi Meadows, and Brodi Ashton - June 26
Move over, Charlotte Brontë. The authors of the New York Times bestselling My Lady Jane are back with an irreverent spin on Jane Eyre—a tale of mischief, romance, and supernatural mayhem perfect for fans of The Princess Bride or A Gentleman's Guide to Vice and Virtue.
You may think you know the story. Penniless orphan Jane Eyre begins a new life as a governess at Thornfield Hall, where she meets one dark, brooding Mr. Rochester—and, Reader, she marries him. Or does she?
Prepare for an adventure of Gothic proportions, in which all is not as it seems, a certain gentleman is hiding more than skeletons in his closets, and one orphan Jane Eyre, aspiring author Charlotte Bronte, and supernatural investigator Alexander Blackwood are about to be drawn together on the most epic ghost hunt this side of Wuthering Heights.
Amy - I read the first book in the Jane series not too long ago (My Lady Jane) and wasn't a huge fan of it, but I like the concept of this series! It's subtle changes to historical or classic literature Janes. My Plain Jane is a new adaptation of Jane Eyre that has a supernatural spin to it, which ticks off all my appeal factors. Please say Mr. Rochester is some sort of werewolf.
Buy a copy: Amazon, iBooks, Kobo, Barnes & Noble, The Ripped Bodice
What books are you excited for?