Itty-bitty review committee! It's been a good reading month.
Ranking refresher! Categories are based on whether or not I recommend them to fellow readers - DNF (Did Not Finish), Pass, Read it Soon, or Read it Eventually.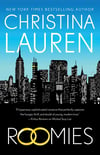 Roomies, by Christina Lauren
Read it Eventually
As Carrie at Smart Bitches, Trashy Books, said, this is sort of two books in one. One book is a delightful romance. The other is a tone-deaf fantasy in which immigration and race and nepotism have no bearing on reality. I borrowed this one from the library and read it in about a day. I'm not a speed reader, so that's a mark of how much I enjoyed this book. It's a modern-day marriage of convenience (for a green card, more on that below) and it works really well. The conflicts felt real, the stakes were high, and the chemistry was palpable. There are strong music/backstage/office romance elements and a lovely cast of nuanced characters. If you liked THE HATING GAME or ACT LIKE IT, you'll like this one.
So. Let's talk about the premise of a white guy coming to the US and getting married (after being here illegally for 4 years) for a green card. Actually? Let's not. I think you can tell where I'm going with this. If the male protagonist in the book had been from Mexico or Iran? He would have been sent to a detention facility for months before deportation. The ways in which we abuse and humiliate non-white people for existing in this country without our "approval" are disgusting and embarrassing and we should be ashamed. This novel doesn't even touch on them. If you can pretend the United States immigration system is biased and harmful and awful? You'll probably like it. I did. (She says, guiltily.)
You can buy it at Amazon, iBooks, Kobo, etc.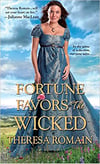 Fortune Favors the Wicked, by Theresa Romain
Read it Soon
A blind adventurer is back in London to sell the memoir of his travels. A vicar's daughter turned courtesan leaves London to escape an abusive keeper. They both end up searching for a trove of gold stolen from the Royal Mint and accidentally falling in love.
This book is Quite Good. Not only is it blessedly free of Dukes, the hero never slut-shames the heroine. He accepts her past, including a daughter the heroine pretends is her niece, in stride, never judging. The heroine is intelligent and strong and all of the good things you might want, but also possesses a combination of practicality and emotional fragility that is rather endearing. It's a rare book in which you'll root for the hero and the heroine in equal measure. This is one.
You can buy it at Amazon, iBooks, Kobo, and all the other places.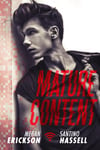 Mature Content, by Megan Erickson and Santino Hassell
PASS - We are no longer recommending books by Santino Hassell due to inconsistencies and abusive behavior.
Trashy Zane and Beau Starr get a bunch of stars and awards from me. I loved their enemies-to-lovers tension and the ways in which they call each other out for their not-so-progressive platforms. The two YouTube stars have opposite approaches to vlogging, with one presenting a clean-cut happy gay face to the world and the other often showing up hungover or just back from a hookup. As they get to know each other, lines blur, and they see the positives in each other's brands - whether through meeting the other's fans or just from talking. The two of them are also sexually compatible, with BDSM elements that are present but not overpowering. I wouldn't call this a "kink book," if that's not your thing. Cameos from Cherry and Garvey (HARD WIRED) were greatly appreciated, as I miss them.