This round of mini-reviews is all m/f romance (*gasp*) with a sports romance, an erotic historical, and an erotic contemp with kink.
Rating refresher! Categories are based on whether or not we recommend them to fellow readers - DNF (Did Not Finish), Pass, YMMV (Your Mileage May Vary), Read it Eventually, Read it Soon.
The Wall of Winnipeg and Me, by Mariana Zapata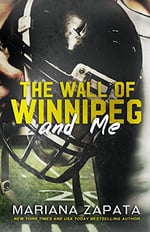 Margrethe says: YMMV
Ah, the fear of missing out. That is why I started reading this book that seemed not for me in quite a few ways. Vanessa works as the assistant to a very famous football player, Aiden, until one day he offends her and she quits. Aiden tries to get her to come back because he's worried about the new season and fears being fired and forced to return to Canada. This is when he proposes a green card marriage with Vanessa.
Truth is, I think I enjoyed the beginning. The voice was strong, the narrator seemed interesting. And then, pretty much nothing happened. Yes, the main characters got into their fake marriage, but they barely spoke. Vanessa had more chemistry with the hero's friend. Also, this book is very long for a shoestring of a plot. I returned the audiobook to the library when I was halfway through the book (it's 673 pages or 16 hours total) because I was tired of nothing happening. Zapata seems to be known for writing slow burn romances, but there was no burn or romance in the first half of the book.
Then, there was the unfortunate green card marriage. It is hard to sympathize with a wealthy white athlete who doesn't even blink at the idea of buying a house for the heroine once the fake marriage requirements have been fulfilled, especially when the place he can't stand the idea of returning to is Canada. As if a white football player would ever be deported from the US. So, yeah, not for me.
Margrethe borrowed this book from her library.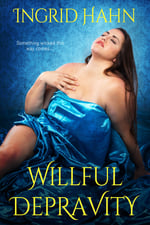 Willful Depravity, by Ingrid Hahn
Suzanne says: Pass
Amazon, Apple Books, Barnes & Noble
This book is only in Mini-Reviews because I didn't want to write a five page essay on fat rep, unnecessarily evil villains, and unsexy sex. So, pretend I did all of that, and feel free to find me on Twitter or via email for specifics.
The heroine is fat, and I don't believe she hates herself. However. Everyone around her hates her for being fat (or at the very least, hates her fat) except for the hero, who seems to have a fat fetish. She never gets to just be a person. She's not simply beautiful, she's beautiful in spite of/because of her weight.
Don't get me started on the hero's father, who is cartoon villain levels of E-V-I-L. He kills the hero's horse. WHY?! Because the hero loved it.
Aaaaanyway, there's also the part where the author repeatedly uses the word "quim," which is worse than "moist" in my book. (Give me a lovely "cunt" any day.) There's no real connection between the hero and heroine, just sex that I didn't find sexy.
Overall, I'm giving this one a big 'ole pass. When it didn't actively hurt to read, it was boring.
Suzanne received a copy of this book from the publisher for review via NetGalley.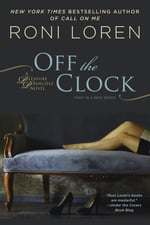 Off the Clock, by Roni Loren
Amy says: Read it Eventually, YMMV
Amazon, Apple Books, Barnes & Noble, Kobo
Professionally, I don't get a chance to read erotica often. Not only is it not as popular as some other genres at my Library, but I generally haven't reviewed erotica much either. As a part of a romance genre study I'm participating in this month, I have to read two erotica novels. I picked Off the Clock not knowing much about it other than it was on a Book Riot best erotica article.
The book centers around two sex therapists, Marin and Donovan, who must work together at a posh mental health institute after having a brief but passionate fling in college. Since this is an erotica novel, you can guess where this goes. I wanted to read a book without the "sex slave" trope, and this fit the bill. There is some power play going on - Marin and Donovan have eight years between them, Donovan is technically Marin's mentor in this new job, and there is some light dom/sub play. Generally, this is something I'm hyper-aware of, as these power dynamics in other genres such as paranormal can circumvent important things like consent. I thought Loren handled it in a savvy, well thought out way that didn't gross me out. Marin and Donovan always play safe, with full consent and awareness of each other's boundaries. But the real stand out is all the FEELINGS. Marin and Donovan's relationship is loaded with real, actualized emotions in between healthy doses of kink.
Off the Clock does talk about sex in a frank way, because of the nature of the narrative. So if the discussion of sex addiction or some light science talk about sex bothers you, then this may not be for you. I enjoyed this book, and I look forward to reading the second installment once I get a copy from the Library!
Content Warnings: As this book centers around the treatment of addiction and mental illness, there are many CWs. But some major ones are murder of a loved one, mental illness of a family member, death of a loved one, alcohol abuse, harm to a child, addictive behavior, depression, thoughts of suicide
Amy borrowed this book from her local Library.