More mini-reviews! This time we've got a queer YA with romantic elements, an m/f contemporary, and an m/m new adult (college-set) romance.
Rating refresher! Categories are based on whether or not we recommend them to fellow readers - DNF (Did Not Finish), Pass, YMMV (Your Mileage May Vary), Read it Eventually, Read it Soon.
Fireworks, by Sarina Bowen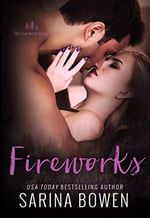 Suzanne says: YMMV
Amazon, Apple Books, Barnes & Noble, Kobo
Bowen writes the kind of small town romance that reflects a real-life experience. What that means in the case of Fireworks is that the two main characters meet when they're teenagers living in the same trailer park and are reunited when the heroine, Skye, comes back to town to help out her sort-of-stepsister who's accidentally gotten involved in fentanyl trafficking. The hero, Benito, is a one-time DEA agent turned State Police officer and is working to bring down the bad guy we've seen throughout this series.
Skye and Benito were totally in love with each other when they were in high school, but after one eventful night, Skye flees to Brooklyn to live with her aunt (her mom is a piece of work) and Benito never hears from her again. Until 12 years later, that is. The bad guy sexually threatened Skye for the entire time she and her mom lived with him, and her mom didn't believe her. It's a whole terrible thing, and Skye has hangups about sex because of it. (She isn't physically assaulted, except when her mom slaps her.)
The romance between the two of them is great, the bad guy gets what he deserves, everything's great. Except for one thing - Skye's hangups are presented as her being "broken." She's never had sex that felt good, and it sounds to me like she might be demisexual, the way she talks about not being able to have casual sex. So the whole thing comes off as acephobic and I cannot recommend that anyone who is demi or ace read this. There's also an ongoing joke about how Skye drew a penis on the weather map, and there's a vaguely transphobic joke at once point "let them see your penis, Skye" that was really jarring.
Content warnings: sexual threats, police misuse of power, sexual coercion, references to heroin and fentanyl, acephobia, transphobic joke
Suzanne purchased this audiobook.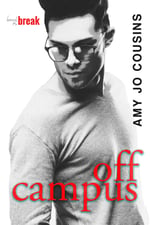 Off Campus, by Amy Jo Cousins
Suzanne says: Read it Eventually
Amazon, Apple Books, Barnes & Noble, Kobo
After having this on my TBR for a couple of years, I finally made the time to listen to the audiobook. The two protagonists are roommates in an off-campus dorm - one because he was assaulted by his last roommate, and the other because his father defrauded investors and is in prison. If you're looking for a low-angst m/m romance - this is not it.
There are a few issues that I was worried about, such as the "jock" character being labeled as straight at the beginning. Turns out, he's bi, and he comes to terms with that over time. It's not a Gay For You romance, but coming out is a big part of that character's arc. It's complicated by the fact that he's trying to fly under the radar after he had to leave campus when his dad lost everything. No money = no college, but also? He was being hounded by the press. So he's got some issues to deal with regarding people knowing anything about his business. The other character deserves better, however, and I don't think Cousins shied away from making it clear that it's unfair to to the out boy to be ignored by the closeted boy in public. It's a major source of conflict. Anyway, it's all dealt with and the story was super hot and angsty.
Content warnings: sexual trauma, use of the word "G---y" in reference to one character's job driving a cab in Boston (this is removed from the ebooks, but not from audio at this time), use of the word "f----t" by a character who is a bully (but is gay and the hero of the next book in the series), voyeurism without consent (one character brings boys back to the room they share and the other pretends to be asleep)
Suzanne borrowed this audiobook from Hoopla via her public library.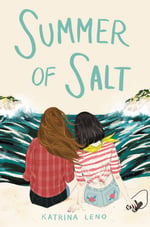 Summer of Salt, by Katrina Leno
Andrea says: Read it Soon, but beware of triggers
Amazon, Apple Books, Barnes & Noble, Kobo
The thing I wish most about Summer of Salt is that there were trigger warnings for sexual assault, PTSD and grief, but also that it was widely talked about as a book that feels redemptive and powerful and encouraging in the way it deals with the issue of rape. (It's not the core of the story as you read it, but as you come to the end and things start making sense, it becomes clear that it was.)
It's a story of small town magic, superstition, and sisterhood. There's queer love (Georgina is gay, the girl she likes is bi, also Georgie's bff is asexual) and best friendship and storms and birds and mysterious happenings all over the town which is also an island. It's written so beautifully - descriptive and sincere, like a love letter to a hometown, a song written for a season.
If you want to read a little mysterious magic, but your real-life self can't break away from knowing that men are dangerous and you feel safer around women, the tone of this book is perfect for you. Summer of Salt is a really, really powerful, healing book that, if you can read a story that deals with the topic, is everything it should be. There's a quote at the end that is a spoiler so I took out the middle, but it says that "As if out of a fairytale, nobody asked: [Insert all the questions they usually ask when girls' bodies are violated] Because --again, out of a fairytale-- they realized that none of those things mattered. Because there was nothing in a girl's history that might negate her right to choose what happens to her body." Summer of Salt is everything we need to happen in our personal lives and the justice system. We are given the gift of that peace and redemption and JUSTICE in this book.
Content warnings: violence against an animal, death of an animal, slutshaming, victim blaming, gaslighting, attempted murder, underage drinking, suggestion of misusing sleeping pills, mention of her father's death (drowning), rape, grief, ptsd, victim threatened with a gun, men being trash.