A bonus edition of Mini-Reviews for June!
Rating refresher! Categories are based on whether or not we recommend them to fellow readers - DNF (Did Not Finish), Pass, YMMV (Your Mileage May Vary), Read it Eventually, Read it Soon.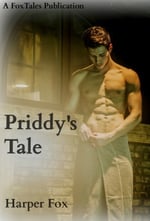 Priddy's Tale, by Harper Fox
Margrethe Says: Read it Eventually
Amazon, iBooks, Kobo, Barnes & Noble, The Ripped Bodice
Priddy's Tale is a sometimes beautiful book that I am not going to recommend for everyone. The book is about Jezz Priddy, a young man recovering from a drug overdose, who is not dealing with his drug addiction. His best friend gives Priddy a place to stay in the lighthouse while the friend goes off to university. And one night, Priddy sees a boat go down and saves a man from the wreckage. However, Merou is a merman and was not actually in danger. And some things happen including human-merman sex, a threat to Priddy, a threat to the merpeople, and an HEA.
The thing about Harper Fox is that she writes beautiful words. They are so evocative and lyrical. The other thing about Fox is that she writes wish fulfillment stories with a heavy dose of fantasy and/or mysticism. When I say wish fulfillment, I don't mean that the boy no one noticed gets the hot merman, I mean that the merman's magic semen can heal and the merman can remove Priddy's addiction. And I'm not really a fan of a literal magic peen. There is a place for this sort of story and I think that is why Fox's fans are so very much HARPER FOX FANS. You know to some extent what the book will give you. My concerns are completely personal in that I'm uneasy with magicked away problems, and Priddy's Tale has a pretty big issue magicked away.
For the most part, Priddy's Tale was an enjoyable read: beautiful writing, a well-crafted story, and characters I cared a lot about. I finished the audiobook in a day with ease. My reaction to it is definitely a it's-me-not-the-book situation. If I was more into fantasy, this would probably totally be my thing.
Content Warnings: addiction, drug overdose, magically cured addiction, references to child abuse, secondary predatory May-December relationship
Copy of book purchased by reviewer.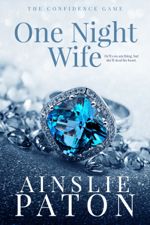 One Night Wife, by Ainslie Paton
Suzanne says: YMMV
Amazon, iBooks, Barnes & Noble
I'm not sure whether it's me or the book this time around, but One Night Wife didn't give me the happy feeling I need from romance these days. If I'm honest? It made me more depressed about the state of the world. The premise is that of a Robin Hood hero, working within the upper echelons of NYC's social scene to fleece rich a$$holes of their billions, then redirect that money to charity. The heroine is one of two young women running an awkwardly named non-profit that facilitates micro-loans to disadvantaged women around the world, helping them to lift their families out of poverty.
There were a lot of things in the book that worked for me, like Paton's usual banter and sexual tension. There were also a lot of things that didn't work for me, however. For starters, the book is overwhelmingly populated by white, rich, and privileged jerks. Now, there's an argument to be made that the book is about a family, so it makes sense for them to be racially matched, that the distribution of the super-wealthy in the US is almost exclusively white, and that the whole point is that the rich are a$$holes and don't deserve to hoard their un-earned wealth. Yes to all of that - but that doesn't make it fun to read about.
I did enjoy the exploration of grifting lingo and the art of the con, but overall the book focuses more on Cal and his family (rightfully so?) and we lose the value of Finley's nonprofit work. It gets funding, yay! She explains over and over why they deserve funding, yay! But then the nonprofit is overshadowed by the Big Con, and it made me sad. I've worked for a number of nonprofits over the years and I know well that it's poor people who donate. Poor people who work there. Poor people who actually give a damn. It's just... I guess I wanted Cal's HEA to be working as a white hat, using his powers for legal good and maybe even to influence the political system rather than essentially giving up on humanity.
Here's the thing - I know that this is a fiction. I know that the entire premise is supposed to be wish-fulfillment. That's why I wanted the wish-fulfillment to be a little less... realistic and depressing. Paton maybe did too good a job of making me see the underbelly of the super-rich, the way they treat women and the legal system and don't care about anything. I kind of wanted a win, even if it was fake. I wanted someone to go to jail, I wanted to see Alex Astor's fall, not just read about it in a throwaway sentence.
Anyway, the book didn't work for me as well as Paton's books usually do. I think that if you're here for Paton's usual sexy fluff, you might be disappointed. If you're here for glitz and crime and something of an antihero who's not that antiheroic, you may be satisfied. Just don't expect it to make you feel better about the current state of wealth distribution and misogyny.
Review copy provided by the publisher via NetGalley in exchange for an honest review.
CW: sexual assault, rich assholes, grifters, crime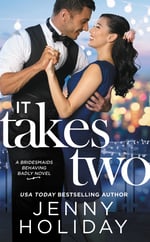 It Takes Two, by Jenny Holiday
Suzanne Says: DNF, YMMV
Amazon, iBooks, Kobo, Barnes & Noble, The Ripped Bodice
This book wasn't working for me, so I put it down after about 130 pages. I know a bunch of other people are loving it, so I urge you to go check out their reviews.
Real quick, here's what wasn't working for me:
- Overprotective hero, who at one point "pussy-blocks" the heroine when she's trying to find a one-night-stand at a bar. He leaves his apartment just to go to the bar and prevent her from finding someone. They aren't in a relationship. He's also got a savior complex regarding his sister. I was trying to ignore it, but at the beginning of the book, he says he's super happy to find out that Cam (from the first book) is a former Marine, because that means he's going to take good care of Jane. As though Jane isn't a full person with a successful career? (Cam has PTSD from his time as a Marine, by the way. Both of my brothers are Marines, and the idea that this makes them more or less capable as a man bothered me. To be fair, I didn't get these feelings from the first book, so maybe Jenny addresses this later.)
- Wendy is fine. She's a grumpy heroine, which is totally my thing. I just didn't like the idea that her grumpiness was shaped by Noah standing her up at prom when she was 15. Anyway, she's got some stuff to work through regarding Jane's upcoming wedding, but it's clear to everyone that it's because she's afraid of losing her best friend.
- The plot wanders around a bit. The blurb says the book is about the two of them competing to see who can throw a better bachelor/bachelorette party, but that doesn't even come up until some point after I stopped reading.
Anyway, the book is fine, but it didn't hold my interest and I wanted the two of them to get their HEA without me having to read about it. I would also like to slap Noah a couple of times. (I assume Jenny makes him have a reckoning, because she doesn't usually write misogynists.)
If you like the BFF's older brother trope, second chances, enemies-to-lovers, a heroine who likes casual sex, and/or bickering lawyers, this may be the book for you!
Review copy received from the publisher in exchange for an honest review.