This round of mini-reviews is a very mixed bag. An f/nb epic fantasy romance, a m/m romantic fantasy/mystery, and a gothic m/f historical with BDSM elements.
Rating refresher! Categories are based on whether or not we recommend them to fellow readers - DNF (Did Not Finish), Pass, YMMV (Your Mileage May Vary), Read it Eventually, Read it Soon.
Starless, by Jacqueline Carey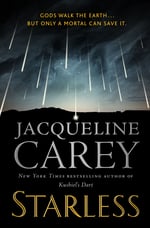 Suzanne Says: Read it Eventually
Amazon, iBooks, Kobo, Barnes & Noble, The Ripped Bodice
If you've read a novel by Jacqueline Carey before, you probably know what to expect here: incredible worldbuilding, lots of adventure, and a slow burning romance in a long-ass book. I happen to adore her long-ass books, so this one was a treat for me as it's a standalone and I could fit just one 600 page novel into my reading schedule. The central romance in the novel is between two sort-of-fated young people, a disabled princess and a nonbinary monk of sorts. The nonbinary character was raised a boy and uses male pronouns, only told that usually people with his anatomy are assigned female at birth when he approaches puberty. Both the disabled character and the nonbinary character are treated with respect throughout the book, and I searched out a couple of nonbinary reviewers on Twitter before writing this review. (Both of them felt seen and were excited to see a nonbinary fantasy protagonist kicking butt and saving the world.)
The only reason I don't have this book as "Read it Now" is because it's 592 pages and well... that's a commitment.
Copy of book borrowed from public library by reviewer.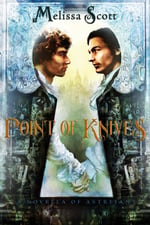 Point of Knives, by Melissa Scott (Novella)
Eva says: Read it Now, but also YMMV
Amazon, iBooks, Barnes & Noble, Kobo
Nicholas and Philip met in the first Astreiant novel, Point of Dreams, and are now trying to navigate their mutual attraction. Which is not easy, considering Nicholas is a copper and Philip works as a bodyguard for one of the city's shadier characters. The two had decided to stop seeing each other for exactly that reason but then two people get murdered and Philip's boss had had business dealings with one of them and now a special interest in finding the killer. So, Nicholas and Philip can't help running into each other while they both investigate. And of course, the sparks still fly between them.
I liked the worldbuilding and the characters in Point of Dreams but found the pacing not very good. First, nothing happened and then everything happened at once. Point of Knives does much better in that aspect. The mystery comes with many twists and turns, and a nail-biting climax and the romance is rather low-key but also very sweet.
However, the relationship develops over the whole series, so the book comes with an HFN rather than an HEA: The world itself and the magical system are very different from the standard fantasy-fare and if you want to make sense of it, you have to pay close attention (and preferably read the first book in the series, which has barely any romantic elements) which isn't everybody's cup of tea. But if you like fantasy (and very slow burn romance) this book is a unique and delicious blend.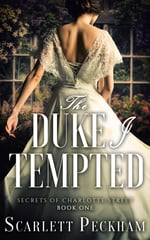 The Duke I Tempted, by Scarlett Peckham
Suzanne Says: DNF, YMMV
Amazon, iBooks, Kobo, Barnes & Noble
Based on the conversations I've had about this book so far, it seems to be a polarizing novel. I was thoroughly spoiled for the ending, so when I got to the 44% mark and realized I'd been trying to read it for a week, I threw in the towel.
There's a lot to like here: Peckham's writing is gorgeous, her botanist heroine is prickly, resourceful, and totally competent, and the set-up of the novel pulled me right in.
It's the darker aspects of the book that turned me off, however, and I think readers will want to know what to expect before starting. A few content warnings: trauma as a reason for masochism, a whipping that some saw as cheating (near end of book), said trauma includes death of a small child at the hands of hero's father, heroine has an aggressive stalker-type man in her life. I felt what the hero needed was therapy and something more healing than the heroine's magic vagina. After all, if he had been punishing his body with alcohol or if he had committed suicide, I don't think his actions would be considered "sexy" by readers. (That is a larger conversation.)
The book reads as a gothic Beauty & The Beast retelling with botany and BDSM. If that sounds like your thing? You may very well love it.
Review copy received via NetGalley in exchange for an honest review.