More mini-reviews! An m/f historical, an m/f contemporary, and an m/m paranormal.
Rating refresher! Categories are based on whether or not we recommend them to fellow readers - DNF (Did Not Finish), Pass, YMMV (Your Mileage May Vary), Read it Eventually, Read it Soon.
A Tangled Legacy, by Mickie B. Ashling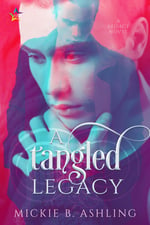 Eva says: Pass
Amazon, iBooks, Kobo, Barnes & Noble
I was misled by the blurb of this book. It looked like a contemporary romance where a major conflict is the fact that one of the characters is the heir to the throne who falls in love with another man and is now torn between his feelings and his duty to produce an heir. There was a mention of the love interest being a witch, but I did get the impression that it would be more contemporary than fantasy.
So, I was really taken aback when I encountered mpreg on page one. Colin's father the king is gay, he got his husband pregnant who then gave birth to Colin. A little later it gets explained by the husband being intersex. So, in this world intersex apparently means that you look like a cis-man, but you can pregnant…but also impregnate someone else since we later learn that Colin is also intersex, but he had hoped to marry a woman and produce an heir with her. And the way the book talks about male pregnancies makes it sound like it is quite common. Which requires lots of people with that special 'type' of intersexuality. Sorry, but for me, that still reads like the old-fashioned fanfic 'I don't want a woman near my precious characters' mpreg to me. The explanation is just a flimsy excuse to make it sound like something different.
Added to all this is a writing style that is just… bad. There's a lot of telling and very little showing, and the story has three 1st person POV narrators: Colin (the 20-year-old crown prince), Alain (over 30, Nobel prize winner – yes really, powerful witch) and Colin's biological father (consort in his 50s) and they all sound the same. Without the name of the narrator at the beginning of the chapter, I wouldn't have been able to tell whose POV it was. This book really wasn't for me.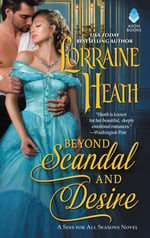 Beyond Scandal and Desire, by Lorraine Heath
Suzanne says: Read it Eventually
Amazon, iBooks, Barnes & Noble, Kobo
I read Lorraine Heath when I'm looking for an over-the-top plot and lots of angst. Sometimes this goes horribly wrong, like in The Viscount and the Vixen (hidden pregnancy) or The Earl Takes All (he pretends to be his dead TWIN for months and months... UGH) but in this case, I think it was mostly successful. Heath always has a big reveal near the end of the book, so I'm going to try to be spoiler-free here. If you wanna chat about it, hit me up on Twitter!
The hero is the illegitimate son of a Duke and was raised by a widow who took in many bastards. Apparently this was a common thing, basically the people would pay a poor woman a small amount of money to take the baby, the widow would quietly kill and bury the baby... Horrifying, but the hero obviously escaped that fate and was taken in and raised with three siblings, who we assume each get a book in this series. Anyway, the hero is determined to be recognized by his father and is going to take down his younger brother (the heir). The Earl/heir has a gambling problem and a wife-to-be. (Aislinn is the Duke's ward, which squicks me because it's essentially a step-brother thing.) Anyway, Mick sets out to take all of the Earl's unentailed properties (gambling) and seduce his soon-to-be-fiancee, but *oops* he falls in love. I really did like the romance between the two of them, and I liked that the heroine is justifiably angry when she realizes that ALL MEN ARE TRASH. She doesn't tolerate the Earl's drinking and gambling, she doesn't tolerate Mick's revenge schemes. She's even hatching a plan to wait until her majority and use her inheritance to live on her own terms.
This is definitely a soapy, angsty, twisty book, but that's just what I wanted.
Content Warnings: infanticide
Suzanne borrowed this audiobook from her public library.
All I Want for Halloween, by Marie Harte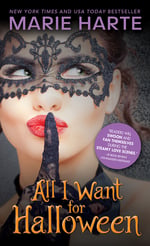 Suzanne Says: Read it Eventually (Or for Halloween!)
Amazon, iBooks, Kobo, Barnes & Noble
I got a print copy of this book in a bag at a tiny local conference I went to in October of 2017, but didn't have a chance to read it before Halloween. So when I realized it was on Hoopla as audio, I decided to make it my "welcome to Autumn" read for 2018. If I'm honest, I wasn't expecting to like it as much as I did. A Halloween romance without any paranormal elements? How was that going to work?
Oh, but it did. The hero is being pushed out of the motorcycle shop reality show he started with his best friend (who is now hooking up with his ex-fiancee). The heroine and her siblings run a bakery and catering business and are catering a fancy Halloween shindig. They meet at said shindig, when he's changed into his second costume of the night to go incognito after the taped portion of the evening. Sparks fly, they have nearly-public sex, and *poof* the rest is history... not so much.
Here's what I liked: the sex scenes were fan-yourself hot, the heroine is tall and really fit, the hero is a little insecure. I ended up reading two more by Marie Harte after this because she writes excellent dirty-talking heroes.
Here's what I didn't like: the evil ex-fiancee. WHY are all exes in romance evil? She couldn't just have been the cheating ex who cheated with his best friend. No, she has to continue cheating. She's trying to sleep her way to success or something, and her sexual promiscuity is not-so-subtly tied to her evilness. I'd love to see more romances that don't hinge on the "evil other woman" trope.
There are tons of costumes and decorations and cookies, plus this is a standalone, which I think makes it the perfect Halloween read if you don't want to be terrified.
Suzanne borrowed this audiobook from her public library.