Every year, Ninestar Press puts out a bunch of holiday novellas, but I always miss some because they a) have similar covers, b) come out in the middle of a thousand other holiday stories, and c) don't get the mainstream press coverage. So this year, I asked Ninestar for their full line-up so we could make our list and check it twice. They've left behind the all-the-same-cover idea, and I counted 4 lovely seasonal backgrounds this time.
A couple of things to know:
- Not all of these are romances, some are about couples already paired up, and some don't have a guaranteed HEA (but they're all queer)
- The majority are Christmas, but there are also stories about Yule, New Year's Eve, Thanksgiving, and one takes place on Boxing Day. There are some Hannukah novellas from 2017 and 2016, but it doesn't look like any this year.
Without further ado... bring on the books!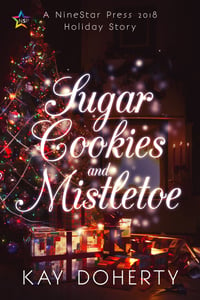 Sugar Cookies & Mistletoe by Kay Doherty
Release Date: Oct. 22, 2018
Preston believed he would never find his mate. When he finally does, he's in for a surprise. His mate, Dylan, is a rare omega wolf-shifter, but he's still a child himself. Due to the unusual circumstances, the families agree to keep Preston and Dylan separated, only allowing monitored emails to be exchanged between them. Six years later, Dylan returns to the wolf-shifter town of Barton, and Preston. With Christmas just around the corner, it's the perfect time for Dylan to meet the Callahan Pack, reunite with his mate, and figure out exactly what his omega status means for his future with Preston.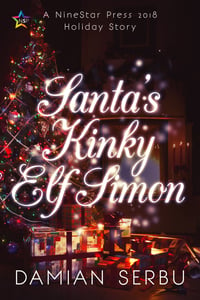 Santa's Kinky Elf, Simon by Damian Serbu
Release Date: Nov. 5, 2018
Amazon, Barnes & Noble, Apple Books
Santa has big plans to release a story about himself right before Christmas, revealing his true nature as a vampire. He decides the best advanced publicity comes from reality stories and enlists Simon the Elf, a captive former human, to hit Chicago for the holidays and strike up a romance.
Santa wants Simon to document the whole thing, so they can give people a taste for life under Santa's enslavement before the main story hits. Forced to the Second City against his will, Simon at first resists Santa's orders, knowing a romance would be short lived at best, and at worst bring some innocent victim into Santa's evil orbit.
But Simon failed to reckon with the charm and wit of Jonah, a hot guy he meets his first night on the town. Falling hard, Simon takes up with his new love despite knowing the awful choice ahead of him. Santa's Kinky Elf, Simon, tells you this tragic love story in the elf's own words.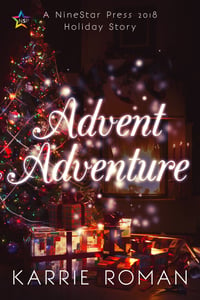 Advent Adventure by Karrie Roman, A Holiday Sequel to Saved
Release Date: Nov. 5, 2018
Amazon, Barnes & Noble, Apple Books
With their nightmare at the hands of a serial killer behind them, Jack and Will are determined to give each other a perfect Christmas. As the countdown to the big day begins, life continues on with all its little ups and downs, laughs and tears, as Jack searches for the perfect gift and Will makes plans that will change everything for them.
Surrounded by friends and family Will and Jack do their best to have the kind of normal, loving Christmas neither of them has experienced in a long, long time. No matter what kind of Christmas they have, though, they both understand that as long as they are together the day will be perfect.
When the big day arrives, Jack receives a gift from Will he never thought possible, one he didn't even know he wanted and the last gift he will ever need.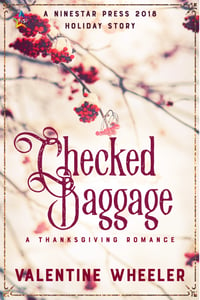 Checked Baggage by Valentine Wheeler, A Thanksgiving Romance
Release Date: Nov. 12, 2018
Amazon, Barnes & Noble, Apple Books
When Faris has to take a trip back to his family's home in Lebanon to handle his grandmother's estate, he finds himself caught between the world he left and the world he's built himself in the United States. After an exhausting stay with his boisterous extended family, all he wants is a quiet trip home and a chance to rest before Thanksgiving with his parents in Massachusetts. But the weather has different plans for him.
Charlie's father left when he was a toddler, and he's never gotten a chance to connect with his paternal roots. A trip to the village his grandparents left in the 1930s gave him the facts but left him yearning for a connection he still didn't feel.
When both men are stuck in Beirut for the night unexpectedly, can they find the feeling they're both missing and make it home in time for Thanksgiving?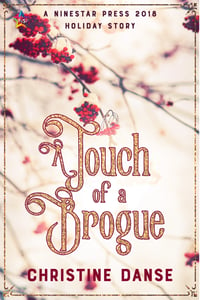 A Touch of a Brogue by Christine Danse
Release Date: Nov. 12, 2018
Eric Rossi isn't a bad person. But he's been talked into doing some pretty regrettable things by the man he thought he loved–like write a fake review of a pub he never stepped foot in for a food magazine that makes or breaks restaurants in Portland. He's since dumped the boyfriend, but he can't undo the review or the damage it's done to the Irish Sisters and its passionate owner, Colm.
When Colm paid to have his family pub shipped from Ireland to Oregon, he put his savings, his heritage, and his sanity on the line. Now he gets so few customers, he notices each one. Especially the sweet, shy man who is dragged into the pub by his pink-haired niece. He calls himself Mark, and he is a chef's dream, a man who completely enjoys everything Colm cooks. What Colm doesn't know is that the man he's falling for is the critic who's almost cost him everything.
Eric didn't mean to fall in love with the Irish Sisters or its blue-eyed, Irish-American owner. He definitely didn't mean to lie about his identity. He's already done enough damage, after all. Now he must make things right for the restaurant and disappear from Colm's life before Colm learns the devastating truth, because the last thing Eric wants to do is destroy the chef's heart, too.
New Year's Shippin' Eve by Karrie Roman, A Holiday Sequel to Shipped
Release Date: Nov. 19, 2018
Lucas Evers and Ryan Lowe thought they had it all: successful careers, good friends and, most importantly, each other. The one thing left was to start a family of their own. Now seems a perfect time. The danger that stalked them is in the past, they've settled into their celebrity roles and the love between them continues to burn. They've signed all the paperwork to adopt a child and now await their longed for child to come along.
Down Under for a traditional Aussie Christmas, Lucas receives some unexpected news they both thought would be months, even years, away. It's the kind of news that will change their lives forever. What better time to share it with Ryan than New Year's Eve? As they settle in to watch the fireworks over Sydney Harbour, Lucas tells Ryan the news, knowing that midnight will not just chime in a New Year but also new lives for them both.
New Year's Eve is their chance to put the past behind them and welcome their future.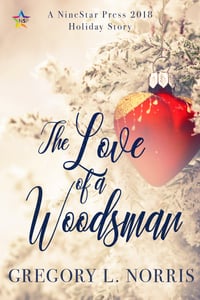 The Love of a Woodsman by Gregory L. Norris
Release Date: Nov. 19, 2018
Teddy Saunders wakes from a trance, trapped in a car speeding through a snowy December landscape, the prisoner of a sinister monocled man and his servant. His captors' intentions soon become clear—Teddy is to be sacrificed to weaken magical wards surrounding a realm of sacred woods.
Gable Flanigan, the handsome protector of those woods, foils their plans and rescues Teddy, taking him to his home deep in the forest. There, Teddy witnesses even greater mysteries and wonders than his demonic pursuers, including Gable, a man pledged to watch over the woods and all they shield from the rest of the world.
In Gable's home, the secret of their dark enemies deepens, as does the attraction between Teddy and his rescuer. But Teddy soon finds himself again in jeopardy—can the woodman's love save him?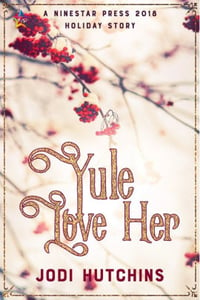 Yule Love Her by Jodi Hutchins
Release Date: Nov. 26, 2018
Amazon, Barnes & Noble, Apple Books
Being late for work turns out to be a stroke of luck for personal assistant Bec Strom when she catches the later metro bus and meets the alluring artist Joy Stevens. After overhearing a verbal berating from Bec's boss, Joy sparks a conversation with Bec. Intrigued by the other woman, Bec isn't upset she's missed her usual bus again the next day and she's elated to bump into Joy a second day in the row. On the third day, Bec invites Joy to lunch, leading to a second date for the weekend to have drinks.
For over a year, Joy has been in a relationship hiatus due to the infidelity of her past lover, opting for impersonal trysts in lieu of an actual connection. She's grown comfortable with this way of life until Bec stepped into her world. Joy purposes they take things slowly and their feelings build over the course of the next few weeks. Two days before Christmas, the women make a shocking discovery, a third party throwing a metaphorical wrench into their blossoming relationship. Will they overcome this obstacle and find a happily ever after or will they let a misunderstanding thwart their romance?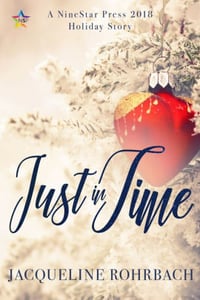 Just in Time by Jacqueline Rohrbach
Release Date: Nov. 26, 2018
The legendary ghosts of Christmas—Past, Present, and Future—failed to cure Evan Eazer of his misanthropy. He hates people, loves conflict, and has a swearing habit to boot. Phil, the Ghost of Imaginary Time couldn't be more thrilled. Finally, it's his turn to get off the bench and into the game. He's sure he can cure Evan and earn back his place in the giving-people-Christmas-epiphanies rotation.
Evan won't reform easy. He's immune to Phil's many charms and seems content to live out the rest of his life bitter and alone. Worse, Phil's time on the bench has left him ignorant to the ways of humanity. He struggles to navigate the new world and find his place within it let alone help someone else find his way back on the right path.
But one thing Phil does understand about the strange world in which he finds himself is Evan and his pain. He knows what it's like to be misunderstood by pretty much everyone. But can he get Evan to understand him, too?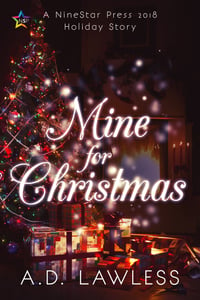 Mine for Christmas by A.D. Lawless
Release Date: Nov. 26, 2018
Amazon, Barnes & Noble, Apple Books
Matt Westin was shocked when he ran into Cody, his grade-school best friend—pleased, but shocked. Devastatingly handsome was an understatement when it came to Cody, with his hazel eyes, wide smiles, and broad shoulders.
It was less shocking, months later, when Matt found out just how far he'd go for Cody. A desperate request for Matt to play his boyfriend over Christmas and save him from his mom's meddling blind-date plans completely hammered that fact home.
Matt couldn't resist saying yes, not when it meant getting closer to Cody. The only question was how would he ever be able to let him go when it was over?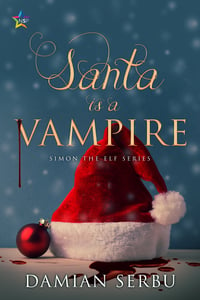 Santa is a Vampire by Damian Serbu
Release Date: Nov. 26, 2018
Amazon, Barnes & Noble, Apple Books
Simon the Elf wants to tell you the true story behind Jolly Ole St. Nick. Yeah, he's a vampire. But that alleged gift giver and lover of children hides more than that fact from you. And what about Mrs. Claus and Rudolph? Venture into a world of enslaved elves, enchanted animals, and death wrought by Santa himself. With his sharp wit, Simon will lead you into the darkest realms of Christmas. Warning: Simon cusses a lot. But you would, too, if Santa held you captive.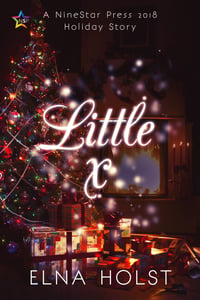 Little x by Elna Holst
Release Date: Dec. 3, 2018
Amazon, Barnes & Noble, Apple Books
Malmö, Sweden, 1996
Sofie Andersson is a dyslectic born under the star sign Aries, who drives the local buses for a living. Her hobbies include knitting terrible hats and intermittent lesbianism. This December she is on the point of moving into her first flat of her own, figuring out her place in the world, when an instant attraction to a handsome stranger leads her to question everything she's taken for granted.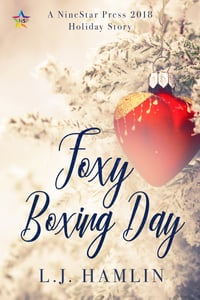 Foxy Boxing Day by L.J. Hamlin
Release Date: Dec. 3, 2018
Amazon, Barnes & Noble, Apple Books
After a sickness keeps a young werewolf ill through Christmas, she is excited to go to her Pack's Boxing Day party.
With the party in full swing, she meets a punky fox shifter who pushes all of her buttons in just the right way, and the holidays become a lot more exciting.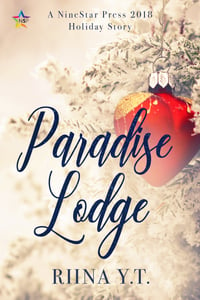 Paradise Lodge by Riina YT
Release Date: Dec. 3, 2018
Amazon, Barnes & Noble, Apple Books
Azariah Bell is a nervous wreck. He isn't prepared to spend the final week of the year with his best friend, Ky O'Sullivan, lead vocalist for their pop rock band, Moving Insignia—especially after the fight he caused before they parted ways two weeks ago.
Afraid of not being taken seriously by Ky, Azariah was concerned about what confessing his feelings would do to their friendship, or the band. He tried to keep his emotions in check, but instead, he exploded in anger over some petty issue, and now he's potentially lost Ky forever.
Ky is looking forward to the band's annual writing retreat for a week of songwriting and recording at a secluded mountain resort. Spending Christmas with his family gave Ky time to reflect on how he'd handled Azariah's epic meltdown. It wasn't good, and Ky is determined to uncover the true nature of Azariah's unusual behavior. They didn't keep secrets from each other, or so he believed.
Expecting to see the rest of the band when they arrive by helicopter, Ky and Azariah are shocked to learn they are alone at a deserted lodge. When they discover they've been set up by their bandmates so they can "sort it out," their choices are few. But it's critical for them to resolve their problems if they have any hope of enjoying the new year together, let alone make that new album happen.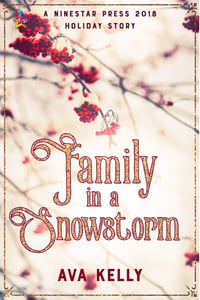 Family in a Snowstorm by Ava Kelly
Release Date: Dec. 3, 2018
Amazon, Barnes & Noble, Apple Books
Last Christmas, Daniel Wu found a place to call home with Jeff and his adopted daughter Abby. A year later, they confirm his place in their family with a surprising and warm gift. However, when Abby's biological father returns making demands, Daniel's happiness is threatened.
With the worsening weather, a much more urgent problem arises when Abby goes missing. Will Daniel and Jeff be able to find her before the storm sets in, and will they manage to keep their small family intact?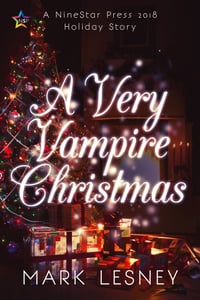 A Very Vampire Christmas by Mark Lesney
Release Date: Dec. 10, 2018
Amazon, Barnes & Noble, Apple Books
Stuck for ideas on what to get his wealthy, blind, vampire lover for Christmas, Kevin comes up with the idea of recovering Danton's long-lost but much-favored glass eyes from their home in a Wild West museum. But one touch of the eyes and Kevin is swept by his developing clairvoyant powers into a psychic nightmare of the old Wild West the eyes 'witnessed' while still in Danton's head. The journey reveals a gunslinger Sheriff Danton, brings to light the lingering threat of Danton's violent vampire ex-lover, and ultimately seals a new bond between Kevin and Danton in a Christmas to remember.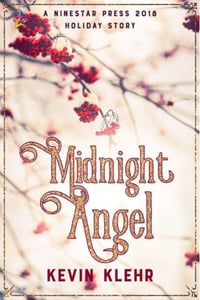 Midnight Angel by Kevin Klehr
Release Date: Dec. 10, 2018
Amazon, Barnes & Noble, Apple Books
Dinner is overcooked. The guests haven't arrived.
Luke is sitting alone at his dining table on New Year's Eve. He was hoping to romance Nathan, one of the people he invited for this intimate evening meal.
As midnight draws closer, it seems an angel, who has magically appeared in Luke's apartment, is the only person to drink champagne and watch the fireworks with.
But this angel has other ideas. He's about to grant Luke the New Year's Eve party he thought he wanted.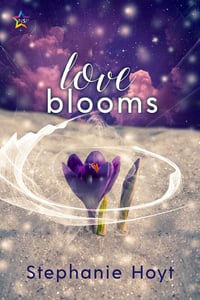 Love Blooms by Stephanie Hoyt
Release Date: Dec. 10, 2018
Amazon, Barnes & Noble, Apple Books
Nico Hamurişi is the one and only son of Santa Claus. All his life, Nico has known he's expected to fall in love and find lifelong commitment by the Christmas of his thirtieth year—like every other heir before him. But knowing and accepting are vastly different things, and as the final countdown begins, Nico has yet to embrace his fate. His once great enthusiasm for eventually becoming Santa has been dimmed by uncertainty over how the Santa Line will be affected when he marries a man.
With only a year left, will Nico have time to find love and commitment all while learning how magic will transform the family line to accommodate who he is and who he loves?