Last year we shared all of Ninestar's queer holiday novellas, so let's do it again!
A couple of things to know:
- Not all of these are romances, some are about couples already paired up, and some don't have a guaranteed HEA (but they're all queer)
- These appear to all be Christmas with one "holiday" romance which is ambiguous. If you go to Ninestar's website, there's a much more diverse backlist of titles.
Without further ado... bring on the books!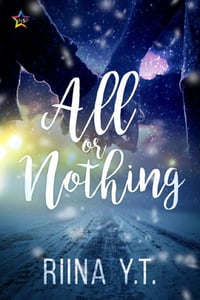 All or Nothing, by Riina Y.T.

Release Date: Oct. 7
Amazon, Kobo, Barnes & Noble, Ninestar
When shy sociology student Remington Belotti finds himself stuck on campus two days before Christmas, the handsome and untouchable Carter McCormack unexpectedly offers him a ride home. Having secretly longed for Carter's attention for over a year, his sudden interest, along with the kind gesture, gives Remmy hope that his attraction might be returned, after all.
On their way to Remy's hometown, they encounter bad weather and are overtaken by an unforgiving blizzard, leaving them stranded along the highway. The sparks of attraction fly in the safety of Carter's car, where they share heartfelt confessions along with body heat and gummy bears. When they check into a motel for the night, their electrifying bond deepens, and their shared time might just bring Remmy and Carter the Christmas surprise they could only have dreamed of.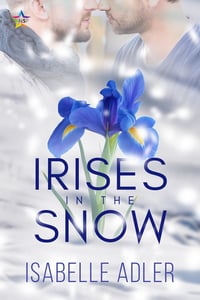 Irises in the Snow, by Isabelle Adler
Release Date: Nov. 4
Amazon, Barnes & Noble, Kobo, Apple Books, Ninestar
It's Christmas, and Justin's life is fraying at the edges. The family business he took over instead of going to art school is bleeding money, and his boyfriend of seven months cheated on him. Under these circumstances, family gatherings can be rough, but Justin believes he has everything under control. That is, until Elliot, his former best friend (and the first guy to ever break his heart) unexpectedly shows up at the holiday dinner party.
With both of them still nursing the wounds of the past, it might take a real Christmas miracle for Justin and Elliot to learn to appreciate the art of second chances.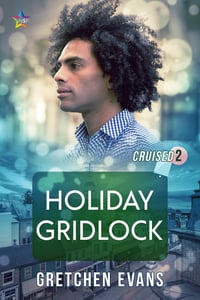 Holiday Gridlock, by Gretchen Evans
Release Date: Nov. 11
Amazon, Barnes & Noble, Apple Books, Kobo, Ninestar
Gabe is way too happy. Mark is as close to a perfect boyfriend as you can get. He's smart, good-looking, successful, and he cares about Gabe. He's also way more serious about their relationship than Gabe's ready for. He wants them to move in together.
The closest Gabe's ever gotten to living with a boyfriend is accidentally leaving his boxers behind. But he and Mark are way past that. It's terrifying.
Mark invites Gabe home for the holidays where Gabe gets an intimate look at Mark's family, his childhood, and how different their Christmas traditions are. It's loud, overwhelming, messy, and…really nice. Homey in a way Gabe's never experienced.
But Mark wants more than for Gabe to just have a peek at this part of his life. He wants Gabe to become part of the family, to go to bed with him every night, and wake up with him every morning. He wants all their Christmases to be together. Moving in may be just the start.
It might take a Christmas miracle for Gabe to figure himself out and overcome his fears. Or maybe a little familial intervention.
Will Gabe and Mark take the next step, or will they get stuck in holiday gridlock?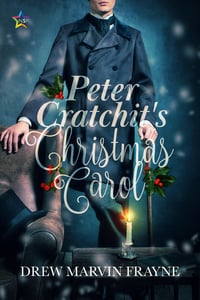 Peter Cratchit's Christmas Carol, by Drew Marvin Frayne
Release Date: Nov. 18
Amazon, Barnes & Noble, Apple Books, Kobo, Ninestar
Peter Cratchit, a young lad preparing to make his way in the world, is the eldest son of Scrooge's lowly clerk Bob Cratchit. Peter flourishes under the tutelage of his "Uncle" Scrooge and seeks to make his mark as a man of business, like his uncle before him.
One Christmas Eve, as Scrooge lays dying, Peter embarks on a risky ocean voyage that he believes will secure the future for his family. Onboard, Peter finds love, happiness, and success, only to lose it all by the voyage's end.
Returning to London, Peter shuns his family and instead finds himself living on the streets, haunted by his failures and his dead lover, selling his body just to survive while he waits for the winter cold to claim him once and for all. But winter snows also mean Christmas is coming, and for the Cratchit family, Christmas is a time of miracles. Can a visit from three familiar spirits change Peter's life again? Is there one more miracle in store for the lost son of one of Dickens' most enduring families?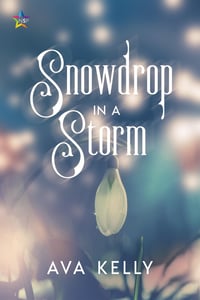 Snowdrop in a Storm, by Ava Kelly
Release Date: Nov. 18
Amazon, Barnes & Noble, Kobo, Apple Books, Ninestar
Daniel Wu's life is wonderful. He has an amazing family in his partner, Jeff, and their adopted daughter. The only thorn in his happiness is Abby's biological father, Nick, who can't seem to let go of the past.
Ridden by guilt for trying to tear apart Jeff's family a year prior, Nick Mariani struggles to find a place for himself in a future that seems bleak. With the backdrop of a holiday vacation, he embarks on a journey of redemption. An unexpected surprise is Leon, who flirts shamelessly from the moment they meet. Leon brings Nick hope, but the shadows of the past threaten to swallow all that newfound brightness.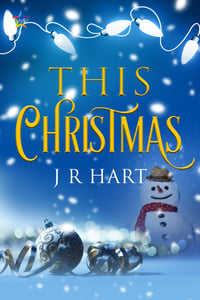 This Christmas by J.R. Hart
Release Date: Dec. 9
(No Links Yet)
Alex Ross can't catch a break when it comes to Christmastime. With a long history of bad holiday experiences—like getting rejected under the mistletoe or playing referee to his mother's divorce—he's just trying to survive it.
New in town and a stranger to everyone, he plans on ignoring the holiday altogether. That would be easier if his ridiculously cheerful new neighbor would cool it on the Christmas hype. Nicholas is annoying and loud. Worst of all, he's also impossibly attractive and nice to everyone. It's getting harder for Alex to deny his interest, especially when Nicholas leaves Christmas cookies at his door and wages a snowball fight against him on the coldest day of the year.
Can Alex open up to him and get into the holiday spirit before he endures another ruined Christmas?
Wild Bells by Elna Holst
Release Date: Dec. 16

(No Links or Cover Yet)

Lund, Sweden, 1998
Mia Andersson is not a nice person. She is a sharp, aloof, smart, sensational-looking lawyer-to-be , and the busiest sapphic player in town. Mia Andersson takes no prisoners, tells no tales, and if you gave her your number, chances are she won't call. But this holiday season, at age twenty-seven, wheels that are out of her control have been set in motion, and it looks like she might just get caught in the spin.
A Husband for Santa, by Doreen Heron
No info yet, but coming in December!