So here's the thing about October - apparently every single book comes out on the 2nd or the 16th? We don't make the rules, sorry.
Save your pennies, because there are a ton of awesome books coming your way this month!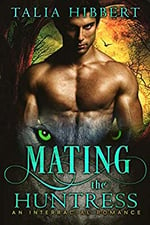 Mating the Huntress, by Talia Hibbert - Oct. 1
This Halloween, love bites back… hard.
Chastity Adofo knows a monster when she sees one. As soon as Luke Anthony wanders into her family's coffee shop, she recognises the evil lurking beneath his charming smile and fantastic arse. The handsome werewolf is determined to have her—but she's determined to cut out his heart.
Little does she know, Luke's plans for her are far more pleasurable than murder. And when the full moon rises, all bets are off…
Warning: Mating the Huntress is 30,000+ words of red-hot, Halloween-themed romance. This novella contains one flirtatious, cursed creature of the night, one badass, knife-happy heroine, and forbidden lust at first sight. Please read responsibly!
Ana - Over the summer I started collecting Talia Hibbert's delightful novellas. They are delightfully tropey, charming, engrossing, and sexy. I am eager to see her take on a PNR romance with her halloween themed Mating The Huntress.
Buy a copy: Amazon (Also on Kindle Unlimited)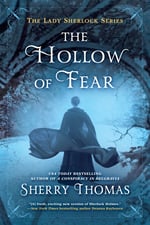 The Hollow of Fear, by Sherry Thomas - Oct. 2
Charlotte Holmes, Lady Sherlock, returns in the Victorian-set mystery series from the USA Today bestselling author of A Conspiracy in Belgravia and A Study in Scarlet Women, an NPR Best Book of 2016.
Under the cover of "Sherlock Holmes, consulting detective," Charlotte Holmes puts her extraordinary powers of deduction to good use. Aided by the capable Mrs. Watson, Charlotte draws those in need to her and makes it her business to know what other people don't.
Moriarty's shadow looms large. First, Charlotte's half brother disappears. Then, Lady Ingram, the estranged wife of Charlotte's close friend Lord Ingram, turns up dead on his estate. And all signs point to Lord Ingram as the murderer.
With Scotland Yard closing in, Charlotte goes under disguise to seek out the truth. But uncovering the truth could mean getting too close to Lord Ingram--and a number of malevolent forces...
Ana - The third book in Sherry Thomas's Lady Sherlock series comes out October 2nd. I love about everyone in this series. Charlotte, her sisters, and most especially the flamboyant Mrs. Watson. After the revelations in the last book, the romantic relationships stakes are even higher for both Charlotte and her sister and I can't wait to see what will happen now that they have attracted Moriarty's dangerous attention.
Buy a copy: Amazon, iBooks, Barnes & Noble, Kobo, The Ripped Bodice (Get it SIGNED!)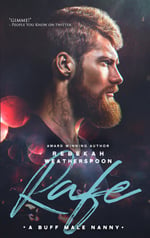 Rafe, by Rebekah Weatherspoon - Oct. 2 (Released a bit early!)
All Dr. Sloan Copeland needed was someone to watch her kids. What she found was the man of her dreams…
After a nasty divorce and a thousand mile move, Dr. Sloan Copeland and her twin daughters are finally getting the hang of their new life in Los Angeles. When their live-in nanny bails with no warning, Sloan is left scrambling to find a competent caretaker to wrangle her smart, sensitive girls. Nothing less will do.
Enter Rafe Whitcomb. He's all of those things, not to mention good-natured and one heck of a whiz in the kitchen. He's also tall, and handsome, and bearded, and ripped, and tatted, wrist to neck.
It doesn't take long for the Copelands to invite Rafe into their home. Just as quickly, both Sloan and Rafe find themselves succumbing to a heady mutual attraction, neither of them wants to deny. With every minute they spend under the same roof, this working mom can't help but wonder if Rafe can handle all her needs...
**This stand-alone romance is fluffy. So fluffy. It's fluff. Low. Angst. Fluff. featuring a large tatted, motorcycle riding ginger man, who bakes a mean bacon quiche and knows exactly how to wrangle clever six year olds while making their mom feel loved, loved, loved.**
Suzanne - I've got a review of this coming for you, but in the meanwhile, you should probably just order it. BUFF MALE NANNY. Also look at that cover?! Also, the quotes on Twitter are filthy but sweet? Plus she's a doctor and he's good with kids and can make bacon quiche and if you haven't smashed the buy button yet I don't know how.
Buy a copy: Amazon, Kobo, Barnes & Noble, iBooks, SIGNED from The Ripped Bodice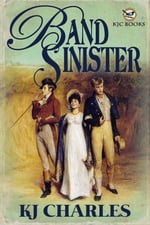 Band Sinister, by KJ Charles - Oct. 11
Sir Philip Rookwood is the disgrace of the county. He's a rake and an atheist, and the rumours about his hellfire club, the Murder, can only be spoken in whispers. (Orgies. It's orgies.)
Guy Frisby and his sister Amanda live in rural seclusion after a family scandal. But when Amanda breaks her leg in a riding accident, she's forced to recuperate at Rookwood Hall, where Sir Philip is hosting the Murder.
Guy rushes to protect her, but the Murder aren't what he expects. They're educated, fascinating people, and the notorious Sir Philip turns out to be charming, kind—and dangerously attractive.
In this private space where anything goes, the longings Guy has stifled all his life are impossible to resist...and so is Philip. But all too soon the rural rumour mill threatens both Guy and Amanda. The innocent country gentleman has lost his heart to the bastard baronet—but does he dare lose his reputation too?
Ana - Old scandals, an inconvenient accident, a risque houseparty that might endanger reputations, and an inexperienced and countrified gentleman in over his head with a non-conformist rake, KJ Charles's Heyer-inspired Band Sinister is right up my alley. Over the last few years I have read a half-dozen of Heyer's novels because of her lasting impact in establishing many of the conventions of modern historical romance and I am eager to see Charles's queering of Heyer.
Buy a copy: Amazon, iBooks, Barnes & Noble, Kobo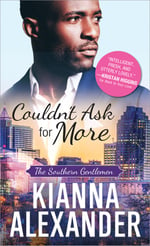 Couldn't Ask for More, by Kianna Alexander - Oct. 2
Fake engagements are a dangerous business.
Bryan James's job is on thin ice unless he can secure a contract with a popular design house. He knows his best friend's sister can help—but her terms are more than he bargained for.
Alexis Devers's debut fashion line is a hit. But when Alexis's publicist tells buyers that it landed her a wealthy, gorgeous fiancé, Alexis needs to come up with one—fast. Bryan's offer to strike a deal is perfectly timed. She's more than willing—on one condition...
It's the perfect plan...until feelings start getting in the way. Suddenly, the dangers of mixing business and pleasure become much more real than either of them expected.
Suzanne - I love a good fake engagement. "It was the perfect plan... until feelings start getting in the way." *evil cackle*
Buy a copy: Amazon, iBooks, Barnes & Noble, The Ripped Bodice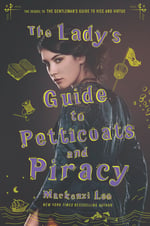 The Lady's Guide to Petticoats and Piracy, by Mackenzi Lee - Oct. 2
In this highly anticipated sequel to the New York Times bestselling The Gentleman's Guide to Vice and Virtue, Felicity Montague must use all her womanly wits and wiles to achieve her dreams of becoming a doctor—even if she has to scheme her way across Europe to do it. A must-have for fans of Mackenzi Lee's extraordinary and Stonewall Honor-winning novel.
A year after an accidentally whirlwind grand tour with her brother Monty, Felicity Montague has returned to England with two goals in mind—avoid the marriage proposal of a lovestruck suitor from Edinburgh and enroll in medical school. However, her intellect and passion will never be enough in the eyes of the administrators, who see men as the sole guardians of science.
But then a window of opportunity opens—a doctor she idolizes is marrying an old friend of hers in Germany. Felicity believes if she could meet this man he could change her future, but she has no money of her own to make the trip. Luckily, a mysterious young woman is willing to pay Felicity's way, so long as she's allowed to travel with Felicity disguised as her maid.
In spite of her suspicions, Felicity agrees, but once the girl's true motives are revealed, Felicity becomes part of a perilous quest that leads them from the German countryside to the promenades of Zurich to secrets lurking beneath the Atlantic.
Andrea - Mackenzi Lee is so cool. I love her love for Mary Shelley, and I love her #BygoneBadassBroads tweets (which are now a book!). This is a follow-up to The Gentleman's Guide to Vice and Virtue, a super fun queer YA historical adventure around Europe and an entirely perfect book. I would read the follow-up without question. It's just a glorious wonderful bonus that the follow-up is the story of the badass brilliant feminist hero that is Felicity finding her way in the world. This book is going to be EPIC.
Buy a copy: Amazon, iBooks, Barnes & Noble, Kobo, The Ripped Bodice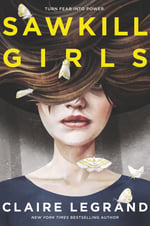 Sawkill Girls, by Claire Legrand - Oct. 2
From the New York Times bestselling author of Furyborn comes a breathtaking and spine-tingling novel about three teenage girls who face off against an insidious monster that preys upon young women. Perfect for fans of Victoria Schwab and Stranger Things.
Who are the Sawkill Girls?
Marion: The newbie. Awkward and plain, steady and dependable. Weighed down by tragedy and hungry for love she's sure she'll never find.
Zoey: The pariah. Luckless and lonely, hurting but hiding it. Aching with grief and dreaming of vanished girls. Maybe she's broken—or maybe everyone else is.
Val: The queen bee. Gorgeous and privileged, ruthless and regal. Words like silk and eyes like knives; a heart made of secrets and a mouth full of lies.
Their stories come together on the island of Sawkill Rock, where gleaming horses graze in rolling pastures and cold waves crash against black cliffs. Where kids whisper the legend of an insidious monster at parties and around campfires. Where girls have been disappearing for decades, stolen away by a ravenous evil no one has dared to fight…until now.
Andrea - This spectacular cover is enough to draw me in, but it's the creepy, dark, twisty, rooted-in-reality 'girls are disappearing' stickiness that makes me sure I'm gonna read it. It looks like it's gonna be an angry-queer-badass-brown-girls-involved-in-something-wild-and-strange book of my dreams. I love the author's description of the story: "This is a book about girls--girls loving girls, girls kissing girls, girls being friends with girls, girls helping girls. Girls who hunger, girls who rage. Girls who fight, girls who make mistakes, girls who dream and pine. It's also about magic and monsters, family secrets and soul-friends, moths and wild horses and the churning wild sea, and trampling the patriarchy."
Suzanne - This is on my list too! I'm really in need of some twisty-turny darkness this month and I love that this isn't part of a series. All the YA I've been reading is part of a series and it's nice to get a complete story in one volume every now and again. Plus "turn fear into power" is the tagline. Yeah, let's.
Buy a copy: Amazon, iBooks, Barnes & Noble, Kobo, The Ripped Bodice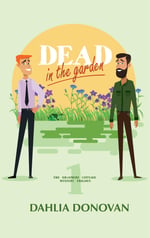 Dead in the Garden, by Dahlia Donovan - Oct. 6
Join bestselling author Dahlia Donovan on a cosy mystery adventure in Grasmere Cottage Mystery book one. With love, wit, and a murder to solve, life for Valor and Bishan is about to get bloomin' complicated in this sweet gay romance.
Dead body in the garden? Check.
Mystery to solve? Check.
Police focused on the wrong person? Not good.
All grown up and graduated, Valor Tarquin Scott, son to Earl and Countess Scott, owns The Ginger's Bread, a biscuit shop, in Grasmere in the Lake District. The love of his life, Bishan Tamboli, has turned his music studies into a successful career playing with the London Symphony Orchestra. It's a perfect life with their cat, spending evenings watching Poirot on the television.
The nightmare begins with one dead former schoolmate, leading police to believe Bishan is responsible.
Valor struggles to solve the cryptic puzzles left behind in a race to prove Bishan's innocence.
Suzanne - This is the first of three novellas all coming out in October and all priced at $0.99. They each follow Valor and Bishan in a sweet gay romance/cozy mystery and how did Donovan know we needed all of these things in one book??
Buy a copy: Amazon, iBooks, Barnes & Noble, Kobo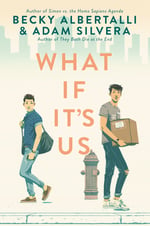 What If It's Us, by Becky Albertalli and Adam Silvera - Oct. 9th
Critically acclaimed and bestselling authors Becky Albertalli and Adam Silvera combine their talents in this smart, funny, heartfelt collaboration about two very different boys who can't decide if the universe is pushing them together—or pulling them apart.
ARTHUR is only in New York for the summer, but if Broadway has taught him anything, it's that the universe can deliver a showstopping romance when you least expect it.
BEN thinks the universe needs to mind its business. If the universe had his back, he wouldn't be on his way to the post office carrying a box of his ex-boyfriend's things.
But when Arthur and Ben meet-cute at the post office, what exactly does the universe have in store for them . . . ?
Maybe nothing. After all, they get separated.
Maybe everything. After all, they get reunited.
But what if they can't nail a first date even after three do-overs?
What if Arthur tries too hard to make it work and Ben doesn't try hard enough?
What if life really isn't like a Broadway play?
But what if it is?
What if it's us?
Andrea - I would read Adam Silvera's grocery lists. I would pay his library fines. I would like to just stare at him from a distance and know I'm in the presence of pure genius. Also I really like his friendship with Becky and am excited to see what they made together.
Buy a copy: Amazon, iBooks, Barnes & Noble, Kobo, The Ripped Bodice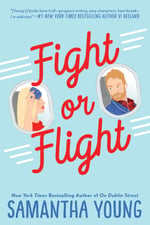 Fight or Flight, by Samantha Young - Oct. 9
A series of chance encounters leads to a sizzling new romance from the New York Times bestselling author of the On Dublin Street series.
The universe is conspiring against Ava Breevort. As if flying back to Phoenix to bury a childhood friend wasn't hell enough, a cloud of volcanic ash traveling from overseas delayed her flight back home to Boston. Her last ditch attempt to salvage the trip was thwarted by an arrogant Scotsman, Caleb Scott, who steals a first class seat out from under her. Then over the course of their journey home, their antagonism somehow lands them in bed for the steamiest layover Ava's ever had. And that's all it was—until Caleb shows up on her doorstep.
When pure chance pulls Ava back into Caleb's orbit, he proposes they enjoy their physical connection while he's stranded in Boston. Ava agrees, knowing her heart's in no danger since a) she barely likes Caleb and b) his existence in her life is temporary. Not long thereafter Ava realizes she's made a terrible error because as it turns out Caleb Scott isn't quite so unlikeable after all. When his stay in Boston becomes permanent, Ava must decide whether to fight her feelings for him or give into them. But even if she does decide to risk her heart on Caleb, there is no guarantee her stubborn Scot will want to risk his heart on her....
Suzanne - I was a fan of the On Dublin Street series back when I first started reading romance and enemies-to-lovers is my favorite trope when done well. I'm also always curious to see how an author handles Boston because it's close enough that my husband works there.
Buy a copy: Amazon, iBooks, Barnes & Noble, Kobo, The Ripped Bodice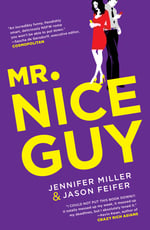 Mr. Nice Guy, by Jennifer Miller and Jason Feifer - Oct. 16
From the husband and wife writing duo Jennifer Miller and Jason Feifer comes Mr. Nice Guy, a funny and all too real comedy about the pursuit of success in life—and love—in today's working world.
Lucas Callahan, a man who gave up his law degree, fiancée and small-town future for a shot at making it in the Big Apple. He snags an entry-level job at Empire magazine, believing it's only a matter of time before he becomes a famous writer. And then late one night in a downtown bar he meets a gorgeous brunette who takes him home...
Carmen Kelly wanted to be a hard-hitting journalist, only to find herself cast in the role of Empire's sex columnist thanks to the boys' club mentality of Manhattan magazines. Her latest piece is about an unfortunate—and unsatisfying—encounter with an awkward and nerdy guy, who was nice enough to look at but horribly inexperienced in bed.
Lucas only discovers that he's slept with the infamous Carmen Kelly—that is, his own magazine's sex columnist!—when he reads her printed take-down. Humiliated and furious, he pens a rebuttal and signs it, "Nice Guy." Empire publishes it, and the pair of columns go viral. Readers demand more. So the magazine makes an arrangement: Each week, Carmen and Lucas will sleep together... and write dueling accounts of their sexual exploits.
It's the most provocative sexual relationship any couple has had, but the columnist-lovers are soon engaging in more than a war of words: They become seduced by the city's rich and powerful, tempted by fame, and more attracted to each other than they're willing to admit. In the end, they will have to choose between ambition, love, and the consequences of total honesty.
Andrea - Basically this book in my head is like Jane and Pinstripe Guy from The Bold Type. Two magazine writers end up writing about their (shared) sex life in separate columns, and the eventual feelings and drama that comes with it. It sounds super fun and sexy and I love when a man is depicted as inexperienced and awkward at sex and the woman isn't. Also this book is written by a husband and wife, which is a cool fact. Mostly the Jane and Pinstripe Guy thing though.. I'm very into it.
Suzanne - I'm reading this right now! I'm a little annoyed at the way the heroine is being portrayed and it feels a little sexually harassment adjacent... But let's see if it turns around because there's potential. (Review to come.)
Buy a copy: Amazon, iBooks, Barnes & Noble, Kobo, The Ripped Bodice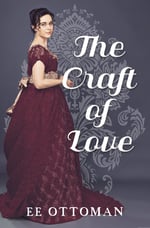 The Craft of Love, by EE Ottoman - Oct. 19
When professional respect leads to something more ...
Benjamin Lewis has created a life for himself as one of the most respected silversmiths and engravers in New York City. For Benjamin, his work is his passion and he has never sought out companionship beyond the close ties of family. Stumbling across dresses sew by his late mother, however, reawakens painful memories from his past. Now he is determined to forge something beautiful from the remains of the life and identity he left behind. In the process, he discovers stunning and fiercely intelligent Miss Quincy who might just have the power to tempt him out of his quiet isolation.
Remembrance Quincy's talent is as undeniable as her needlework is exquisite. She has made a name for herself crafting quilts and embroidery pieces for all the wealthiest ladies in the city. When soft-spoken, yet charming, Mr. Lewis comes to her with a particular project in mind she is intrigued both by his artistic design and by the man himself. He treats her like an equal, values her work and makes her smile, but Remembrance already gave her heart away once, now can she risk doing it again?
Suzanne - This is an OwnVoices romance with a trans hero and a bisexual heroine. They're both crafters and it's a low-heat high-respect story and the heroine is wearing spectacles on the cover so let's just get it in my eyeballs now, shall we?
Buy a copy: Amazon, iBooks, Barnes & Noble, Kobo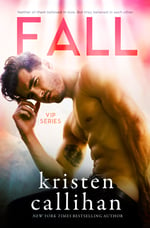 Fall, by Kristen Callihan - Oct. 23
The first time I met Jax Blackwood things went a little sideways.
In my defense, I didn't know he was Jax Blackwood--who expects a legendary rock star to be shopping for groceries? More importantly, a blizzard was coming and he was about to grab the last carton of mint-chocolate chip.
Still, I might have walked away, but then he smugly dared me to try and take the coveted ice cream. So I kissed him. And distracted that mint-chip right out of his hands.
Okay, it was a dirty move, but desperate times and all that. Besides, I never expected he'd be my new neighbor.
An annoying neighbor who takes great pleasure in reminding me that I owe him ice cream but would happily accept more kisses as payment. An irresistible neighbor who keeps me up while playing guitar naked–spectacularly naked–in his living room.
Clearly, avoidance is key. Except nothing about Jax is easy to ignore--not the way he makes me laugh, or that his particular brand of darkness matches mine, or how one look from him melts me faster than butter under a hot sun.
Neither of us believes in love or forever. Yet we're quickly becoming each other's addiction. But we could be more. We could be everything.
All we have to do is trust enough to fall.
Suzanne - SEXY NEIGHBOR PLAYING GUITAR NAKED
Buy a copy: Amazon, iBooks, Barnes & Noble, Kobo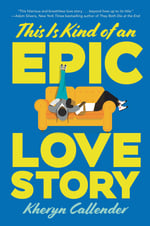 This is Kind of an Epic Love Story, by Kheryn Callender - Oct. 30
A fresh, charming rom-com perfect for fans of Simon vs. the Homo Sapiens Agenda and Boy Meets Boy about Nathan Bird, who has sworn off happy endings but is sorely tested when his former best friend, Ollie, moves back to town.
Nathan Bird doesn't believe in happy endings. Although he's the ultimate film buff and an aspiring screenwriter, Nate's seen the demise of too many relationships to believe that happy endings exist in real life.
Playing it safe to avoid a broken heart has been his MO ever since his father died and left his mom to unravel—but this strategy is not without fault. His best-friend-turned-girlfriend-turned-best-friend-again, Florence, is set on making sure Nate finds someone else. And in a twist that is rom-com-worthy, someone does come along: Oliver James Hernández, his childhood best friend.
After a painful mix-up when they were little, Nate finally has the chance to tell Ollie the truth about his feelings. But can Nate find the courage to pursue his own happily ever after?
Andrea - A gorgeous gorgeous gorgeous cover with two boys chilling on a couch. A boy who's deep into the film industry. Childhood bestfriend comes back into town. The main character is black and bi and his love interest is hard-of-hearing. It just seems very sweet and lovely and I want the cover as a poster.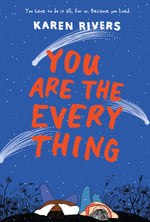 You Are the Everything, by Karen Rivers - Oct. 30
Can you want something—or someone—so badly that it changes your destiny?
Elyse Schmidt never would have thought so, until it happened to her. When Elyse and her not-so-secret crush, Josh Harris, are the sole survivors of a plane crash, tragedy binds them together. It's as if their love story is meant to be. Everything is perfect, as perfect as it can be when you've literally fallen out of the sky and landed hard on the side of a mountain—until suddenly it isn't.
When the pieces of Elyse's life stop fitting together, what's left?
You Are the Everything is a story about the fates we yearn for, the fates we choose, and the fates that are chosen for us.
Andrea - "Everything is perfect, or as perfect as it can be when you've literally fallen out of the sky and landed hard on the side of a mountain—until suddenly it isn't." I'm dead over this cover. --Related: these kids almost died in a plane crash. Their friends did. But they didn't. They survived this intense thing together and now they're dating, and it feels like a dream because the girl had a crush on the boy for ages but she keeps feeling like she's missing something and nothing feels quite right.
Everyone's saying it's fantastical and unusual and unexpected and I am so keen to find out!
Buy a copy: Amazon, iBooks, Barnes & Noble, Kobo, The Ripped Bodice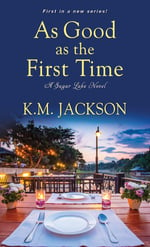 As Good as the First Time, by K.M. Jackson - Oct. 30
True to its name, the small southern town of Sugar Lake is a sweet place to visit—and you might even want to live there . . .
With her big-city career and relationship in sudden free fall, Olivia Gale isn't sure where she belongs. So when her help is needed at Goode 'N Sweet, the family bakery in Sugar Lake, she jumps at the chance to indulge her pie-making hobby while getting her life back on track. Olivia's not looking for any distractions. Even if the boy who once left her without a word is now a grown man with intriguing secrets—and the same tempting hold on her heart . . .
A firefighter and single dad, Clayton Morris is trying hard to fix his past mistakes. He thought he was doing the right thing by leaving Olivia—and now he's sure he has nothing to offer the accomplished woman she's become. But ignoring the sparks between them is impossible. And as unexpected surprises and hard choices endanger their fragile reunion, they'll have to decide which direction to take if they want to find the road back to love . . .
Suzanne - OwnVoices. Sisters. Pie shop. I have been needing this book since KM Jackson landed the contract last year and it's fiiiiiinally here. You know I'm gonna be eating pie while I read this, too.
Buy a copy: Amazon, iBooks, Barnes & Noble, Kobo, The Ripped Bodice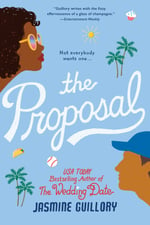 The Proposal, by Jasmine Guillory - Oct. 30
The author of The Wedding Date serves up a novel about what happens when a public proposal doesn't turn into a happy ending, thanks to a woman who knows exactly how to make one on her own...
When someone asks you to spend your life with him, it shouldn't come as a surprise--or happen in front of 45,000 people.
When freelance writer Nikole Paterson goes to a Dodgers game with her actor boyfriend, his man bun, and his bros, the last thing she expects is a scoreboard proposal. Saying no isn't the hard part--they've only been dating for five months, and he can't even spell her name correctly. The hard part is having to face a stadium full of disappointed fans...
At the game with his sister, Carlos Ibarra comes to Nik's rescue and rushes her away from a camera crew. He's even there for her when the video goes viral and Nik's social media blows up--in a bad way. Nik knows that in the wilds of LA, a handsome doctor like Carlos can't be looking for anything serious, so she embarks on an epic rebound with him, filled with food, fun, and fantastic sex. But when their glorified hookups start breaking the rules, one of them has to be smart enough to put on the brakes...
Amy - I've been reading a lot of lighter, fun romance novels as a palate cleanser between work reading. Nothing too complicated, romantic comedies preferred. Like Suzanne said in her Wedding Date review, I'm not accustomed to happy books but by gum I'm going to try it out. I never read Jasmine Guillory's previous release but after reading about fifty reviews for The Proposal in book magazines, I think it fits my current TBR needs.
Andrea - "When someone asks you to spend your life with him, it shouldn't come as a surprise--or happen in front of 45,000 people." !!!!!! A public proposal where she says Nope. Ownvoices black writer main character, a Latino love interest (who is not the guy who proposed to her). It's got incredible diverse female friendships, and a cover to die for!! I am properly waiting to get this as a paperback so that I can carry it with me to the beach.
Buy a copy: Amazon, iBooks, Barnes & Noble, Kobo, The Ripped Bodice
That's officially the biggest TBR list we've done here at LiP.

What books are you excited for?