Ready for school? For 2019? For a post-summer (or winter, hiiii southern hemisphere!) reset? Let's do this.
Here's the problem with planners - you only need one, maybe two, but there are so very many cute ones out there. Here's how we're coping - by sharing with all of you.
Some of the links below are affiliate links and support the site. (Target, B&N)
Amy's got some sticker and "cute things" recommendations!
First up, the shop "AnxietyAids," which is full of stickers that are handy for planners, calendars, or wherever. You can shop them on Etsy here or direct!
There are a lot that are practical, like these
"Stop Buying Sh*t" stickers
that made me laugh since I was making a list of sh*t to buy...
But there are also a bunch that are sweet little self-care reminders or statements, like this chubby unicorn saying "You have an opinion on my body? Well isn't that nice."
My personal fave? The planner sets! There are a variety of themes, including this adorable Mario pack.
Amy also suggests the Beedoo shop on Etsy, which is full of ridiculously cute magnetic bookmarks and stickers, like this little fennec fox or the cutest T-Rex you've ever seen.
And now, the moment you've scrolled all this way for... Planners!
Every year, when I start my planner search, I end up dismissing several due to the price. If I'm honest, I forget my planner for a few months before getting back into it, so why should I spend $60 on something I won't use 25% of the time?
If you're looking for an affordable planner, I've found some really great solutions at both Target and Barnes & Noble.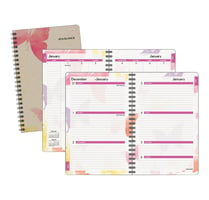 If you want something simple and straightforward, there's a lovely watercolor planner from At-A-Glance for $12.99.
I use one of these to track my writing, with Bree Bridge's word count stickers. She has the template for free on her site, you just have to print it onto full page labels and cut into 8!
If you want something more customizable, there's the Happy Planner. I've found these at a few stores, and the mix-and-match aspect means you can really make it work for you. The downside? After inserts, it ends up a little more expensive. The base is $19.99 and is held together with discs. Here are two examples, a workout planner and a motivational planner.
Inserts are varied and include a sporty set, a student set, and a more generic one with only a couple of school-related stickers. Not pictured, there's a budget set and a whole bunch of others. If you're at your local Target, I'm sure the stock will vary. The inserts vary in price because, if you look below, you can see that they vary in content. Anywhere from 30 - 764 pieces? Yeah. $9.99+
A last note on The Happy Planner! You can watch How-To videos, get inspiration, and buy directly at the creator's website. I've found a lot of planner sites (and Facebook groups) to be completely overwhelming, but this is a pretty friendly site with good basics for beginners.
This next section contains the planners I want to buy and can't.
Why? Because there can be only one. (My husband has never seen The Highlander and I don't understand, please be a geek with me.)
There's this Galaxy planner, which you can start using now because it's 18 months.
And there's a line of HARRY POTTER MOLESKINES which are also 18 months and speak to the nerd in me so very strongly. The Wingardium Leviosa Mini planner is 4" x 6" and the red Harry Potter Large planner is the more standard 5" x 8". There are a few other variants kicking around, too!
For those of us with children/dogs/writing schedules/whatever? This Organized Chaos planner does it all - This 17-month, wire-bound, hardcover, monthly and weekly views, 140 reminder stickers, a budget tracker, and some blank grid pages for customized planning.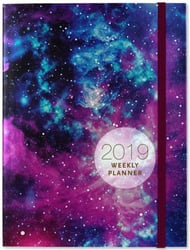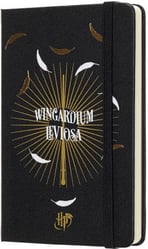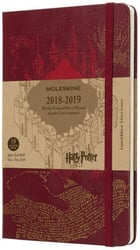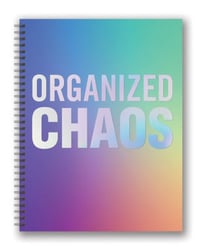 Tell us, how will you be getting/staying organized this year? Where do you buy your stickers?