Hey everyone! I'm H. Bentham, a romance reader, bookstagrammer, and author from the Philippines. I started reading romance not very long ago but the genre is a huge favorite of mine and a lot of it is thanks to #romanceclass. Suzanne asked me to write a RomanceClass starter post to help you find a book / books that'll hopefully make you love RomanceClass as much as we do. Here we go!
#romanceclass
For those who are unfamiliar with RomanceClass, it is a community of Filipino authors and readers of contemporary romance written in English. It started from an online writing class by Mina V. Esguerra in 2013 to help chick-lit and contemporary romance authors write and publish their books. Manuscripts written from that very first class were published, either traditionally or independently, and found readers who strongly connected with the stories. More classes have been held since and more books have found their way to readers. The books tackle a wide variety of topics, a wide range of tropes, and give more accurate representation of Filipinos and living in the Philippines in general, all within the romance genre.
Because most of it is indie, the community has organized events to sell and showcase these books. The two prominent annual events are called #AprilFeelsDay in the summer and #FeelsFest in October. These serve as collective book launches, author meet-and-greet, and the most popular part of the programs: live-reading of excerpts from RomanceClass books. Here's a link to a twitter thread of YouTube videos of live-readings from the latest event, #AprilFeelsDay2019.
We use the hashtag #romanceclass all over social media so it's quite easy to find us talking about the books we love.
The Books
To be considered a RomanceClass title, a book
must be contemporary romance (not fantasy or paranormal or other subgenre)
must be in English (if there is Tagalog or other language, it must still be accessible to an English-reading audience)
must have romance as the main plot
must have a happy ending
all sex must be consensual, responsible, and hot (i.e. not bad sex, not punishment)
must have involved the RomanceClass community in its publishing process, either through beta reader or sensitivity reader feedback that is actually responded to and addressed in the manuscript, or by contracting editors within the community or have worked on several RomanceClass books
*from the official website: https://romanceclassbooks.com
My Own Beginnings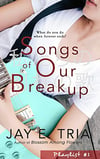 My introduction to RomanceClass was The Playlist Series by Jay E. Tria. The first book, Songs of Our Breakup was probably my first romance book as well. I was living abroad back then and I distinctly remember loving it so much because of its honest depiction of being a new adult in Manila, a city I've lived in during the latter part of my college years and for a while after graduating. I have never read a book that reflected my experiences so well without it being the main point of the story. (The main point was the romance and I've never felt so happy reading a love story after reading only other genres at that point.)
The books revolve around members of an indie band called Trainman and the people who love them. Book #1 is about lead singer Jill navigating her feelings for ex-boyfriend, and Trainman's lead guitarist, Kim, plus a new romance with Japanese celebrity Shinta. Book #2, Songs to Get Over You deals with Jill's best friend, Miki, and his unrequited affections for Jill. In this book, he lets her go and finds himself a new love in Ana. Book 3, Songs to Make You Stay, is Shinta's journey to proving he's worthy of the love he seemed to have earned so easily and the lengths he would go through to keep it.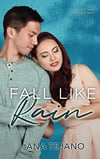 In early 2016, I was able to join one of the online writing classes and the assignment before the class even started was to read at least six RomanceClass books to understand what is already out there and what it is we are expected to finish at the end of it. I picked up Ana Tejano's Fall Like Rain, which again, showed life in rainy Manila and its flooded streets. The slow burn romance (best friends for 10 years and they were never single at the same time) gets a move on when Mark breaks up with his current girlfriend and Rain finally takes her shot before she misses it again.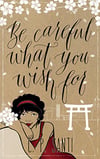 C.P. Santi's Be Careful What You Wish For is a romance between a Filipina scientist and a Japanese star. I love this book because the MC doesn't only slay in her career in a male-dominated STEM field, she also gets the life change she wishes for on her 32nd birthday. I've read mostly NA romance at that time so the older characters were refreshing to me and it's something I actively try to find in the books I read now.
Another one of my firsts is Chris Mariano's Cover [Story] Girl told mostly in the PoV of the guy, Gio. It is set in Boracay Island where he lives and manages a small museum. He comes across a Korean tourist who's got several excuses when asked why she's vacationing in the Philippines. Boracay Island is one of the many scenic tourist destinations in the country (even though I haven't been to) and it was lovely to read about it through the eyes of a local.
Series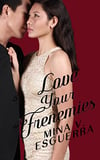 RomanceClass books are mostly standalone novellas that can be consumed on their own / out of publishing order. Then again, bingeing a series of books set in the same universe, like Mina V. Esguerra's Chic Manila, as well as the new Six 32 Central series, are perfect for getting over a reading slump. The stories are separate from one another but overlap in some ways because characters make relevant cameos, sometimes more than once, throughout the books. The most interesting (in my opinion, because it's my favorite!) is Love Your Frenemies, where the MC, Kimmy, is the 'villain' in an earlier book My Imaginary Ex. I love the unapologetic Mean Girl vibe of Kimmy and this book helped me truly understand the "everyone deserves HEA" adage. Andrea from What You Wanted is challenging Kimmy's throne as my favorite Chic Manila Queen, but I'll have to reread LYF to confirm. Heehee.
Autobuy Authors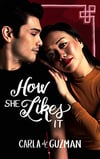 Carla De Guzman writes amazing books showcasing Filipino characters in overseas settings. How She Likes It is my current favorite from her and features an heiress MC and a younger single father LI. A lot of it is set in the Philippines but prominent scenes are set in Hong Kong and it was written so well, I felt like I was visiting it with Isabel and Adam. Her other books feature Paris (Chasing Mindy) and Indonesia (Midnights in Bali), among others. Her royal romance series is set in the fictional Kingdom of Cincamarre, loosely based in the Northern Philippines and crosses over real life places, like Barcelona in her newest release, Stealing Luna. Her books are also very body positive, especially in If the Dress Fits, where Martha is shown to be confident and comfortable with her fatness.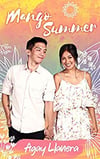 Agay Llanera, on the other hand, writes great YA stories perfectly capturing the joys and lightness of young love, without erasing heavy themes that teens often deal with. Choco Chip Hips is about a young baker using her recently discovered love of dance to remember and celebrate her late mother. Another Word for Happy is the coming of age story of a piano prodigy accepting his sexuality and what it means to his otherwise stable life. Her latest book crossed over to the non-YA waters, Mango Summer, featuring a Mango farm owner x her best friend's younger brother pairing set in provincial Philippines.
STEM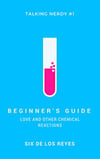 RomanceClass also has a bunch of books featuring heroines excelling in their STEM fields. A different book by C. P. Santi, Dare to Love features a restoration architect falling for an anthropologist hero. Ghost of a Feeling by Celestine Trinidad has a depressed med-student heroine who stumbles upon a guy she thought was a ghost at first but strikes a real friendship, and eventually a romance.
Six De Los Reyes has a bunch of titles with nerdy protagonists and science-y romance. Beginner's Guide: Love and Other Chemical Reactions tells the story of Molecular Genetic scientist Kaya, as she carries out an experiment to find herself a suitable date to a cousin's wedding. Sounds Like Summer has Lux, who succumbs to pressure in her work environment and escapes to a beach music festival. Project Saving Noah has a math whiz (with touch-aversion issues) x oceanographer pairing with all the funny and heart-felt science puns PLUS steamy shenanigans.
Music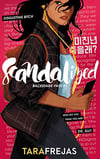 Aside from the Playlist series, there are also books with K-Pop idols and theater artists. Tara Frejas' Scandalized introduces South Korea's hottest band, East Genesis Project and their road manager, Fi. It explores a facet of toxic K-Pop stan culture, as well as the prospect of a K-Pop Idol falling in love with a non-celebrity. Tara's other books, Waiting in the Wings and Like Nobody's Watching revolve around the theater world in the Philippines that is in the same note, but quite different from the more popular Broadway and Westend romances.
LGBTQ+
Books that center on relationships other than M/F pairings are still few but this handful of promising stories are a great start to a more inclusive RomanceClass selection.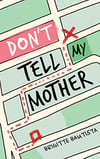 Brigitte Bautista's books deal with harsh realities but balance it out with satisfying romance. Don't Tell Your Mother tells a story of a 19 year-old living in a Christian suburbia and coming to terms with her sexuality. Sam falls for Clara, a widow and ostracized neighbor, to the disappointment of her overzealous mother. You, Me, U.S., her newest title, is a slow burn, best friends to lovers story set against the grittier side of Manila. Jo is a sex worker and Liza is a saleslady whose only way out of poverty is marriage to an American online boyfriend.
Chi Yu Rodriguez' recently released No Two Ways is the first RomanceClass book with a Bi MC and it was special to me because the conflict wasn't in AJ's sexuality and self-acceptance, she knew what she was about, but in her fear of not being able to connect to another person and of not being deserving of someone's love. She also wrote an FF short entitled Five Inches Below the Knee about two girls in high school. It's included in her Love and Other Questionable Life Choices collection.
Steamy Romance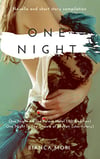 Recent releases have been steamier than those that came out a few years back so there's more of it now, but books by Bianca Mori, specifically Tame the Kitten and the rereleased edition of One Night at the Palace Hotel (now just One Night, with a bonus short story, One Night in the Streets of Makati) were one of the early RomanceClass books that had sex on the page.
Another steamy favorite is Camilla Sisco's Submission Moves. The heroine is a feminist who falls for a gorgeous MMA fighter.
Flair and Flicker
Even though books get published even without regular online classes, RomanceClass still have them from time to time and each class has challenges for the authors. The latest ones made way for "imprints" like Flair (steamy books) and Flicker (YA books). RomanceClass is not a publisher so the books remain independently published, except in these books has a single Flair or Flicker team that works closely with the authors from editing the finished manuscript, shooting and designing book covers, to marketing, promotion, and release.
The Flair line already has two books out: You Out of Nowhere by Jay E. Tria and Project Saving Noah by Six De Los Reyes. Flicker also has two books released: Heartstruck by Angeli E. Dumatol and Flipping the Script by Danice Mae P. Sison.
---
So that's it. :) This unintentionally became a long-ass thing but I know I've forgotten a few more of my fave recs but these will do for starters. I hope this is helpful for you to find your first RomanceClass book, or if you've already read one, your next RomanceClass book or your next FAVORITE romance even. Thanks again, Love in Panels. <3