I'm honored and happy to be joining the Love in Panels blog as a regular contributor to talk about science fiction romance, or SFR as we sometimes abbreviate it. Each month I'll bring you a few Best Bets from the latest releases in the genre that I've read.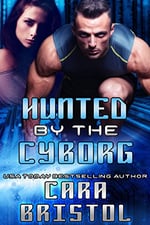 Hunted by the Cyborg, by Cara Bristol
Cara Bristol started the New Year for us with Hunted by the Cyborg, the sixth book in her Cy-Ops series. This book belongs to Carter Aymes, the Director of the top secret Cy-Ops organization, and Beth O'Shea, a somewhat mysterious woman who's applied for a job at his public company. She seems to be a woman he had an affair with in college, although she denies it, but is eventually revealed to be the dead woman's clone. (Not a spoiler – that's in the book blurb.) Despite himself Carter is powerfully attracted to Beth, and not just because of his long ago involvement with her original self. They both have challenges since he's a cyborg (with many many secrets to keep) and she's a clone, and the situation helps to bond them even more closely. He thinks "…she needed someone far less jaded than a battle weary cyborg…"
But of course Beth knows what she needs is Carter.
"He was the first person to learn the truth about her and not treat her like an unwelcome obligation or an android without self-awareness or emotions."
A lot of the plot swirls around the political situation, with a big summit meeting as the capstone, as the interstellar civilization attempts to deal with a terrorist organization that seems to operate everywhere with ease. This is a standalone novel, but it was nice to see many of the characters from the earlier stories make appearances.
True love runs smoothly for Carter and Beth, except for her pesky, mysterious headaches…until suddenly, in a shocking twist that I can't explain without being a spoiler, she does something so unexpected that the reader can be forgiven for wondering how the Happy Ever After ending will be achieved. I was really turning those pages fast at this point! Not to worry – Author Bristol capably maneuvers through the remainder of the plot and reveals all in the nick of time, while saving the day for everyone in a satisfying ending to the tale.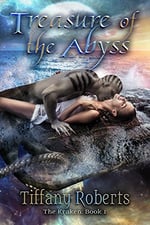 Treasure of the Abyss, by Tiffany Roberts
Buy it: Amazon (Also on Kindle Unlimited as of 1/17/18)
In order to talk about Treasure of the Abyss, a terrific new SFR novel from Tiffany Roberts, I have to indulge in a mild spoiler. What I'm going to say is revealed very early in the book but if you don't want to know, stop here and just be aware I read the book in one sitting and loved it. Highly recommended.
Okay, still with me? SPOILER! The hero is pretty much human from the waist up but from the waist down he's got the tentacles of an octopus. (That cover is really drawn very artfully, isn't it?) Now if you'd asked me previously, I'd have said I don't read anything with a hero who has tentacles instead of legs. I can handle tails, barbs, enhancements, ridges…just wasn't turned on by tentacles. I think in general I still feel that way but I really came to appreciate, admire and care about the character of Jax the Wanderer. He and Macy the human woman have kind of a Romeo and Juliet story going – the kraken remember they were created by the humans (and a lot of unpleasantness ensued) and the present-day humans have no idea that the kraken exist in the ocean covering much of their colony world.
(Jax is very well endowed and the intimate scenes are steamy….)
I'm always fascinated by tales of interstellar colonies that only vaguely remember their past, and the discoveries that can be made. In this case, the kraken know certain things and the humans on land know other things and it's highly enjoyable to watch the situation unfold. The authors convey the beauty of the ocean setting in breathtakingly well described scenes. ('Tiffany Roberts' is a husband and wife writing duo.) The hero has the best aspects of octopus attributes, from coloration to camouflage. Macy is fascinated by him after he rescues her from drowning. She's not exactly content with her life in the land based colony but neither does she want to be Jax's treasured possession, kept on his island of salvaged flotsam and jetsam. Fun echoes of Disney's "The Little Mermaid" in that sequence.
The relationship between Jax and Macy develops in a very natural fashion and is an unshakable bond by the end. He totally gets her. "You give of yourself. To your people, to your parents…you worry for them; you concern yourself with how they will feel. You speak as though you only worked to accomplish what they expected." He urges her to expand her horizons, to nurture herself, to do what she longs to do. And Macy in turn enables him to help his people while still preserving his desire to explore and push the frontiers of what lies under the vast ocean, waiting to be discovered. And to defy some of the kraken's more restrictive traditions.
This is the first book in a projected series and I can't wait for more. There are enticing threads of potential future plot developments dangled here and there that I really want to see more of.
Never fear, there's a happy ending to this tale, despite the Shakespearean analogy I made.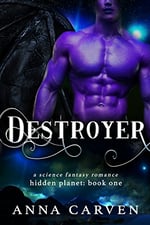 Destroyer, by Anna Carven
Buy it: Amazon (Also on Kindle Unlimited as of 1/17/18)
Anna Carven, author of the Dark Planet Warrior series, has started a new series entitled Hidden Planet, and the first book Destroyer, is a wild ride with intense adventure. Author Carven weaves several threads together and the reader has to be patient and go with the flow. I'll need to be careful not to give spoilers here but I was somewhat puzzled at the beginning of the book to find myself going along on an expedition with some clearly barbarian warriors. As the story developed, the author provided a lot of world building (these fierce guys live on the hidden planet of the series name) and started making these fearless hunters stand out as individuals, particularly Ares, the hero of the book. But don't for a moment start thinking of these Vradhu as human – they're tall, purple and equipped with tails, among other things.
Then the narrative abruptly switches to a more classic scifi setting, with tough as nails mercenary captain Calexa Acura and her small crew caught in a desperate situation, trying to fight off an overwhelming number of the enemy and forced to jump through the Netherverse to escape. Calexa's crew members seem like a pretty fascinating group and I'm looking forward to seeing more of them in the future books. All the focus in this one is on Calexa, who has a pretty tortured past and bionic enhancements. She also has a mysterious passenger – I have a feeling we're going to learn a lot more about this woman later in the series.
Of course Ares and his fellow warriors have ended up in the same spot where Calexa and her ship, crew and passengers arrive, which is aboard an ancient, gigantic ship orbiting Ares' planet. There are so many layers to this ship, and to Ares' relationship with it, not to mention its significance in the history of his race that again, the reader really has to hang on for the ride and just absorb the revelations. Did I mention the blue zombies? Ares and Calexa are thrown together immediately and I loved the dynamic between the two of them and the way their relationship develops and deepens.
Here's what Ares is thinking not long after they meet: Ah, she was a strange thing. She bristled at his commands and fought at the slightest provocation She was tough and fierce and loyal…and yet beneath the hard exterior, she possessed a softness that defied his understanding.
And as for Calexa, she thinks he's "…Aloof. Secretive. Brooding. Terrifyingly beautiful. He doled out tenderness and cold menace in equal measure…she just didn't know how to process him."
I thought they were nicely matched!
Author Carven tosses in so many developments that the pace gets dizzying. I hope the future books in the series let the reader breathe a bit more but I very much enjoyed the book. It's one of those stories that you think has ended, you turn the page and oops, a bit more plot come at you, a few more surprises…
And that's my January report. What new scifi romances have you enjoyed?

USA Today Best Selling Author Veronica Scott is a seven-time recipient of the SFR Galaxy Award, and has written a number of science-fiction and fantasy romances. Her latest release is Aydarr (A Badari Warriors SciFi Romance Novel). You can find out more about her and her books at veronicascott.wordpress.com