Say do you remember
Dancin' in September...
That's all the intro you get this month. You're welcome.
This post includes affiliate links.
***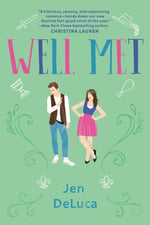 Well Met, by Jen DeLuca - September 3

All's faire in love and war for two sworn enemies who indulge in a harmless flirtation in a laugh-out-loud rom-com from debut author Jen DeLuca.
Emily knew there would be strings attached when she relocated to the small town of Willow Creek, Maryland, for the summer to help her sister recover from an accident, but who could anticipate getting roped into volunteering for the local Renaissance Faire alongside her teenaged niece? Or that the irritating and inscrutable schoolteacher in charge of the volunteers would be so annoying that she finds it impossible to stop thinking about him?
The faire is Simon's family legacy and from the start he makes clear he doesn't have time for Emily's lighthearted approach to life, her oddball Shakespeare conspiracy theories, or her endless suggestions for new acts to shake things up. Yet on the faire grounds he becomes a different person, flirting freely with Emily when she's in her revealing wench's costume. But is this attraction real, or just part of the characters they're portraying?
This summer was only ever supposed to be a pit stop on the way to somewhere else for Emily, but soon she can't seem to shake the fantasy of establishing something more with Simon or a permanent home of her own in Willow Creek.
Suzanne - This is a bit of a cheat since I've already read it, but it's a lot of fun! I reviewed it for Shelf Awareness so I can't share my review until after it runs over there but if you like enemies-to-lovers, Hook from Once Upon a Time, or Ren Faires, you'll be fine. It's a bit slow to start, but once the Faire starts it's a trip.

Amy - WELL MET!!! As someone who drags their friends to the Ren Faire every year, I feel like this romance was made for me.
Buy a copy: Amazon, Apple Books, Barnes & Noble, Kobo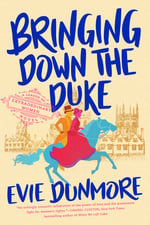 Bringing Down the Duke, by Evie Dunmore - September 3

A stunning debut for author Evie Dunmore and her Oxford Rebels in which a fiercely independent vicar's daughter takes on a powerful duke in a love story that threatens to upend the British social order.
England, 1879. Annabelle Archer, the brilliant but destitute daughter of a country vicar, has earned herself a place among the first cohort of female students at the renowned University of Oxford. In return for her scholarship, she must support the rising women's suffrage movement. Her charge: recruit men of influence to champion their cause. Her target: Sebastian Devereux, the cold and calculating Duke of Montgomery who steers Britain's politics at the Queen's command. Her challenge: not to give in to the powerful attraction she can't deny for the man who opposes everything she stands for.
Sebastian is appalled to find a suffragist squad has infiltrated his ducal home, but the real threat is his impossible feelings for green-eyed beauty Annabelle. He is looking for a wife of equal standing to secure the legacy he has worked so hard to rebuild, not an outspoken commoner who could never be his duchess. But he wouldn't be the greatest strategist of the Kingdom if he couldn't claim this alluring bluestocking without the promise of a ring...or could he?
Locked in a battle with rising passion and a will matching her own, Annabelle will learn just what it takes to topple a duke....
Suzanne - I've read this one too and I absolutely loved it. My review is here.

Buy a copy: Amazon, Apple Books, Barnes & Noble, Kobo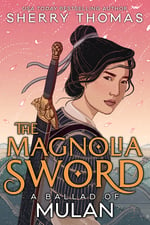 The Magnolia Sword, by Sherry Thomas - September 10

CHINA, 484 A.D.
A Warrior in Disguise
All her life, Mulan has trained for one purpose: to win the duel that every generation in her family must fight. If she prevails, she can reunite a pair of priceless heirloom swords separated decades earlier, and avenge her father, who was paralyzed in his own duel.
Then a messenger from the Emperor arrives, demanding that all families send one soldier to fight the Rouran invaders in the north. Mulan's father cannot go. Her brother is just a child. So she ties up her hair, takes up her sword, and joins the army as a man.
A War for a Dynasty
Thanks to her martial arts skills, Mulan is chosen for an elite team under the command of the princeling—the royal duke's son, who is also the handsomest man she's ever seen. But the princeling has secrets of his own, which explode into Mulan's life and shake up everything she knows. As they cross the Great Wall to face the enemy beyond, Mulan and the princeling must find a way to unwind their past, unmask a traitor, and uncover the plans for the Rouran invasion . . . before it's too late.
Inspired by wuxia martial-arts dramas as well as the centuries-old ballad of Mulan, The Magnolia Sword is perfect for fans of Renee Ahdieh, Marie Lu, or Kristin Cashore—a thrilling, romantic, and sharp-edged novel that lives up to its beloved heroine.
Suzanne - A fellow reader told me that this follows the beats of a romance novel and I trust Sherry Thomas to make it 100% my jam.

Buy a copy: Amazon, Apple Books, Barnes & Noble, Kobo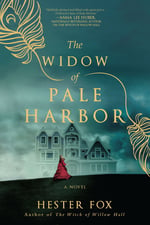 The Widow of Pale Harbor, by Hester Fox - September 17

A town gripped by fear. A woman accused of witchcraft. Who can save Pale Harbor from itself?
Maine, 1846. Gabriel Stone is desperate to escape the ghosts that haunt him in Massachusetts after his wife's death, so he moves to Maine, taking a position as a minister in the remote village of Pale Harbor.
But not all is as it seems in the sleepy town. Strange, unsettling things have been happening, and the townspeople claim that only one person can be responsible: Sophronia Carver, a reclusive widow who lives with a spinster maid in the eerie Castle Carver. Sophronia must be a witch, and she almost certainly killed her husband.
As the incidents escalate, one thing becomes clear: they are the work of a twisted person inspired by the wildly popular stories of Mr. Edgar Allan Poe. And Gabriel must find answers, or Pale Harbor will suffer a fate worthy of Poe's darkest tales.
Suzanne - Fox's books are gothic romance and everything is over the top and doesn't make sense if you look too closely. But they are spooky and dramatic in the way only gothics can be so they're perfect for Halloween. They're also set very close to my home so I'm terribly biased.

Buy a copy: Amazon, Apple Books, Barnes & Noble, Kobo
Stage Dreams, by Melanie Gillman - September 3

In this rollicking queer western adventure, acclaimed cartoonist Melanie Gillman (Stonewall Award Honor Book As the Crow Flies) puts readers in the saddle alongside Flor and Grace, a Latinx outlaw and a trans runaway, as they team up to thwart a Confederate plot in the New Mexico Territory. When Flor—also known as the notorious Ghost Hawk—robs the stagecoach that Grace has used to escape her Georgia home, the first thing on her mind is ransom. But when the two get to talking about Flor's plan to crash a Confederate gala and steal some crucial documents, Grace convinces Flor to let her join the heist.
Suzanne - I've already reviewed this one, but it's absolutely wonderful. Loved every bit of it.

Buy a copy: Amazon, Barnes & Noble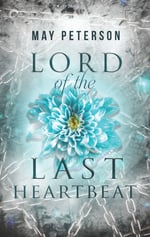 Lord of the Last Heartbeat, by May Peterson - September 2

Stop me. Please.
Three words scrawled in bloodred wine. A note furtively passed into the hand of a handsome stranger. Only death can free Mio from his mother's political schemes. He's put his trust in the enigmatic Rhodry—an immortal moon soul with the power of the bear spirit—to put an end to it all.
But Rhodry cannot bring himself to kill Mio, whose spellbinding voice has the power to expose secrets from the darkest recesses of the heart and mind. Nor can he deny his attraction to the fair young sorcerer. So he spirits Mio away to his home, the only place he can keep him safe—if the curse that besieges the estate doesn't destroy them both first.
In a world teeming with mages, ghosts and dark secrets, love blooms between the unlikely pair. But if they are to be strong enough to overcome the evil that draws ever nearer, Mio and Rhodry must first accept a happiness neither ever expected to find.
Suzanne - Who doesn't want to read about secrets and curses and dark fantasy in the weeks leading up to Halloween? May Peterson is also an out trans author being published by a bigger romance press, so take my money Carina.

Buy a copy: Amazon, Apple Books, Barnes & Noble, Kobo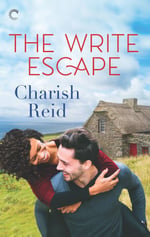 The Write Escape, by Charish Reid - September 30

Take one heartbroken Chicago girl
Literary editor Antonia Harper had it all—the career, the man, the future. That was then. Now Antonia is jobless, alone and at a crossroads. What better time to travel the world? A solo honeymoon on the Emerald Isle will be like hitting the reset button. No distractions, no drama.
Add some luck o' the Irish
Aiden Byrnes may be a literature professor, but words fail him when he meets the woman staying in the cottage next door. Tully Cross is meant to be a sleepy little village, and he's meant to be on a working holiday—not a vacation, and most definitely not with his beautiful neighbor.
And you get some mighty good craic
They say laughter is the best medicine—and as it turns out, superhot sex isn't so bad either. Antonia and Aiden's spark quickly grows into what could be something special, if they're willing to take the leap. Ending up an ocean apart is unthinkable, and when real life comes calling, there's no ignoring that leap anymore…
Suzanne - Two book people. Vacation. Neighbors. Ireland. Gimme gimme.

Buy a copy: Amazon, Apple Books, Barnes & Noble, Kobo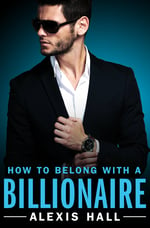 How to Belong with a Billionaire, by Alexis Hall - September 3

Don't miss the epic conclusion to Caspian Hart and Arden St. Ives' love story!
If you love someone, set them free...
I thought I'd be okay when Caspian Hart left. He was a brilliant, beautiful billionaire with a past he couldn't escape. And I was ... just me: an ordinary man lost in his own life. It would never have lasted. It should never have happened. Not outside a fairytale.
And I am okay. I've got my job, my family, my friends, and everything Caspian taught me. Except it turns out he's going to marry his ex-boyfriend. A man who doesn't understand him. A man who almost broke him. And I've finally realized it's not enough for me to be happy. I need Caspian to be happy too.
Problem is, I've already done all I can to help him. I've followed his rules and broken his rules and learned his secrets. And he still won't believe I can love him. So now it's his turn. His turn to fight, and trust, and hope. It's time for Caspian Hart to choose me.
Andrea - This series has been so charming and brilliant and wonderfully British. Even when it's been heartbreaking, the way Arden St. Ives sees the world fills me with so much joy to read. I'm excited for him to get his HEA.
Buy a copy: Amazon, Apple Books, Barnes & Noble, Kobo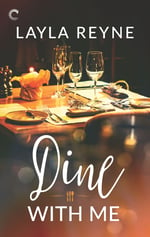 Dine with Me, by Layla Reyne - September 16

Life never tasted so good.
Miller Sykes's meteoric rise to award-winning chef is the stuff of culinary dreams, but it's all crashing down around him. He's been given a diagnosis that could cost him something even more precious than his life: his sense of taste. Rather than risk the very thing that defines him, Miller embarks on a last tour of his favorite meals while he still can.
But there's a catch: he needs a financial backer to make it happen, and he doesn't want anyone to know he's sick.
Dr. Clancy Rhodes has two weeks to come to terms with putting aside oncology to work at his father's thriving plastic surgery practice. When the opportunity to travel with a Michelin-starred chef presents itself, the foodie in him can't believe it. It doesn't hurt that Miller's rugged good looks are exactly Clancy's cup of joe.
As Clancy and Miller travel from coast to coast and indulge in everything from dive bars to the most decadent of culinary experiences, they're suddenly sharing a lot more than delicious meals. Sparks fly as they bond over their love of flavors and the pressures of great expectations. But when Miller's health takes a turn for the worse, Clancy must convince him he's more—so much more—than just his taste buds. And that together, they can win a battle that once seemed hopeless.
Andrea - Dine with Me is 100% my favourite Romance read of the year. My review will be up soon, and my only concern with this rec is that I --queen of quadruple exclamation marks, extreme user of caps lock-- still may not have expressed my love for it strongly enough.
Buy a copy: Amazon, Apple Books, Barnes & Noble, Kobo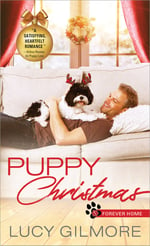 Puppy Christmas, by Lucy Gilmore - September 24

These adorable service puppies
are matchmakers in the making...
Lila Vasquez might not be the "fun one" at Puppy Promise—the service puppy training school she runs with her sisters—but she can always be counted on to gets things done. So when her latest client shows an interest in princess gowns over power suits, Lila puts aside her scruples, straps on the glittery heels, and gets to work.
If only the adorable six-year-old's father wasn't such an appealing Prince Charming.
Ford's whole life revolves around his daughter...until he meets Lila. Smart, capable, and amazing at helping Emily gain confidence with her new service puppy at her side, Lila is everything he ever wanted—but she's way out of his league. Good thing Emily and her new pup are up to the matchmaking task. This Christmas, it's all hands (and paws) on deck!
Andrea - I mean..... If the cover isn't enough to swoop me up, the Christmas-time / service dogs / single dad combo sure does!
Buy a copy: Amazon, Apple Books, Barnes & Noble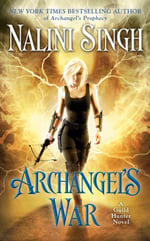 Archangel's War, by Nalini Singh - September 24

Return to New York Times bestselling author Nalini Singh's darkly passionate Guild Hunter world, where human-turned-angel Elena Deveraux, consort to Archangel Raphael, faces a new challenge that threatens the balance of the world.
Wings of silver. Wings of blue. Mortal heart. Broken dreams. Shatter. Shatter. Shatter. A sundering. A grave. I see the end. I see. . . .
The world is in chaos as the power surge of the Cascade rises to a devastating crescendo. In furiously resisting its attempts to turn Elena into a vessel for Raphael's power, Elena and her archangel are irrevocably changed. . .far beyond the prophecy of a cursed Ancient.
At the same time, violent and eerie events around the world threaten to wipe out entire populations. And in the Archangel Lijuan's former territory, an unnatural fog weaves through the land, leaving only a bone-chilling silence in its wake. Soon it becomes clear that even the archangels are not immune to this deadly evil. This time, even the combined power of the Cadre may not be enough. . . .
This war could end them all.
Ana - I've spent the past two weeks in denial about the end of summer and lost in a fog of Nalini Singh's Guild Hunter series, which means I will be eagerly awaiting the release of Archangel's War on September 24. I wish I could strategically stretch out the last book and the short story collections to tide me over but I know I will just keep turning those pages until I know what awaits Raphael, Elena and the rest of the Seven.

Buy a copy: Amazon, Apple Books, Barnes & Noble, Kobo
What books are you looking forward to this month?