In case you haven't been paying super close attention to my personal Twitter feed, you may not know that I've been reviewing for the Shelf Awareness for Readers newsletter for about three months. It's a lot of fun and I get exposed to a much broader selection of books than I might otherwise. For example, I've covered a book about a female butcher in London and a comic about adorable monsters who destroy whole ecosystems.
I also get to review romance for them, however. All of their reviews are positive and they don't post content warnings, but we do get to choose which books we write about, so it's not like I'm lying about liking a book. The selection is very straight and very white because traditional publishing is very straight and very white (like 90%) and that's who sends physical ARCs out to media. With that in mind and with permission from Shelf Awareness, here are the first three that I reviewed for them!
Disclaimers: I received copies of these books from the publishers for review. This post contains Amazon affiliate links.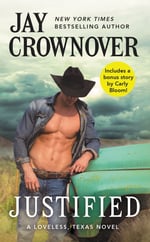 Justified, by Jay Crownover
Romantic suspense, out 6/25/19.
Review, first published at Shelf Awareness:
Jay Crownover (the Marked Men series) starts her first Western series with Justified, which takes place in the imaginary town of Loveless, Tex. New sheriff Case Lawton and attorney Aspen Barlow--childhood friends and now adult enemies--must put aside their animosity when someone breaks in and vandalizes Aspen's office.
Aspen was assigned to represent Case's ex-wife in a divorce that cost him several years of custody of his only son and destroyed the friendship between Case and Aspen. Representing victims of domestic violence and the wealthy alike, Aspen has earned herself a long list of enemies, which makes it all the more complicated for Case to sort out the threat to her life.
When someone sets fire to her home and she's attacked her while leaving the hospital, Aspen moves in with Case so that he can protect her. This proximity forces the two to sort through their baggage and address the sexual tension between them. Crownover excels at balancing the romantic part of the story with the suspense elements. The result is a heart-pounding narrative that readers will be compelled to finish quickly.
The romance unfolds as a slow burn ("I was kissing her the way you kissed someone you loved and hated at the same time. A little sweet, a little mean."), which fits with the enemies-to-lovers premise and the impressive number of times Aspen is nearly killed. Twists and turns abound as this whodunit builds up to revelations that will surprise even longtime suspense readers. --Suzanne Krohn, editor, Love in Panels
Discover: The first book in Jay Crownover's new Western series offers a heart-pounding combination of romance and suspense, sure to please longtime fans and new readers alike.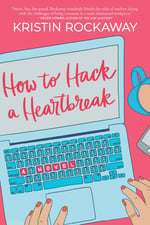 How to Hack a Heartbreak, by Kristen Rockaway

Commercial fiction with romantic elements, out 7/30/19.
Review, first published at Shelf Awareness:
In How to Hack a Heartbreak, Kristin Rockaway weaves a story that's both romance and coming-of-age, combining her years of experience as a corporate software engineer with modern dating and social media technology. It's told entirely from the point of view of Melanie, and Rockaway surrounds her with a diverse group of friends who are working and dating in present-day New York City.
Melanie is stuck in an entry-level IT job, enduring verbal abuse from men who work at the start-up incubator where she's employed. Inspired by harassment at work and a dating app called Fluttr, she launches JerkAlert, a site for women to notify others about men who mistreat them on the app. What she doesn't expect, however, is how JerkAlert and her distrust of dating, men and the concept of faithfulness will affect her fledgling relationship with a co-worker: "It was funny: modern technology could forge a connection between two people on opposite ends of the earth, but it could just as easily drive a wedge between two people standing side by side in the same room."
As Melanie finds ways to stand up for herself and for other women, she learns that nothing is simple and, over and over, that "the internet is truly a terrible place." How to Hack a Heartbreak is a story about love in a time of technology--the good, the bad and the giant gray area in between. --Suzanne Krohn, editor, Love in Panels
Discover: How to Hack a Heartbreak is a story about how a new romance, a few good friends and a whole lot of code can change everything.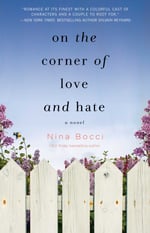 On the Corner of Love and Hate, by Nina Bocci

Small town contemporary romance, out 8/20/19.
[Link to be updated, this post was scheduled a few days early and your editor is traveling :) ]
On the Corner of Love and Hate is as charming and complicated as the small town in which Nina Bocci has set it. Cooper and Emma have been friends since childhood but their relationship took a turn in college. Since they both moved back home to Hope Lake, they've been working together at the Community Development Office, but nothing is like it used to be. They're forced to see each other every day, but they don't work together well and never mind spending time together outside of work. When Cooper decides to run for Mayor to replace Emma's retiring father, everything gets a whole lot messier. Is Emma Cooper's old friend, contentious coworker, campaign manager, or something else entirely?
Hope Lake has been reinventing itself as an outdoorsy tourist town, but all of that work is threatened when Cooper's opposing mayoral candidate proposes to defund all public projects and bring in mega-stores. When the campaign turns messy, Emma and Cooper are both forced to evaluate their futures in local government, in their community, and in their own relationship. Long-time romance readers will be able to guess where this story is heading, but the push-pull romance is all the more satisfying for the I-told-you-so moments.
Bocci puts her characters through an emotional wringer, but balances the pining and misunderstandings with humor and an overall uplifting message about community involvement, family, and hope.
***
If you appreciate our content and wish to support the site, please consider using the affiliate links in this post and below for your shopping needs. Even if you don't buy the book in question, we receive a small % of your purchase from the vendor. As always, you are welcome to leave us a tip on Ko-Fi or join our Patreon!
Support Love in Panels