Today we have a guest post from romance author Sionna Fox! You can read more about her new book, Bound To, at the bottom of the post. It's a steamy contemporary romance with a kinky nerdy hero and a heroine with anxiety coming to her sexual awakening.
Full Disclosure - Sionna is a friend of Suzanne's, so we don't review her books... but we think you'd like them!
***
I am not one of those romance readers or writers who cut her teeth sneaking category paperbacks from relatives or the library. I started on book boyfriends early (hey, Almanzo Wilder, you overly romanticized fiction, you) but I never made the connection to reading romance until my late twenties. My ebook order history confirms that I purchased my first romance, Christina Lauren's Beautiful Bastard, in June of 2013 (go big or go home, right?) and I haven't looked back.
So how did I go from my severely dogeared copy of Jane Eyre to reading office hate sex? My friends, I was desperate. Deeply anxious, struggling with depression, disconnected from my body, I wanted to feel something. And ridiculous, tropey, enemies-to-lovers having super unsafe sex in a stairwell um, did the trick. So I read the rest of the series that had been released up to that point in a matter of a couple of weeks, obviously. That table sex at the charity banquet scene in Beautiful Stranger will be burned into my brain forever and ever amen, thank you.
And that's the thing. I needed an escape valve from real life, where relationships are less outsized trope-laden struggle and more, I hate you and the way you load the dishwasher. Real life is messy and complicated and full of boring struggles about money and work and whose turn it is to clean the bathroom.
I started devouring books, reading everything from straight-up erotica to rom-coms to paranormal to historicals to new adult, and some weird mash-ups of several of those genres in between; if it hooked me by the end of the sample pages, it got purchased and into my eyeballs. And along the way, I found words. Words for what I wanted. Words for what I needed. Words that helped connect my head and my heart and my body. Romance novels gave me that.
It's a common refrain that romance novels are at their core about hope. The genre's detractors like to say they give us unreasonable expectations. I don't know anyone who believes that happily ever afters are actually full of sunshine and rainbows, but I do believe that the ways romance can give us tools for agency, for seeking pleasure, for demanding respect, for expecting our partners to be true partners, aren't just not unreasonable, but are necessary.
I write romance the way I do, with heroes my editors have to ask me to give flaws to, because I want my heroines to have the experience of being with someone who supports them, who understands them, who loves them as they are. I am team cinnamon roll. Because we all deserve that, if that's what we want. (That goes for romantic and platonic relationships, give me all your romances with strong friend groups.) Romance novels gave me that.
***
Sionna Fox is an author of sweet/hot HEAs, die-hard romance fan, and lover of things nerdy and twee. She has a small problem with washi tape and planner stickers, and tagging her in anything involving foxes, llamas, or women in suits is a surefire way to her heart.
You can find her procrastinating at:
https://www.facebook.com/sionnafox/
https://www.instagram.com/sionnafox/
Or sign up for her newsletter to stay up to date with new releases and extras: https://rebrand.ly/SFltr
And see her in person at the NECRWA Conference TGIForLiteracy Book Fair on Friday April 27 in Burlington, MA. https://www.facebook.com/events/166287780808212/
Conference attendees can also catch her with Cecilia Tan, Tamsen Parker, and Teresa Noelle Roberts talking about what's next for kink in romance.
http://www.necrwa.org/conference/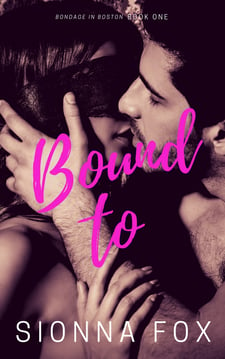 BOUND TO
Take one neurotic new girl in town and one kinky neuroscientist, add sparks and a side of sexual awakening. This might hurt later.
Jolene Whitman has never left her hometown, hasn't been on a date in six years, and when her best friend asks her to move to Boston with her, she jumps at the chance to leave her country mouse roots behind.
Starting over in a new city with one friend, no job, and her bank account bleeding out is enough to send Jolene's anxiety through the roof. Add in a hot post-doc with a dominant streak and it could be a recipe for a panic attack big enough to send her home with her tail between her legs. But submitting to Matthew Ward shuts up the running monologue in her head like nothing ever has before.
Each night they spend together, exploring the limits of their trust, Jolene falls a little harder for the man responsible for her sexual awakening. Under Matthew's care and control, she finds a place where she understands exactly who and what she's supposed to be.
She knows it's too good to last, that a man like Matthew will never stay with a woman like her. But if the cost of finding herself is a broken heart, she's all in.
BOUND TO hits e-readers on April 24, 2018!