I don't think it's surprising to know that Halloween is my favorite holiday (and sometimes fashion aesthetic). Spooky tales of necromancers, witches, and monsters are my jam! I am a huge horror fan, but I am also a scaredy cat. The right horror story will keep me up for weeks. Paranomal romance is a great way to indulge in some horror-like elements without the insomnia. I generally read a lot of paranormal romances, but I've amped up my TBR pile with tons of titles now that the leaves are falling. Here are some of my favorites for Halloween: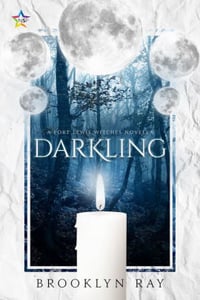 Darkling, by Brooklyn Ray
Port Lewis, a coastal town perched on the Washington cliffs, is surrounded by dense woods, and is home to quaint coffee shops, a movie theater, a few bars, two churches, the local college, and witches, of course.
Ryder is a witch with two secrets—one about his blood and the other about his heart. Keeping the secrets hasn't been a problem, until a tarot reading with his best friend, Liam Montgomery, who happens to be one of his secrets, starts a chain of events that can't be undone.
Dark magic runs through Ryder's veins. The cards have prophesized a magical catastrophe that could shake the foundation of Ryder's life, and a vicious partnership with the one person he doesn't want to risk.
Magic and secrets both come at a cost, and Ryder must figure out what he's willing to pay to become who he truly is.
Warning: Scenes of bloodletting and death (and resurrection) of an MC.
COVENS?! QUEER ROMANCE?! When I saw Ray's tweet about their book, I instantly bought it. I'm a sucker for the "friends to lovers" trope, and I enjoy the world of magic Ray builds within DARKLING.
Read if... you're waiting for the new Charmed reboot to air (but I have a feeling DARKLING will be way better).
Get Your Copy: Amazon, Barnes & Noble, iBooks, Kobo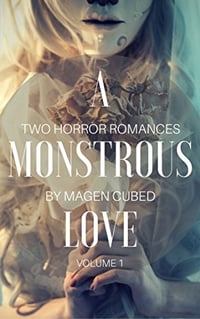 A Monstrous Love, by Magen Cubed
Sink your teeth into A MONSTROUS LOVE: Two Horror Romances from Magen Cubed (FLESHTRAP, THE CRASHERS). This mini-collection features two short stories about monstrous women in love, just in time for Halloween. THE HAUNTING OF DIVINIA is an unconventional ghost story, and TASTE tells the story of a young couple with an unusual hobby. If you enjoy your romance on the eerie side, A MONSTROUS LOVE is the perfect short read.
These two short stories pack so much into their few pages. And they're PG on the sex front if you're looking for something less spicy. But these two f/f romances are so good - "The Haunting of Divinia" had me tearing up in it's few pages.
Read if ... you need some spooky stories during your lunch break, and some words to haunt you well after you're done.
Get Your Copy: Amazon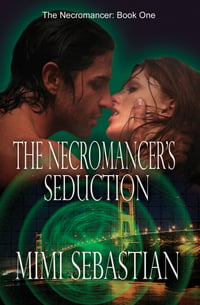 The Necromancer's Seduction, by Mimi Sebastian
She has never feared the walking dead. It's the power required to reanimate the dead that startles her, seduces her. The power that dwells inside her . . . and is growing. For Professor Ruby Montagne, being a necromancer has brought her nothing but heartache, and she walked away from that part of her life long ago. However, her quiet existence in San Francisco is shattered when she stumbles upon the body of a slain witch, and the supernatural community insists she transform him into a revenant to track the killer. But his murder was just the beginning, and Ruby soon realizes that the stakes are higher than anyone can imagine—and that revenants have nasty minds of their own. Now demonic creatures have escaped into the human world, and zombies once again walk the streets. For humanity's sake, Ruby forms an unlikely alliance with a witch, a revenant, and Ewan March, a demon warrior who sets her senses on fire. She's always distrusted demons, and Ewan is no exception. But circumstances push them closer together, and Ruby not only finds it harder to resist him, she isn't sure she even wants to. But she suspects his job of patrolling the portal separating humans and demons conceals a dark and deadly past that may consume them both. With events spiraling out of control, Ruby unravels a plot that not only threatens the human and demon realms, but puts Ruby's very soul in jeopardy. Because when the dead walk, no one is safe. Especially Ruby.
I found out about this series from a Book Riot article, and it just so happened to be in our Library's digital collection. The necromancer/demon pairing was terrific and the story reads like a hotter Sookie Stackhouse book.
Read if ... you're looking for some Urban Fantasy with hot sex.
Get Your Copy: Amazon, iBooks, Kobo, Barnes & Noble
Bonus Reads!
Spell on Wheels - A group of witches set out on a road trip to seek revenge on an ex in this gorgeously illustrated graphic novel. (Not romance.)
Her Body and Other Parties - Spooky short stories that are feminist and queer and just scary enough.
Mating the Huntress - Talia Hibbert's first paranormal romance! A quick novella with bite.
All I Want for Halloween - Marie Harte's steamy non-spooky Halloween standalone romance. Motorcycle shop owner and a baker meet at a a costume party and... *fans self*
Toil & Trouble - YA anthology of lots of witches! Feminist, inclusive, lots of f/f stories. CWs for sexual assault (and revenge).
The Witch Boy - Buy for the kiddos, then steal it and read it yourself. A sweet coming of age graphic novel about a boy who wants to be a witch when his family tells him boys can't be witches.