Elizabeth May's Falconer Trilogy starts off treading very familiar ground, but quickly leaves the path in favor of a deep and creative exploration of Faerie mythology. Spoiler: there are no falcons.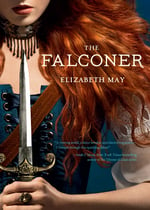 I lead the YA Book Club at my local library, which means I read a bunch of reviews of any given book before I propose it to my teens. The reviews for THE FALCONER, the first in the series, were all over the place. Some said it was formulaic, offering nothing new. Some said it was "steampunk-lite," as though the author couldn't commit to that style of world-building. Regardless of the reviews, I was looking for a YA fantasy with a strong heroine and went ahead with the selection.
First, let me say that my little book group thoroughly enjoyed the book. There's a strong central romance that begins in THE FALCONER but isn't acted upon. There's also a bit of a love triangle set up in the first installment, but it's handled well. Probably half of our discussion time that first month was spent arguing over Kiaran vs. Gavin. The other half? We talked about Aileana.
Aileana, the heroine of the trilogy, is an unusual and fascinating protagonist. She's a tinkerer who finds solace in building weapons from scratch. She's a grieving daughter, motivated by revenge and lost in a sea of anger and unprocessed sadness. She's a Falconer, a special sort of human with a teeny bit of fae blood that gives her special powers, like the ability to see the Fae. She's also shockingly bloodthirsty. It's this last part that made her so interesting, if I'm being honest.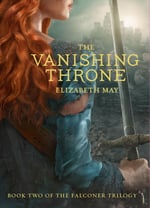 When was the last time that you read about a high-society debutante who stalks monsters at night and gets a rush of energy every time she kills? That's what I thought.
Aileana is a complex heroine, and she grapples with her actions and their consequences throughout the trilogy. I'm trying very hard not to give spoilers here, but let's just say that the plot thickens substantially as the story progresses. Politics and personal entanglements and familial bonds and the passage of time all play a huge part in Aileana's journey from angry teen to angry-but-heroic teen.
As for the romance, the deep first-person POV kept me invested. I hated Kiaran, I loved Kiaran. I wanted him to go away and never come back. I wanted him to smarten up and never leave. They do get their happily ever after, but I shall not tell you any more about the many trials they face to get there.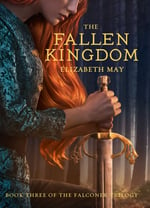 The series is quite self-aware, which is refreshing and amusing. A character dies and is brought back, for example. Everyone makes awkward jokes about it, which gave me strong Buffy the Vampire Slayer feels. It's these little bits of humor that, coupled with badass fight scenes, make the underlying currents of grief and anger bearable. I can't imagine that Elizabeth May knew when she wrote these books that both sides of the pond would be in such a dire situation at present, but this trilogy contains that balance of rage and hope I see in the world today. Let's hope we get the happy ending that Aileana does.
TL;DR - These are solid YA fantasy that take tired tropes and walk the line between easy-to-read and WTF is going on. Aileana is full of rage and kills lots of things with weapons she makes herself. She has great friends and they help her save the world. A great read for these times.