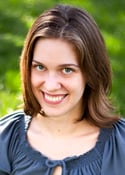 Today we're talking with historical romance author Theresa Romain. Her next book, LADY ROGUE, comes out next week and we'll have a review of it then. In the meanwhile, we hope you enjoy this interview! There's also a giveaway at the end, if you're into free books ;)
***
LADY ROGUE is listed in some places (Amazon) as Royal Rewards #3, and in others (GoodReads) as The Roguish Runners Duo, #1. It's loosely connected to the RR series, but does this mean there's a second of these?
It does! And how clever of Goodreads to have figured that out. I'm finishing up the next book now—called LADY NOTORIOUS--and it will be out February 26, 2019. You'll meet the hero and heroine of that book in LADY ROGUE.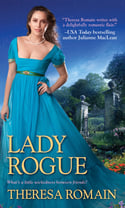 There's a lot of art in your new book, which seems to be a trend in Regency romance lately. Sarah Maclean had one, Manda Collins, Lenora Bell, etc. What do you think it is about paintings that makes them keep popping up in romance?
That's a great observation, and one I hadn't made myself. LADY ROGUE is inspired by the romantic heist film HOW TO STEAL A MILLION, with characters carrying out a theft of worthless art for the sake of protecting a reputation. Paintings and other fine art lend themselves well to historical romance, I think, because they've always been valued. We can understand why people 200 years ago went wild for an artifact or a work of art, because it still happens today. Also, as a writer, I enjoy writing about art far more than I would about, say, investment banking (though that was also a thing 200 years ago!). The research and the descriptive possibilities are more enjoyable for me. I hope that makes them entertaining for the reader too.
I said this to you already, but I think your readers will join me in strongly disliking Sir Frederic, an aristocrat who gets away with a number of Bad Acts at the beginning of Lady Rogue. What was your process like, when you decided to let him off but then make him come 'round at the end? Is it a bit of wish fulfillment? He's got so many parallels to the super-rich in our society today.
When Sir Frederic "Call Me Freddie" Chapple first appeared in PASSION FAVORS THE BOLD, the previous book in the series, I had him in mind for the villain right away. He's less evil than he is selfish, but that selfishness causes great harm—maybe even more harm than if he were actively malevolent, because it flies under the radar more easily than evil deeds.
With the series continuing beyond that book, it was clear to me that Freddie's selfish actions would continue to affect the other characters beyond his arrest. And why would someone so selfish and with so many resources at hand allow himself to be punished long-term? He's sorry for the harm he caused, but not so sorry he wants to experience a punishment. So at the end of LADY ROGUE, his redemption is very limited, because it involves absolutely no sacrifice on his part. I thought that was about all we could expect from Freddie long-term.
A lot of LADY ROGUE is about the power of money and privilege, and it's not just Freddie who demonstrates that. The heroine, the widowed Lady Isabel, has always been wealthy and titled, but she's never experienced social freedom due to a restricted upbringing and an emotionally abusive marriage. The hero, Callum, is the son of a grocer who's always made his own living, most lately as a Bow Street Runner (though he'd want me to say Officer of the Police). He operates outside of high society and doesn't care about it, and he has the freedom of an able-bodied man in a man's world. So both he and Isabel have advantages that the other does not, and negotiating these is part of how they sort out their HEA.
Have you ever considered writing in a different time period? I'm remembering your time on the Smart Bitches podcast and still waiting on that silent film actress book.
You have a good memory! I am still very interested in writing in other time periods, yes. I have stories in mind for the turn of the twentieth century, and I might even veer contemporary someday. Once I finish writing LADY NOTORIOUS, there are a few more Regency projects in the queue. After that, my agent and editor and I will figure out what comes next.
What's next? More scandal around horse racing? I see on your website that there's a duology coming up - anything you can tell us about that?
You bet—thanks for asking! My next release after LADY ROGUE will be a reissue of the novella "Desperately Seeking Scandal," which first came out last September in a duo with Grace Burrowes. It's about the power of the press, family roles, and dealing with invisible disability. In case that doesn't sound fun, I promise there's also smooching and bantering and a firm HEA.
After that, I'll be releasing a novella duet with Shana Galen. We're planning to put that out in September and will set it in a London academy for "Extraordinary Young Ladies." That London academy also plays a significant role in the third and final Romance of the Turf book, which will be out in November. Those are some of the projects that are still in the queue I mentioned, so good vibes and writing mojo would be most appreciated. :)
What have you read (and loved) lately?
I'm always reading about five books at once and have run into some truly lovely stories lately. I loved THE BELLES by Dhonielle Clayton and TRULY DEVIOUS by Maureen Johnson—both YA that pull you into their world right away. These books are very different but both gripping, and both (sob!) the first in a series. I wanted the next book right away, which hopefully doesn't sound like I'm saying "don't read the first book yet." Do read the first book. Then when the second book comes out, read the first book again. I plan to. :)
On a more romance-y note, I loved Alyssa Cole's
A PRINCESS IN THEORY
. The scientist heroine and smitten prince hero were just…sigh. And the excerpt of the next book in the series,
A DUKE BY DEFAULT
, has me so eager to read that one. For historicals, LADY ROGUE shares a release day with new books by
Joanna Shupe
and
Courtney Milan
. I haven't read their
April 24
releases yet but am all prepared to love them.
***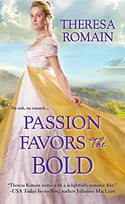 You can win a copy of the previous book in the Royal Rewards series,
PASSION FAVORS THE BOLD
!
This giveaway is courtesy of the author and open internationally. (Void where prohibited, etc.) It's open from now until Sunday afternoon, 4/22/18. Winner will be able to choose print or digital.
a Rafflecopter giveaway
Theresa Romain is the bestselling author of historical romances, including the Matchmaker trilogy, the Holiday Pleasures series, the Royal Rewards series, and the Romance of the Turf trilogy. Praised as "one of the rising stars of Regency historical romance" (Booklist), she has received starred reviews from Booklist and was a 2016 RITA® finalist. A member of Romance Writers of America® and its Regency specialty chapter The Beau Monde, Theresa is hard at work on her next novel from her home in the Midwest.
You can also find her on Facebook page or on Twitter (@TheresaRomain), BookBub, or Pinterest.