Normally my "sweet spot" for these posts are to find four or five books, preferably published during the month of the blog post, that feature "unusual elements." "Unusual" typically takes the form of non-UK settings, "nobody" main characters that aren't titled, unique professions etc. But when I started looking for titles to feature for August? Yeah, pickings were slim. So I did what any good librarian does - I whined on Twitter, got some suggestions, did some more investigating and now we have an August Unusual Historicals list! Huzzah!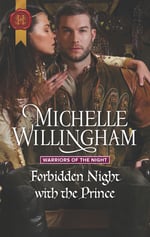 Forbidden Night with the Prince, by Michelle Willingham
A lifetime of being good…
One night of sin!
A Warriors of the Night story: virtuous Joan de Laurent is fated never to marry. Three betrothals, each ending in the groom's death, have convinced her she's cursed! But only her hand in marriage can help darkly brooding Irish prince Ronan win back his fortress. To break the curse, Joan must risk all to spend one forbidden night with the royal warrior…
Willingham does write in the Regency era (mostly for Amazon Montlake these days) but her medievals for Harlequin Historical are personal favorites. She's got a great handle on the time period, has written stories all over the island (check out her Ireland-set MacEgan series!), and there's usually plenty of angst-o-rama-jama to make my heart sing.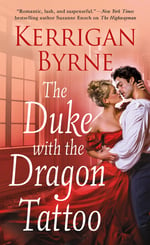 The Duke with the Dragon Tattoo, by Kerrigan Byrne
Pick Up a Copy: Amazon, iBooks, Barnes & Noble, Kobo
The bravest of heroes. The brashest of rebels. The boldest of lovers. These are the men who risk their hearts and their souls―for the passionate women who dare to love them…
He is known only as The Rook. A man with no name, no past, no memories. He awakens in a mass grave, a magnificent dragon tattoo on his muscled forearm the sole clue to his mysterious origins. His only hope for survival―and salvation―lies in the deep, fiery eyes of the beautiful stranger who finds him. Who nurses him back to health. And who calms the restless demons in his soul…
A LEGENDARY LOVE
Lorelai will never forget the night she rescued the broken dark angel in the woods, a devilishly handsome man who haunts her dreams to this day. Crippled as a child, she devoted herself to healing the poor tortured man. And when he left, he took a piece of her heart with him. Now, after all these years, The Rook has returned. Like a phantom, he sweeps back into her life and avenges those who wronged her. But can she trust a man who's been branded a rebel, a thief, and a killer? And can she trust herself to resist him when he takes her in his arms?
Brutal honesty time: I completely skipped over this book when I saw "Duke" in a title that plays up another famous book title (I seriously hate that). I get it. Most readers see "Duke" and can't grab the book fast enough. Me? Not so much. Then I stumbled across reviews at The Day Job. The hero has to be nursed back to health after crawling out a mass grave (!) and when he's reunited with the heroine he's now a "lethal pirate captain." There's also a treasure hunt and what Library Journal describes as "the darker side of the Victorian Age." So, of course, I put myself on a waitlist for this at the office. Because, of course!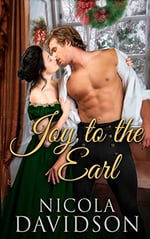 Joy to the Earl, by Nicola Davidson
Pick Up a Copy: Amazon
Shunned for his mismatched eyes and awkward limp, Yorkshire carpenter Jack Reynolds lives a lonely and impoverished existence. Then comes a shocking discovery: he's the discarded heir of a wealthy noble family, and if he travels to London by Christmas, he'll not only gain an earldom, a home, and position like he's never dreamed, but maybe—just maybe—he can finally lose his damned virginity.
Scandalous widow Rosalind Nelson's life centers around four things—her young daughter, helping couples suffering sexual discord, avoiding all peers, and definitely not falling in love. That is, until the day she rescues a mysterious stranger from a carriage accident. Kind, brave, and achingly seductive, Jack is everything she's ever wanted. Nothing can destroy their growing bond…except the demons of his past...
This book was previously published in the anthology A Very Wicked Christmas.
This previously published novella popped up on my radar thanks to a Twitter friend. Thank you Twitter friend! For those of you looking for steam, Davidson writes the sexy times and what could be sexier than a carpenter virgin hero? I may have broken a nail one-clicking this...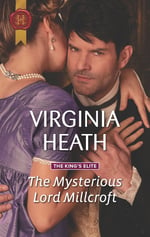 The Mysterious Lord Millcroft, by Virginia Heath
Pick Up a Copy: Amazon, iBooks, Kobo, Barnes & Noble
Life as a duchess…
Or something much more dangerous?
Part of The King's Elite: constantly told her beauty and charm are all she has to offer, Lady Clarissa is intent on marrying a duke. And intriguing spy Sebastian Leatham will help her! Only, first she'll assist him with his new assignment—playing the part of confident aristocrat Lord Millcroft. Sebastian awakens a burning desire within Clarissa that leaves her questioning whether becoming a duchess is what she truly longs for…
Again, another title I skipped over (at first) because the back cover blurb makes it sound like your run-of-the-mill Regency spy story. But when I whined on Twitter about this blog post with, "I need historicals that aren't another Girl Falls In Love With Duke story…." the author responded with, "I've got a girl who thinks she wants a Duke but actually falls for a shy nobody story." O.M.G. Ladies and gents, that's an elevator pitch right there! Print is out in August, but y'all need to wait for September 1 for the ebook.
What Unusual Historicals are you looking forward to this month?