This month marks a new venture, of sorts, for my Unusual Historicals column. It will now be cross-posted over at Love in the Panels! Suzanne and I worked together at Heroes & Heartbreakers (RIP), and this seemed like a happy marriage of getting more eyeballs on new historical romance titles (always my nefarious goal!). So what is catching my eye this month? So glad you asked!
Westerns Galore!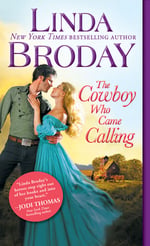 The Cowboy Who Came Calling by Linda Broday
Pick Up a Copy: Amazon, iBooks, Kobo
A Former Texas Ranger on a mission
A determined woman slowly losing her sight
A love neither could have predicted
...and a danger that may steal their happy ending before it can even begin.
Glory Day may be losing her vision, but that doesn't mean she'll ever stop fighting. Determined to provide for her struggling family, she confronts an outlaw with a price on his head. But when a mysterious cowboy gets between her and her target, Glory accidentally shoots him instead. Flustered, she has no option but to take the handsome stranger home to treat his wounds.
Former Texas Ranger Luke McClain didn't plan to fall in love, but there's no denying the strength of Glory's will or the sweetness of her heart. But Glory's been burned before, and Luke will have to reach into the depths of his own battered soul to convince her to take a chance...
This is a reprint, originally published by Dorchester and now reissued by Sourcebooks with a lovely new cover. I reviewed the Dorchester release an online lifetime ago, and back then I found this an enjoyable story with a mix of folksy charm and grittier elements.
Married to Claim the Rancher's Heir, by Lauri Robinson
Pick Up a Copy: Amazon, iBooks, Kobo
To claim his heir…
…he must marry his enemy!
Gabe Callaway is outraged when feisty Janette Parker lands on his doorstep with her orphaned niece—though he soon realizes little Ruby is heir to his ranch! If Janette wants money, he'll pay her off to keep the little girl in her rightful place. But all Janette wants is Ruby… Will Gabe do whatever it takes to claim his heir—even marry Janette?
It's a Harlequin Historical western, which means I'm obligated by some unwritten law to add this to my TBR Mountain Range (hey, I don't make this stuff up!). Also, color me intrigued. My first instinct was move this set-up to a contemporary setting and it could be published by Harlequin Desire. One-click!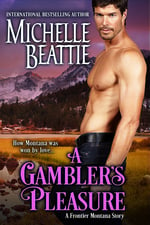 A Gambler's Pleasure, by Michelle Beattie
Pick Up a Copy: Amazon, iBooks, Kobo
Ten years after strolling out of Marietta without a backward glance, Mitch McCall wins a land deed in a game of poker that has him returning to his hometown, ready to collect his winnings. A few weeks later, he's surprised when he doesn't want to leave. Not only is he working a saloon and unknowingly putting down roots, he's also trying to convince the town's good girl that he's not the rake she believes he is. But love isn't a game and if the successful gambler wants to win, he'll have to bet it all.
Melissa lives her life to please her parents. Suffering from their son's abandonment, Melissa puts her own desires and dreams aside to save them more heartache. But a late night encounter with the completely unsuitable Mitch McCall changes everything. With one night becoming many, Mitch helps her uncover the woman she really is and dares her to chase her dreams. But when shocking news arrives about her brother, will Melissa retreat back into her peacemaker role or will she fight for the man she loves?
It's like there's Wendy catnip sprinkled all over this book. You've got a rascally hero who is really a good guy and a heroine weighted down by a sense of obligation. And it's a western. One-click!
Across the Pond!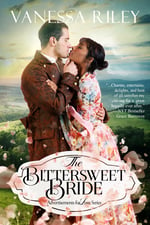 The Bittersweet Bride by Vanessa Riley
Buy a Copy: Amazon, iBooks, Kobo
Widow Theodosia Cecil needs a husband to help protect her son. The former flower seller turned estate owner posts an ad in the newspaper, and no one is more surprised than she when her first love, the man she thought dead, reappears.
Ewan Fitzwilliam has been at war for six years. Now, the second son of a powerful earl is back but his beloved Theo needs a husband and will not consider him. She believes Ewan left her—in desperate straits—so she denies the feelings she still harbors for the handsome, scarred soldier. Theo and playwright Ewan must overcome bitter lies and vengeful actions that ruined their youthful affair. Theo must reveal her deepest secret in order to reclaim the love that has long been denied.
"Second son of a powerful earl," yeah OK. Honestly? I'm reading this book because I'm dying to find out how a former flower seller becomes an estate owner! And pray tell, when was the last time you saw a flower seller heroine in a historical romance? The heroine's backstory has me itching to read this one.
Historical Fiction / Romantic Elements!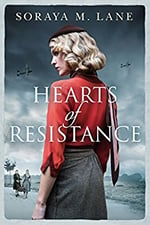 Hearts of Resistance by Soraya Lane
Buy a Copy: Amazon, iBooks, Kobo
At the height of World War II, three women must come together to fight for freedom, for the men they love—and for each other.
When Hazel is given the chance to parachute into Nazi-occupied France, she seizes the opportunity to do more for the British war effort than file paperwork. Alongside her childhood friend, French-born Rose, she quickly rises up the ranks of the freedom fighters. For Rose, the Resistance is a link to her late husband, and a way to move forward without him. What starts out as helping downed airmen becomes a bigger cause when they meet Sophia, a German escapee and fierce critic of Hitler who is wanted by the Gestapo. Together the three women form a bond that will last a lifetime.
But amid the turmoil and tragedy of warfare, all three risk losing everything—and everyone—they hold dear. Will their united front be strong enough to see them through?
Technically this is historical fiction but I'll be perfectly frank - how can I be expected to resist that cover?! And three Nazi-fightin' heroines? I feel like this is relevant to Romancelandia's interests. Lane has written a number of books, including some very good Harlequin Romances. I'm curious to see what she does with a historical setting.
What Unusual Historicals are you looking forward to this month?