New Year, new you? Well, if you've already broken your resolutions, maybe not. But at least we can all look forward to a new year of historical romance. January brings us a long-awaited follow-up to a beloved late-1990s trilogy, a Wendy recommended reprint, an angsty new K.J. Charles (woot!), Vikings and an enemy-to-lovers story set against the backdrop of the Jacobite rebellion.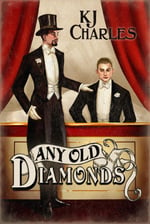 Any Old Diamonds, by KJ Charles
Lord Alexander Pyne-ffoulkes, the younger son of the Duke of Ilvar, holds a bitter grudge against his wealthy father. The Duke intends to give his Duchess a priceless diamond parure on their wedding anniversary—so Alec hires a pair of jewel thieves to steal it.
The Duke's remote castle is a difficult target, and Alec needs a way to get the thieves in. Soldier-turned-criminal Jerry Crozier has the answer: he'll pose as a Society gentleman and become Alec's new best friend.
But Jerry is a dangerous man: controlling, remote, and devastating. He effortlessly teases out the lonely young nobleman's most secret desires, and soon he's got Alec in his bed—and the palm of his hand.
Or maybe not. Because as the plot thickens, betrayals, secrets, new loves, and old evils come to light. Now the jewel thief and the aristocrat must keep up the pretence, find their way through a maze of privilege and deceit, and confront the truth of what's between them...all without getting caught.
To be honest, reading this blurb doesn't exactly scream "Romance!" for me, so it's a good thing Love in Panels has already published Eva's review. I'm a sucker for angst and this book sounds like it's positively swimming in it. Also, I love the way Charles evokes setting, so I'm all in.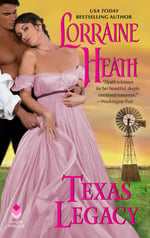 Texas Legacy, by Lorraine Heath
Pick Up a Copy: Amazon, Apple Books, Barnes & Noble, Kobo
For as long as he can remember, Rawley Cooper has loved Faith Leigh. But the cruelty of his childhood haunts him and he knows he's undeserving of Faith. When she comes to him on the night of her nineteenth birthday, they both give into temptation. But the searing kiss reaffirms what he's always known: he can't have a lifetime of her in his arms. To protect his heart, he packs his things and heads west.
Faith has always adored the boy her parents took in and raised. But she's not certain she can ever forgive him for riding out of her life just when she needed him the most. When an urgent telegram forces him to return six years later, Rawley discovers Faith is now a woman to be reckoned with.
As old feelings are stirred back to life and new passions take hold, they both must confront secrets from their past or risk losing a legacy of love.
Rawley was first introduced in Heath's Texas trilogy, which means fans of that series have literally been begging for this story since 1999. I vividly remember reading the trilogy back-to-back-to-back in 2001 (I was traveling) but at this point, and many books later, Rawley has faded a bit (OK, a lot) from my memory. Crushing TBR Guilt keeps me from rereading, so I'm going to go into this one like a stand-alone and hope that Heath recaptures the magic.
Sent as the Viking's Bride, by Michelle Styles
Pick Up a Copy: Amazon, Apple Books, Barnes & Noble, Kobo
She's the wife he doesn't want…
…and the woman he needs!
Desperate to escape her murderous brother-in-law and protect her young sister, Ragnhild agrees to marry an unknown warrior, and arrives penniless on his remote island. Only, Gunnar Olafson's belief in love died with his family—he does not want a bride! But as yuletide approaches, Ragnhild transforms his isolated existence. Can she melt her Viking warrior's frozen heart?
A villainous brother-in-law, a wounded hero, a heroine in need of a safe haven and all out of options. Styles, who has written everything from ancient Rome to Regency, returns to Vikings, which is where she's been the past several books.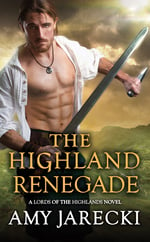 The Highland Renegade, by Amy Jarecki
Pick Up a Copy: Amazon, Apple Books, Barnes & Noble, Kobo
She is the daughter of his sworn enemy.
Famed for his fierceness, Laird Robert Grant is above all a loyal Highland clan chief. But when redcoats capture his rival's daughter, he sets aside their feud and races to her rescue. Aye, Janet Cameron is beautiful, cunning, and so very tempting, but a Cameron lass is the last woman he should ever desire.
He is her one hope of happiness.
Janet refuses to meekly surrender, not even when surrounded by foes. She takes every chance to escape, first from the English soldiers and then from the wickedly handsome Robert. Yet with each day they spend together, his unexpected gallantry chips away at her reserve little by little. As danger and treachery loom, can she trust him enough to choose love over vengeance?
An enemy-to-lovers story, this fifth book in Jarecki's Lords of the Highlands series has piqued my interest thanks to review coverage I ran across at The Day Job. Library Journal calls it "beautifully done," and that the "adventurous romance" is "greatly enhanced by an exquisite depiction of life in the early 18th-century Scottish Highlands." A hopeful bit of teasing for readers who prefer their historicals to, well, read like historicals.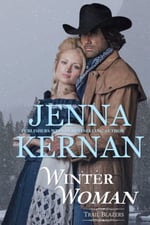 Winter Woman, by Jenna Kernan
Pick Up a Copy: Amazon, Kobo, Barnes & Noble
She survived the winter alone…
After Cordelia Channing endures the lethal winter season alone in the Rocky Mountains, she is discovered by Thomas Nash, a solitary mountain man who wants only to hunt, trap and be left alone to grieve the woman he could not save.
Cordelia aches to go east before winter but over the days and miles, Delia finds her battered spirit yearning for this self-reliant trapper, who stirs her longing and wakes her heart.
With only few, vital months to hunt before the snows fly, Nash has no time to look after a woman. He is surprised as Delia transforms his life and gives him the second chance he never expected. But with fall approaching, she must face her resolve to escape another deadly winter, and he must confront his oath not to open his heart to love once more.
A digital reprint that was first published by Harlequin Historical in 2003, I really enjoyed this story a lot when I read it back in 2005. Her preacher husband goes out hunting and ends up dead, leaving the heroine to survive winter alone in an isolated cabin. She's found by peaceful Natives whose solution to finding a half-starved white woman is to take her to the only white guy they know - the trapper hero who isn't much of a "people person." A well-done romance and survival story, the setting is pre-Civil War (1835) isolated frontier and I ate it up.
What Unusual Historicals are you looking forward to this month?