I have a love/hate relationship with July. I love fireworks (well except when my idiot neighbors are still shooting them off on July 14th…), it's my birthday month, and I'm generally able to attend the Romance Writers of American annual conference (this year held in Denver). However, it is also my busiest, craziest month at my day job. This entails a lot of time doing math and looking at spreadsheets (yes, it's just as glamorous as it sounds!). I come home from work mentally exhausted and looking for anyway to unwind. Which leads us to this latest batch of unusual historicals! Who doesn't love to unwind reading and browsing for new books?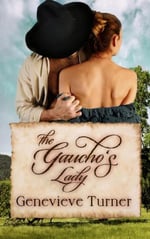 The Gaucho's Lady, by Genevieve Turner
After a self-imposed exile in Argentina, Juan Moreno is ready to return home to California, wiser, wearier, and a widower. But the night before his departure, a wealthy landowner's daughter appears in his simple room with a gun and demands that he kidnap her.
Eliana Suarez never wanted to leave home; the pampas are deep in her blood. But when her cruel father insists she marry a man even crueler than he is, she must flee. Luckily for her, one of her father's gauchos is leaving Argentina—and only if she can convince him to take her along, will she be saved.
Juan never could resist a lady's desperate appeal and soon they're racing to Buenos Aires, barely two steps ahead of their pursuers. They'll have to deal with outlaws, anarchists, and her father's fury in their flight to freedom and safety. But no matter how fast they run, they can never escape their growing attraction… and their own hearts.
We (and by "we" I mean the United States) tend to think of the western as our creation. I mean, it kind of is but Canada, Mexico, and Australia (just to name a few) have their own history of ranching and cowboy culture. Argentina does as well (as does Venezuela - seriously I could keep going…), which is where Turner takes us with her latest release. As someone who has enjoyed western historicals set outside the United States, I'm excited to try this one!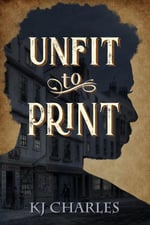 Unfit to Print, by KJ Charles (novella)
Pick Up a Copy: Amazon, iBooks, Barnes & Noble, Kobo
When crusading lawyer Vikram Pandey sets out in search of a missing youth, his investigations take him to Holywell Street, London's most notorious address. He expects to find a disgraceful array of sordid bookshops. He doesn't expect one of them to be run by the long-lost friend whose disappearance and presumed death he's been mourning for thirteen years.
Gil Lawless became a Holywell Street bookseller for his own reasons, and he's damned if he's going to apologise or listen to moralising from anyone. Not even Vikram; not even if the once-beloved boy has grown into a man who makes his mouth water.
Now the upright lawyer and the illicit bookseller need to work together to track down the missing youth. And on the way, they may even learn if there's more than just memory and old affection binding them together...
My gripe with Victorian-set romances is that so often the author gives me pseudo-Regency instead. Repeat after me: Victorian and Regency are nowhere near the same thing. Ahem. Anyway, Charles writes about Victorian London with a wonderful atmospheric style and I was sunk after reading "lawyer" and "bookseller" in the description. Andrea at Love in Panels really enjoyed this story noting it was emotional, sensual, accessible and atmospheric (see, there's that word again!). Please note, this is a novella.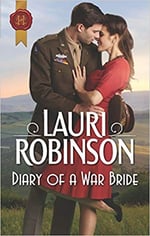 Diary of a War Bride, by Lauri Robinson
Pick Up a Copy: Amazon, iBooks, Barnes & Noble, Kobo
July 1942
Dear diary, despite the war raging around me, I find I can't stop thinking about the American officer, Sergeant Dale Johnson. I've never known anyone as brave, kind and handsome! But I promised myself I wouldn't care this much about a man again, especially when he could be transferred at any time. Yet that only makes me want to relish our time together. Now fighting my heart feels like the biggest battle…
Robinson, predominantly having published westerns, has a sizeable Harlequin Historical backlist that also includes a 1920s trilogy. This book (with a gorgeous cover, says me) gives readers a World War II romance, a setting oft-used in inspirational but rarely seen in secular romance circles. I've liked some of Robinson's westerns, so I'm anxious to try to this one.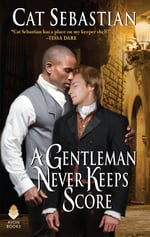 A Gentleman Never Keeps Score, by Cat Sebastian
Pick Up a Copy: Amazon, iBooks, Kobo, Barnes & Noble
Once beloved by London's fashionable elite, Hartley Sedgwick has become a recluse after a spate of salacious gossip exposed his most-private secrets. Rarely venturing from the house whose inheritance is a daily reminder of his downfall, he's captivated by the exceedingly handsome man who seeks to rob him.
Since retiring from the boxing ring, Sam Fox has made his pub, The Bell, into a haven for those in his Free Black community. But when his best friend Kate implores him to find and destroy a scandalously revealing painting of her, he agrees. Sam would do anything to protect those he loves, even if it means stealing from a wealthy gentleman. But when he encounters Hartley, he soon finds himself wanting to steal more than just a painting from the lovely, lonely man—he wants to steal his heart.
Cat Sebastian returns with a new book in her Seducing the Sedgwicks series. One hero who used to move in fashionable circles but is now a recluse (oh, do tell!) is certainly intriguing. However, if I'm being honest, it's the character of Sam Fox that had me sitting up a little taller in my seat. A former boxer turned pub owner turned housebreaker to help out a friend? I am so there.
What Unusual Historicals are you looking forward to this month?