Here we are, in November, and I'm in denial. Have I thought about Thanksgiving dinner or my holiday gift purchasing? Of course not. Because it just doesn't seem possible that somehow nearly a whole year blew past while I was busy doing...stuff, I guess. Who the heck knows anymore. I'm sure it involved The Day Job, continuing to finely tune my tea snobbery and books, because of course books. Which brings us to the latest crop of unusual historicals that have caught my eye. Here's what's hitting my wishlist for November:
This post contains affiliate links.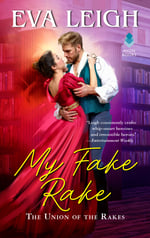 My Fake Rake, by Eva Leigh

Lady Grace Wyatt is content as a wallflower, focusing on scientific pursuits rather than the complications of society matches. But when a handsome, celebrated naturalist returns from abroad, Grace wishes, for once, to be noticed. Her solution: to "build" the perfect man, who will court her publicly and help her catch his eye. Grace's colleague, anthropologist Sebastian Holloway, is just the blank slate she requires.
To further his own research on English society, Sebastian agrees to let Grace transform him from a bespectacled, bookish academic into a dashing—albeit fake—rake. Between secret lessons on how to be a rogue and exaggerated public flirtations, Grace's feelings for Sebastian grow from friendship into undeniable, inconvenient, real attraction. If only she hadn't asked him to help her marry someone else...
Sebastian is in love with brilliant, beautiful Grace, but their bargain is complete, and she desires another. Yet when he's faced with losing her forever, Sebastian will do whatever it takes to tell her the truth, even if it means risking his own future—and his heart.
When Leigh hits her beats she writes really interesting romances featuring feminist heroines bristling at convention. I generally really dig Pygmalion tropes in romance but Leigh flips it by giving readers the less common version of the heroine making over the hero. Plus, the hero is a bit of a nerd and those aren't exactly thick on the ground in historicals. This is also the start of a new series.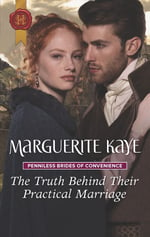 The Truth Behind Their Practical Marriage, by Marguerite Kaye

Pick Up a Copy: Amazon, Barnes & Noble, Apple Books, Kobo
A marriage hiding secrets
…but forged by passion!
A Penniless Brides of Convenience story. Miss Estelle Brannagh has never met a man who's tempted her to renounce her hard-won independence—until an encounter with Irish landowner Aidan Malahide blossoms into spine-tingling attraction. He's carefree and charismatic; accepting his proposal seems practical and shockingly desirable! Yet Aidan is hiding a dark secret, and it will take all of Estelle's courage to ensure it doesn't tear them apart…
Obviously I like Kaye's books, having featured them more than once in Unusual Historical posts - but the description of this one has literally made me go weak in the knees. Why? Well if you follow Kaye on various social media channels she's been referring to this book as her "Irish Gothic" since she started writing it. And if there's anything I love more than "unusual historicals?" It's Gothics. Gimme, gimme, gimme!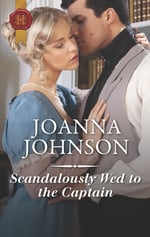 Scandalously Wed to the Captain, by Joanna Johnson

Pick Up a Copy: Amazon, Barnes & Noble, Apple Books, Kobo
Bound to a stranger
…in a secret ceremony!
With her finances, reputation and heart all broken by a family scandal, Grace Linwood seeks employment. But the lady she's companion to isn't long for this world. She's intent on seeing Grace protected and quickly wed to her son, curt and closed-off Captain Spencer Dauntsey. With little choice, all Grace can say is "I do"…but who is the man she has just married?
Discovered as part of Harlequin's So You Think You Can Write, this is Johnson's second book and the back cover blurb hits a ton of my sweet spots - a down-on-her-luck heroine, a stoic military hero, and a marriage of convenience.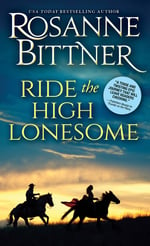 Ride the High Lonesome, by Rosanne Bittner

Pick Up a Copy: Amazon, Barnes & Noble, Apple Books, Kobo
A man bent on revenge
A woman determined to survive
A land that knows no mercy
Meet the Men of the Outlaw Trail
When Kate Winters is left stranded and defenseless in outlaw country, she knows there's little chance she'll make it out alive...until she stumbles across a ruthless gang hanging a cowboy for his cattle. She waits until the outlaws are gone, desperate enough to claim the dead man's horse to make her escape—only to realize he's not dead after all.
Those outlaws should have made damn sure Luke Bowden was good and gone. Now he vows he'll have his revenge no matter the cost. But they're miles away from the nearest town, and the woman who saved his hide won't survive the ride back. He owes her his life—he owes her everything—and it doesn't take long before he's faced with a terrible choice: stand by Kate...or claim his revenge?
I'm the type who will generally look a gift horse in the mouth, so while I've been happy more westerns are getting published they've been riding on the coat-tails of the small town contemporary trend that's showing no signs of slowing down. Which means lots of cutesy small towns west of the Mississippi and while I do read those, they're not my favorite. Bittner tends to write the style of western that I love - the sort where you really think either hero or heroine are going to end up dead, but never do because, hello, she's writing romance. Action, adventure, road romance, and the start of a new series? Sign me up.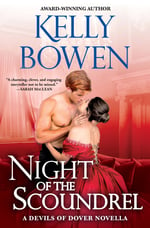 Night of the Scoundrel, by Kelly Bowen

Pick Up a Copy: Amazon, Barnes & Noble, Apple Books, Kobo
Can he trust her with his darkest secret?
Ruthless. Dangerous. Known simply as King. No one knows his true name or where he came from. And when he learns that the man who betrayed him has returned to London, King has only one goal: vengeance. But first, he must seek out an unlikely ally to aide him in his pursuit...
Adeline Archambault is as mysterious as she is beautiful. Exiled after the French Revolution, she's determined to reclaim her birthright and deliver the justice that is owed her. King's offer to help her, in exchange for her assistance, is a bargain she can't refuse. But will this deal with a devil lead to a future she never dared hope for?
Bowen has been racking up so many accolades it's hard to keep track (by my count she's got three RITA Awards under her belt and appearances on numerous Best Of lists….). This back cover blurb is magic and caught my eye immediately thanks to a super mysterious hero and a heroine in search of justice. This sounds perverse, but I'm a sucker for romances that utilize the French Revolution in some way.
What Unusual Historicals are you looking forward to reading?