Oh, so hey - the world is on fire. I know, it's been on fire, but instead of singed around the edges I kind of feel like my hair has erupted into an inferno. It's been a struggle for me to read for a while now but I've hobbled along in large part thanks to audio books and finding comfort reads where I can. Unfortunately this has not extended to historicals, my first love in the genre. I'm in a historical slump. But I'm nothing if not stubborn. I know this slump will break the minute I sink my teeth into an amazing book - which means it's time to browse! Here's what's catching my eye for September.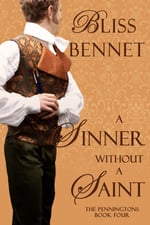 A Sinner Without a Saint, by Bliss Bennet
An honorable artist
Benedict Pennington's greatest ambition is not to paint a masterpiece, but to make the world's greatest art accessible to all by establishing England's first national art museum. Success in persuading a reluctant philanthropist to donate his collection of Old Master paintings brings his dream tantalizingly close to reality. Until Viscount Dulcie, the object of Benedict's illicit adolescent desire, begins to court the donor's granddaughter, set on winning the paintings for himself . . .
A hedonistic viscount
Sinclair Milne, Lord Dulcie, far prefers collecting innovative art and dallying with handsome men than burdening himself with a wife. But when rivals imply Dulcie's refusal to pursue wealthy Miss Adler and her paintings is due to lingering tender feelings for Benedict Pennington, Dulcie vows to prove them wrong. Not only will he woo her away from the holier-than-thou painter, he'll also placate his matchmaking father in the process.
Sinner and saint--can both win at love?
But when Benedict is dragooned into painting his portrait, Dulcie finds himself once again drawn to the intense artist. Can the sinful viscount entice the wary painter into a casual liaison, one that will put neither their reputations, nor their feelings, at risk? Or will the not-so-saintly artist demand something far more vulnerable--his heart?


I do like English-set historicals but must admit that the endless parade of matchmaking mamas and Season/Almack's/White's talk tends to wear thin for me after 20+ years of reading historical romance. So when I want England, I tend to look for historicals that give me something a little different. Yes, this fourth book in The Penningtons series features a Viscount, but the other hero is a renowned artist and art plays an important role in the story. Sign me up!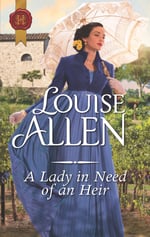 A Lady in Need of an Heir, by Louise Allen
Pick Up a Copy: Amazon, iBooks, Barnes & Noble, Kobo
She needs an heir…
But not a husband!
Gabrielle Frost knows that marrying any man would mean handing over control of her beloved family vineyard in Portugal to her new husband. She won't take that risk. But she needs an heir! So when Nathaniel Graystone, Earl of Leybourne, arrives to escort her to London, Gabrielle wonders—what if this former soldier, with his courage, strength and dangerous air, could be the one to father her child?


This one intrigues me for a variety of reasons. First, it takes the popular "hero needs an heir" trope and flips it with a role-reversal. Second, we have an independent and successful businesswoman who loves her life and doesn't want to marry because...well, the life and business she built would then become the property of her husband. And third? The story opens on a vineyard in Portugal. Let's be honest, I don't need an excuse to crack open a bottle of wine while I'm reading but basically this book is telling me a have to.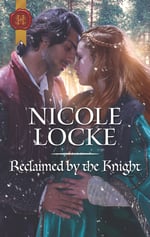 Reclaimed by the Knight, by Nicole Locke
Pick Up a Copy: Amazon, iBooks, Barnes & Noble, Kobo
He left to save his family…
Now he's back!
Nicholas of Mei Solis swore to do anything to protect his home—even going away to fight for it. This meant leaving beautiful Matilda, too. Now Nicholas has returned briefly to lay to rest the ghosts of his past. But one look at Matilda, now widowed and with child, changes everything. Suddenly Nicholas is compelled to stay…and to take back the future they both thought they'd lost…


Locke continues her Lovers and Legends series with her seventh book for Harlequin Historical. I love, love, love the reunited lovers trope and the angst is practically oozing out of this description. A widowed and pregnant heroine who confronts a past she thought buried after the hero, who ran off to fight, comes home.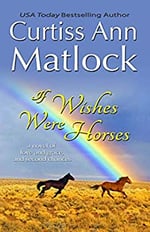 If Wishes Were Horses, By Curtiss Ann Matlock
Pick Up a Copy: Amazon
A remarkable woman, a hard-luck cowboy, and an unlikely race horse. No one thought they had a chance.
From USA TODAY bestselling author Curtiss Ann Matlock comes the story of a woman with spunk and resolve to rise above poverty. At the death of her cheating husband, Etta Rivers is not only left pregnant and alone, but facing that Roy's betrayal extends to everything being repossessed: the fancy Cadillac, the big John Deere tractor, and, worst of all, the barn full of precious horses. The house and land are next, unless Etta can find a way to save them.
Help arrives in the unlikely form of well-worn, ex-rodeo star Johnny Bellah, who has come to collect on one of Roy's many IOUs. At the outset Etta commandeers Johnny and his truck to take her where she needs to go. Afterward, she allows him to stay for meals and a room in the barn in exchange for doing chores, and breaking the single rangy colt left in the corral—Little Gus. Johnny has ideas that promise hope for the future, but can Etta ever again trust a man with her heart or her life?
Welcome to Oklahoma of the 1950s—Elvis on kitchen radios, bootleg whiskey, and wild bush-track horse races—and to a story of the many faces of love and grace for two wounded hearts longing to make dreams come true.
Originally published in 1998 by Avon (That's right kids - once upon a time Avon did publish books other than Fluff-and-Stuff Costume Regencies. Yeah, I said it!) Matlock has gotten her rights back and self-published. This back cover blurb reads very LaVyrle Spencer to me and an old RT review provides another little nugget of angst. Not only did the heroine's husband leave her heavily mortgaged up to her eyeballs, he also had the gall to die in another woman's bed.
What Unusual Historicals are you looking forward to this month?