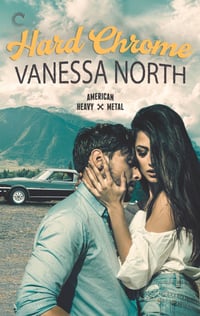 Vanessa North is launching a new series and I'm super excited to read the books because...
1) four siblings each get an HEA while managing the family business - a garage
2) mixed pairings!
3) lesbian mermaids!
Okay, that last part has nothing to do with the series, but everything to do with the best piece of author swag I've ever received. Scroll down for our Instagram photo ;)
The first book, Hard Chrome, is out as of yesterday, 10/21. We'll have more info about Vanessa and the book at the bottom of the interview, but if you want to buy it now, here ya go!
Buy a copy: Amazon, Barnes & Noble, Apple Books, Kobo
***
With Hard Chrome, you're launching one of my favorite types of romance series: the family saga. Something happens and all the kids (or found family kids) come home to take over the family business, finding love along the way. Can you tell us about this family and American Heavy Metal?
The Ellis family is a big family—four kids—raised by a widower. Their closest relationships as children were to each other, but they also grew up in and around the shop, so the shop became a second home. The three younger Ellis kids stayed in town, with Tegan and Tiffani working in the shop full time after high school, and Tyler doing freelance IT work for them and turning a wrench when he was needed. Tanner, on the other hand, distanced herself from the shop and the family when she went away to school, so she has to re-acclimate to them, and they to her. There's also something very humbling for her in coming home after being away for essentially a little over a decade, and her feelings of guilt/shame inform a lot of the relationship dynamics in the book. As we get to know each of the books' main characters, more of the shop's relationship to and status in the town becomes clear, and the Ellis family have to decide what an HEA for American Heavy Metal would look like for them.

You're playing with another classic here, too - the tension between a "new" owner and the long-time employee/manager of the shop. How did you navigate the pitfalls of a boss-employee relationship?
Duke doesn't care about or recognize Tanner's authority in the shop at all. It sounds simplistic, but he really doesn't see her as having any power over him in the shop environment. They do talk about it and negotiate their feelings around it once they reach a point where they realize they have to, but before that, Duke takes a lot of pride in his insubordination and rubbing it in Tanner's face. He considers himself part of the Ellis family and her the interloper, and he plans to still be there long after she leaves.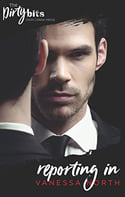 The only other time (I think?) I've written a boss-employee relationship was in my Dirty Bits title, Reporting In. That one was much more explicitly a power imbalance, and that was also part of the kink for Steven—the employee in the relationship. In that case, the negotiations about the sexual relationship and how it could or would impact the working relationship were explicitly detailed on page.

At RWA in NYC, you told me that this is a mixed pairings series. Care to share with our readers what you've got planned for the next few books?
Each book follows one of the siblings, so Tiffani's book is next, a second-chance romance with her high school sweetheart, who, like Tanner, left town after high school. Tegan's book is a long distance/partially epistolary F/F novel, and the final book is Tyler's story, where he finally makes his move with Tanner's best friend, Mac, who is also their lawyer.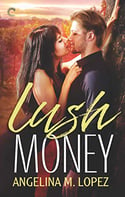 What have you read and loved recently?
I adored Angelina M. Lopez's Lush Money, which is a marriage of convenience between a self-made billionaire and a prince—it's delightful. Sexy and sweet, with a prickly heroine which is basically my favorite.
I also recently read Sierra Simone's Thornchapel books, which are chock full of loads of kinky pagan ritual re-enactment, a creepy old house/town/maze, a giant cast of characters who are all totally fuckable and fucking each other, and a mystery! It's like a kinky game of Clue.


Where can we buy lesbian mermaid mirrors?
I don't sell the lesbian mermaids, but I will have some (mirrors/pins/magnets) with me as giveaways at all appearances in 2020. They were made especially for an event earlier this year and I only have three left, but people love them so much, I decided to get more made for next year.
[This last bit is A Big Sad, but I was one of the lucky few to snag one from Vanessa at the RWA Conference in July. Totally worth finding her at a signing!]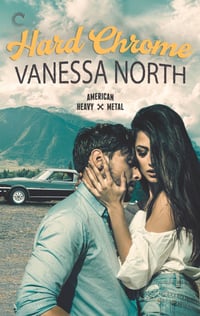 About Hard Chrome:
He's tough. But she's tougher.
Tanner Ellis left American Heavy Metal in her rearview mirror. She didn't see the beauty behind the grease stains and the polished chrome until it was too late. Now she's back, determined to save her father's legacy—and bring the South's premier classic-car shop into the new century. Nothing is going to stop her—especially not the sexy tech who refuses to follow her lead.
American Heavy Metal is the only home Duke Wilson's ever known, and no high-heeled, sharp-tongued princess is going to take it away. He tolerates Tanner's advice, and it's fun to push her buttons, but she doesn't belong in the shop—never has, never will. The sooner she realizes that, the sooner he can find his new normal.
When Tanner falters, revealing the pain beneath her bravado, Duke comforts her the only way he knows how. And when violence from his past threatens their future, she'll be there for him, offering him the one thing he's always wanted—a shot at a real family. He just has to convince himself to take it.
Buy a copy: Amazon, Barnes & Noble, Apple Books, Kobo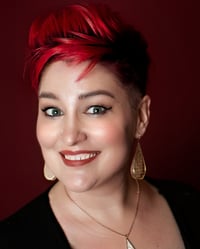 About Vanessa North:
Vanessa North is a romance novelist, a short fiction geek, and a knitter of strange and wonderful things. Her works have been shortlisted for both the Lambda Literary Award and the RITA© Award, and have garnered praise from The New York Times, The Washington Post, and Publisher's Weekly. She lives in Northwest Georgia with her family: a Viking, twin boy-children, and two large dogs.

Connect with Vanessa:
http://Vanessanorth.com/
Books2Read
Newsletter
Bookbub
Twitter
Instagram
Facebook