Ready for yet another Best of 2019 list?
I knew it!
If you want to see what I loved the last two years, here are my lists from 2017 and 2018.
Standard disclaimer that I didn't read all that many comics this year and there's no possible way I could have read everything. And this list is totally subjective.
That said, I'd love to hear your faves from 2019!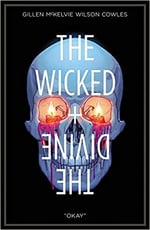 The Wicked & The Divine, Volume 9
Volume 9 is the culmination of five years of me yelling to my friends, to acquaintances and to strangers to read this series. If you haven't read it, it's about how every 90 years, twelve teenagers turn into gods (or are activated, it's complicated) for two years. Then they die. They are celebrities in whatever way fits the time period. Writers, artists, and now pop stars. The whole series is very queer, with ace, gay, pan/bi, gay and trans rep. The ending, which I will not spoil for you, made me cry a lot in both a sad way and in a very happy way. These characters are all sorts of horrible and wonderful at the same time and I want everyone to read this series.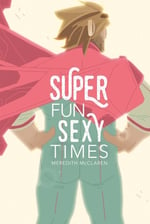 Super Fun Sexy Times
This was a total surprise and a lot of (18+) fun! Five stories about superhero-ish characters of a range of identities and situations. If you're looking for a new erotic comic collection, this delivers on the title.
The second in the Letters for Lucardo series! Gay immortal vampire and 60-year-old human! ANGST! This wasn't as straightforward as the first volume, definitely more of a second-entry and it doesn't stand alone. However, if you're wondering if you should pick up this m/m series... the answer is yes. Review here. Also 18+.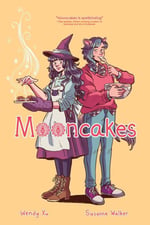 Mooncakes
A nonbinary werewolf and a queer witch reunite after years apart and fall (back) in love. Magic and Chinese Lunar celebration and ghosts and family and all the feels. Also a sinister plot and some stuff that needs content warnings which we've listed over in the full review. This book absolutely deserves the hype it got this year. I adored it.
Trans southern belle and queer latinx outlaw on a mission to bring down a Confederate plot! Hijinx and achingly tender moments and gorgeous colored pencils. Review here. The title refers to our belle's career aspirations and to the fact that she's in a stagecoach held up/robbed by our other MC. Young Adult.
Honorable Mentions: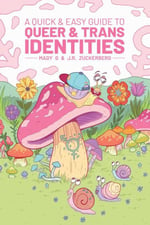 A Quick & Easy Guide to Queer and Trans Identities is exactly what you think it is. I learned some stuff and I know it'd be even more valuable to people not in the queer community. It's the sort of book that's educational but cute and funny so it doesn't feel like you're getting a lecture. Give it to your mom! Put it on the table in the breakroom! Add it to your library's collection to help some queer kids figure out where they fit! Review here.
Laura Dean Keeps Breaking Up With Me isn't a romance, but it's a powerful story about a girl in a toxic on-again off-again relationship with another girl. Laura Dean is an objectively terrible girlfriend and quite skilled at gaslighting and manipulation. It's also a story about friendship and how when we lose ourselves in unhealthy relationships, we lose our healthy ones. Full review here.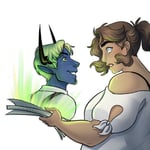 Brimstone & Roses is an adorable webcomic that updates weekly over on WebToon. Here's the synopsis:
Bea is over her ex. Absolutely, completely, over her... except that she's not. When Bea finds out that her ex is also attending her sister's wedding, Bea does what any logical person would do and summons an incredibly hot, sarcastic demon to be her date. But demons are tricky, and now hers won't leave her alone.
It's about a queer fat Latina baker and I love her and the mess she got herself into. There's not enough of it yet for me to call it a Best of 2019 but it's way up there on the list.
Did you read an amazing romance comic this year? Tell us about it!