We got to talk to Gina Biggs! If you've been around the site for a while, you know that I listed her webcomic, Love Not Found, in my Best Romance Comics of 2017 post, and that her subscription site, Filthy Figments, gets all sorts of praise in my NSFW Comics piece. So when I asked Gina if she'd answer some questions, I had to rein in my fangirl impulses. You tell me... did I manage?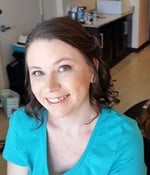 Here's her official bio:
Gina Biggs has been creating comics for twenty years. Currently residing in Portland, OR, she enjoys a good cup of light green tea and relaxing with a good book, shoujo manga, or movie.
Notable past works include her romance series, Red String (2003-2013) which was both published by Dark Horse Comics and rereleased by Strawberry Comics as well as Erstwhile, a comic anthology series adapting the lesser known Grimm's fairytales.
Gina also runs Filthy Figments, the internet's biggest and best collection of erotic comics from women and NB creators! Starting in 2010 with six artists, 100 pages of content, and vision to fill the world with positive, sexy comics for everyone, the site launched. Now it is home to thousands of comics from both up-and-coming talent as well as established professionals.
On with the interview!
***
I love Love Not Found. I've been really impressed at how you've managed to keep the story interesting after the two main characters get together. Did you have it all plotted out before you started? Or are you adding secondary characters and relationships as you need them? (I'm thinking about Poppy and Aster, in particular)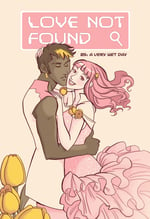 Thank you so much! You know, I feel like the story barely begins at "happily ever after" and I like to explore those themes in my comics a lot.
When Love Not Found launched I had a general idea of what I wanted to do, but it was more of a cathartic comic about love, loss, and healing. On a more personal note, it was about me falling in love with creating comics again. Early last year (2017), I decided to make some edits and started tightening sub-plots and reworking others in ways that would grow and develop the characters at a better-for-web-publishing pace. The result has been wonderful and I've been pleased with the way the story has been moving forward.
In regards to the characters, Aster had always been a part of the story and pretty much had the same role. However, zie gained a lot of backstory as well as a boost in how quickly the developments in zir relationship with Ivy occurred. Abeille's ex-lover, Poppy, was conceived later on and her role in the story changed dramatically. Originally planned as simply a rival to Miel for Abeille's love, the changes allowed me to add real depth to the character. I'm looking forward to having her back in upcoming chapters!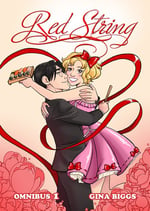 You've written and illustrated projects all across the range of maturity levels. A manga-style epic, an ongoing fairy tales project for all ages, Filthy Figments, and Love Not Found. How do you maintain an audience or brand when your projects are all so different?
I think the underlying theme through all my works is the exploration of love and connections between people. It's always been my interest in reading comics. I noticed looking back in my teen years of reading X-Men and I was always following for the character interaction above the adventures (though they were fun, too). When I discovered shoujo manga it opened up a whole new world of storytelling possibilities in my young brain. Themes of love, romance, and strong bonds among friends and family really resonate with me and I try to show that in my writing.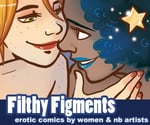 What led you to start Filthy Figments/Strawberry Comics? What's next for the company?
Strawberry Comics was created with the idea of promoting women in comics and Filthy Figments has followed in those footsteps. The whole concept of Filthy Figments was born from an illustrated bonus adult comic I did for my long-running series at the time, Red String. It was a fun celebration of the characters coming together and hey, I think most of us ship our own characters. Some of us put it on paper, right?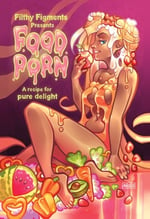 The response was overwhelming and I decided to pitch the idea of Filthy Figments to some comic creators I knew. Everyone was enthusiastically onboard and we launched six months later. What is great is that we've continued to grow and evolve, promoting an incredibly talented lineup of Women and NB creators!
We've got so many things cooking behind the scenes planned for the next year! We've debuted around half of our new artists from our most recent open call for submissions and can't wait to introduce you to the others! They're all such an amazing crew!
Any upcoming projects you'd like us to know about? I'm secretly hoping a bunch of your FF creators will get together to publish a big print volume.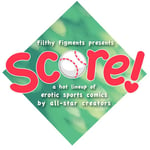 Your wish has come true! Filthy Figments is gearing up for their new anthology with a hot lineup of erotic sports comics! Inspired by the well-loved world of sports manga, SCORE! celebrates heated rivalries, deep friendships, and what happens beneath the subtext –– and this time, it goes way past third base. It'll feature brand new stories by all-star cartoonists such as Megan Gedris, Niki Smith, Ariel Vittori, Jennie Breeden, and Sarah Winifred Searle. The Kickstarter launches at the end of June so keep an eye out for it!
What have you read (and loved) lately?
I've been pretty buried underneath deadlines lately, but I have managed to snag some time to read a few books! Persephone by Allison Shaw was incredibly adorable! It was everything I wanted in a fluffy reimagining of the tale of Persephone x Hades. The art really matched the feel of the story, a beautiful marriage of art and writing! Also, Jellyfish Princess #4 by Akiko Higashimura continues to be a cute series, though I really need to catch up on this one! I highly recommend them!
***
That's it! We'll definitely be keeping an eye on that Kickstarter and we'll let you know when it goes live! If you want to check out Filthy Figments, clicking this link will give us an affiliate commission if you end up subscribing.