Catching up? So far, we've published an intro post, a terminology post, a post on comics creation, a piece on managing your budget, some starter comics, and the Local Comic Shop experience. Last week we went through some of the digital funding and distribution channels, which essentially wrapped up the "education" part of this series.
Now we get to talk about something really fun: dirty comics. These are the comics that you probably won't be reading at work, on the subway, or around your kids. These are the comics you aren't supposed to read unless you are 18 or over, so here's me saying that if you are younger than 18, don't click through.
Part 7: Dirty Comics!
A guide to comics for the 18+ crowd, with an emphasis on sex-positive, LGBTQ+ and female-friendly content. We've got some webcomics, graphic novels, and a couple of subscription services for you.
Webcomics
As always, we're going to recommend webcomics! Be aware that if you're reading smutty webcomics, you may see ads for p0rn in the margins. I mean, if you're reading a p0rn comic you should kind of expect that, but I figured I'd give you a heads-up.

Oh Joy Sex Toy - This is a really popular site that posts weekly comics, mostly sex toy reviews and sex education. Sometimes they have guest artists with a high quality piece of smut! The comics are compiled in books and sold through Limerence Press (Oni Press's 18+ line) and can be found in a lot of bookstores. Our review and buy links here.

I Roved Out In Search of Truth and Love - A high fantasy sex adventure featuring two women on a mission. The plot meanders a bit, but I'm not sure you're going to read for the plot. One of the female leads is bi/pan and the other is a lesbian. They have rather a lot of sex together, but they're BFFs rather than romantic partners. The supporting cast is diverse in both body and sexuality. It's one of the filthiest things I've ever read, and I say that with love. Alexis Flowers is currently funding a print volume on Kickstarter (through March 9, 2018) if you want to buy it as a PDF or in print.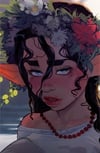 Alfie - Another high fantasy webcomic, but focused on the adventures of a young havlin (halfling/hobbit) woman who doesn't like the role she's expected to play in her sheltered community. The comic has made a few missteps with regard to consent, but nothing egregious and it's mostly beautifully drawn smut. Differing kinks, body types, and sexual orientations. (Starts out in grayscale, then moves to color.)

The Rock Cocks - I'm not sure how this comic is so filthy and so cute? It's super sex-positive, female-positive, trans-positive, all the things-positive. There's some disabled rep, fat rep, characters of color... The main story follows a m/f couple trying to make it as a band. They get signed and are in the process (as of March 1, 2018) of trying to make their first music video. So far, they've had a bunch of funny, sweet, and sexy adventures.

Chester 5000 XYV - Jess Fink's Victorian/steampunk erotic comic! There are two main volumes, one that begins with the eponymous Chester 5000 XYV robot being created and finding love with the Lady of the House. No text or speech, which is fascinating in execution because Fink does an amazing job portraying movement and emotion. This was the first dirty comic I read and I've lost track of how many people I've passed it on to. Buy links here.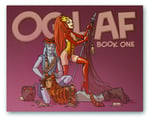 Oglaf - Oglaf is hard to classify. It's high fantasy comedy p0rn that's sometimes not pornographic at all? Whatever it is, the strip is updated on Sundays and is often the funniest thing I read all week. It's not a comic to turn you on, but it is hilarious.
Update, 4/6/20:
Try out Exorcism Academy, a demon/exorcist NSFW m/m romance from Asmo. Black and white, with some pages that are more inks than finished work. (Still enjoyable.)
Curvy - How did we forget to add this comic? Launched in 2008, Curvy is a wacky sci-fi adventure-comedy with two girls on the run (one is not human). So many sexy shenanigans.
Graphic Novels and Collections
Here are a few books you'll have to pay for, but I can vouch for their quality. Some of them are even in libraries! A whole bunch of these are from Iron Circus Comics, the publisher doing pretty much The Most in this area.

Yes, Roya - Mid-century femdom romance with a WoC and two white men. It's set up to follow newbie comics artist Wylie as he tries to break into the industry and gets much more than he bargained for. It's a perfect example of how smut can be deeply romantic and emotional. Highly recommended, even for those who don't usually read kink.
Smut Peddler - This is Iron Circus's smutty comic series, with three anthologies so far and another coming soon. As of today, there's a 2012 Edition, a 2014 Edition, and a 2016 anthology with a theme - Smut Peddler Presents: My Monster Boyfriend. They're all sex-positive and diverse. The volumes are also really big! You get a lot of high-quality smut for your dollar. Review of the 2014 Edition here. My Monster Boyfriend is here.
The 2018 installment is called "Sex Machine" and you can pick up a copy from Iron Circus or Amazon.
Update 10/29/21:
New Smut Peddler collections! Check out Silver (silver foxes and vixens) and Sordid Past (Historical).

Letters for Lucardo - As of this post, only the first volume of this series is out, but I reviewed it and absolutely loved it. Volume two is due out in 2018, so if you want to catch up, now is a great time to do so! It's a romance set in a historic AU (Alternate Universe) where vampires are real. The male leads are a black vampire and a white human secretary/scrivener somewhere around 60 years old. You can read my review here.
Update: Volume Two was also great! Our review of Fortunate Beasts is here.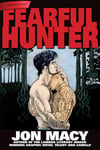 Fearful Hunter - An m/m romance set in a pagan AU with druid sex, monster sex, and forbidden love. There are some consent and power struggles in this book, so content warning for those if you need it. Our review here.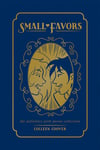 Small Favors - An absurdly cute series of erotic f/f comics that eventually turns into a romance. A young woman is told she has too much sex and assigned a guardian... who she promptly starts having too much sex with. It's funny, it's cute, it's creatively smutty. Review is here.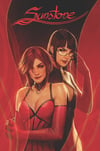 Sunstone - This f/f BDSM romantic comedy is so good it was on our Best of 2017 list. Sunstone will soon have three spinoffs: Mercy, Sugar, and Swing!
Update: Mercy, sold as Sunstone Vol 6-7, is out! This spinoff follows two secondary characters from the original Sunstone series as they tell their stories to the writer half of the original couple. If you're expecting romance, so far this is really a prequel to this couple meeting, with each of them discovering their sexual preferences through relationships with other people. It's still sexy and funny! Amazon link.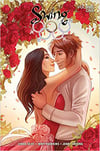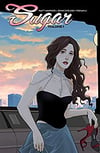 So far, the two spinoffs, written by husband-and-wife team Matt Hawkins and Jenni Cheung aren't as well written as Sunstone, but if you want some smutty adventures, check em out.
Our review of Swing Vol. 1 is here, and Sugar Vol. 1 is here.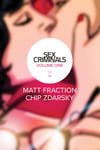 Sex Criminals - This isn't quite smut, but there's a ton of sex and lots of time spent in a hilarious sex shop. The premise is that these two people find out that they can both stop time when they orgasm. The female main character's library is getting shut down because of financial trouble, so they decide to rob the bank that's going to foreclose on them. (The male main character works there.) Anyway, they have sex, stop time, get into trouble, more sex, fall in love... fall out of love? It's a funny, raunchy, fascinating exploration of what sex means and the ethics of crime. Amazon link.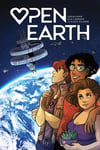 Open Earth - Published in September 2018, this graphic novel is a sexy romp about a young woman trying to figure out how to be in a committed relationship when she's also polyamorous. It's diverse and the art is lovely, but a lot of us wanted more about the apocalypse on Earth. Still, if you're only in it for the sexytimes, and/or the feels, this might be a great choice for you. Our review is here. Amazon link.

Update, 4/6/20:
Curvy - The webcomic Curvy (see above) is in book form now from Iron Circus! (Here's an Amazon link, too.) Bonus - the creator added some color to this version and it really elevates the comic.
Iris & Angel - Also from Iron Circus is the in-progress series Iris & Angel, which includes lingerie play and femdom. Illustrated by Amanda Lafrenais and written by Spike. It's excellent. First part is free.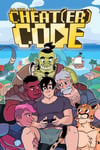 Cheater Code - This was such a fun, filthy, geeky gay erotic graphic novel. If you've ever wondered what it would be like to enter your favorite video games and have sex with the characters... this is for you. Check it out: Amazon, Our Review
Subscription Services
As with most things, there are subscription services out there for you! Erotic comics are fun and can be full of weird things like literal monsters. Both of the sites below have some preview pages up for several comics, so you can see what you're signing up for before you do.
Slipshine - Slipshine is pitched as "A site where the joys of sex are displayed through comics!" or "comics for people who think sex is fantastic!" It's pretty much exactly what you think it is. I hate the interface, but there are a ton of talented creators putting up new content on a regular basis and it's hard to get their work elsewhere. Amanda Lafrenais, who writes and draws the adorably filthy "Titty Time" publishes her comics digitally on Slipshine and her books are basically only available in print at cons or when they're kickstarted. If you're into sexy monsters, try Creature Feature, by Kickingshoes. The Rock Cocks (also on this list) cross-posts to Slipshine, too!
This service is more robust than the next on this list, with at least 100 pages uploaded each month.

Filthy Figments - If you're a romance reader, this is the site I'd suggest you start with. Gina Biggs started Filthy Figments to showcase the work of female and nonbinary creators, which means the work is raunchy as hell but also super friendly to female and enby readers. Some of the stories are beautifully erotic, some are tentacle porn. There's a huge array to choose from and it's growing every week. One of the things I like best about FF is that they have a shop with lots of PDFs of the work! You can buy complete chapters of several comics here.
If you sign up, please use this link to support Love in Panels! (This is not at all why I'm recommending the site.)
And on that note, I'm wrapping up this NSFW installment of the Comics Guide. Next time I'll end the series with a list of recommendations for kids. So... the exact opposite of this post.
Coming Up...
AKA, what to buy your niece/nephew/child/local library to get kids reading.
***
If you appreciate our content and wish to support the site, please consider using the affiliate links in this post and below for your shopping needs. Even if you don't buy the book in question, we receive a small % of your purchase from the vendor. As always, you are welcome to leave us a tip on Ko-Fi or join our Patreon!
Support Love in Panels