So far, we've published an intro post, a terminology post, a post on comics creation, and a piece on managing your budget. Today I'm recommending some comics and resources for newbies!
Part 4: Starter Comics
A highly subjective listing of some comics, publishers, and artists to start with. If you're just getting into comics and want to explore the world outside the superhero genre, here are some comics and publishers to start with!
These are pretty romance-centric, for obvious reasons. I've tried to pick comics that are easy to jump into, often with some sort of other media tie-in. For example, if you're already familiar with western fairytales, you'll find FABLES to be quite accessible because you'll recognize the characters. That allows you to adjust to the format rather than learning a new world. Some of them, however, are fan favorites. THE SANDMAN isn't an easy comic to get into, but it's widely known and you can find copies with ease.
Webcomics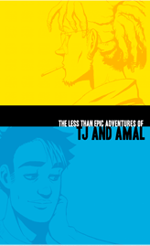 The Less Than Epic Adventures of TJ & Amal - A gay roadtrip romance that I've recommended to loads of people. It's available as a collection, too!
Love Not Found - A sweet, light sci-fi webcomic that we keep talking about. The premise is that civilization has moved beyond physical touch, so far that it's now taboo. But maybe touch is important? Our review is here and you might want to know that it made the 2017 Best Romance Comics list we pulled together here.
XKCD - This is a 3x weekly comic that's been around a long time. It's pretty dang geeky, with lots of science and tech jokes. It's billed as "a webcomic of romance, sarcasm, math, and language."
Sparkler Monthly - Sparkler publishes comics that are aimed toward teens and young women. They are LGBTQ+ friendly and usually have romantic elements. The content is varied, so it's easy to explore different styles and subjects.
Hiveworks Comics - I cannot say enough good things about Hiveworks. Hiveworks is a collective of comics creators who have banded together for joint promotion and retail. You can search for comics by genre, maturity level, and even if the project has been completed. If I was to pick one place to send new readers, this would be it.
Graphic Novels
If you're looking for a graphic novel that deals with weightier topics, I encourage you to check out the March trilogy, Maus, and/or Persepolis. They cover the American Civil Rights movement, the Holocaust, and the Iranian Revolution, respectively. Three very different art styles and subjects, but all tell a compelling and important story.
First Second is my current go-to for new graphic novels. Some favorites: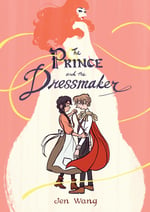 The Prince & The Dressmaker - A historical YA romance with a nonbinary prince and the seamstress he hires to make his gowns. We reviewed it!
The Nameless City and The Stone Heart, by Faith Erin Hicks - the first two in a fantasy trilogy set in a city that frequently changes hands. Two young people from opposite sides of the proverbial tracks work together to save the city.
Spinning, by Tillie Walden - A coming-of-age memoir about an awkward pre-teen lesbian figure-skater. You can check out our review here.
Issues/Trades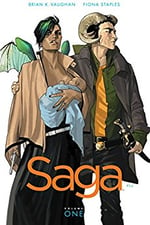 Saga - For sci-fi and fantasy fans, with a strong romantic subplot and a diverse cast of characters. It's a Romeo & Juliet space opera that is very much for grown-ups.
Fables - In this long-running series, all of the characters from fairytales and fables are real and hiding out in NYC. Think Snow White, the Big Bad Wolf, the Three Little Pigs, Sinbad, and more.
The Sandman - The one that started it all (for me). This is Neil Gaiman's classic series about Dream, one of the seven Eternals. It's a fantasy comic that spans a decade and has spawned multiple spin-offs, including Lucifer (which is now a tv show). If you like Neil Gaiman's prose and haven't read this series? You really must. Bonus: lots of libraries have this series in their collection!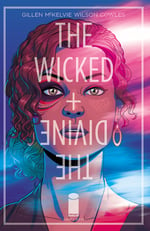 The Wicked & The Divine - Another of my not-for-children favorites, WicDiv is about a group of teenagers who are turned into gods. They get to be powerful and famous for 2 years, then they die. It's steeped in mythology from around the world and blends classic elements with a thoroughly modern tech-heavy plot. The art is gorgeous and the plotting is surprising but meticulous.
Y: The Last Man - This is a completed series about what happens when all of the men on earth suddenly die (except the titular one last man). It's part road-trip, part political thriller, all post-apocalyptic mystery adventure.
IDW, Boom! and Darkhorse - These three publishers put out a lot of content that ties in with existing franchises. Examples include Buffy the Vampire Slayer, My Little Pony, and Clueless. Tie-in comics provide another easy entrance point for readers who are adjusting to the format and narrative style of comics. Each of those publishers also put out a good bit of original content, as well, and are probably carried by your local comic shop and bookstore.
Out-of-the-Box Superheroes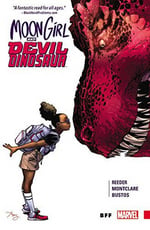 Getting into the Avengers or the Justice League is intimidating as heck. In theory, they reboot the franchises every few years so that new readers have a place to start, but I've never found that to be easy. (See, DC Rebirth and Marvel's Civil War.) Some of the newer superheroes are easier to get into, however.
Squirrel Girl, Ms. Marvel, Moon Girl & Devil Dinosaur, and the Ta-Nehisi Coates run of Black Panther were easy to jump into, since they aren't dependent upon your knowledge of the rest of the Marvel Comics Universe. I don't know that DC has equivalents. (I'm probably wrong.)
One more suggestion:
If you aren't already, subscribe to or follow Women Write About Comics. They cover all sorts of games and media, but I've found their comics coverage reliably honest and balanced.
If you are thinking of getting into comics, I promise you there is a comic for your reading tastes. Send us an email, find us on Twitter, we're happy to help!

And speaking of helpful people... Next time, we'll get you ready for the Local Comic Shop experience.
Coming Up...
Part 5: Your Local Comic Shop
Learning to love your LCS, avoid the haters, and order comics.
Part 6: What Are All These New Distribution and Funding Channels?
Kickstarter, Patreon, Gumroad, and ComiXology Unlimited. How to navigate new-ish channels of distribution and funding.
Part 7: Dirty Comics
A guide to comics for the 18+ crowd, with an emphasis on sex-positive, LGBTQ+ and female-friendly content.
Part 8: Comics for Kids
AKA, what to buy your niece/nephew/child/local library to get kids reading.
If you have any questions, please feel free to send them to suzanne@loveinpanels.com. I'll gather questions as we go and answer them at the end if they aren't covered in a post. Happy reading!