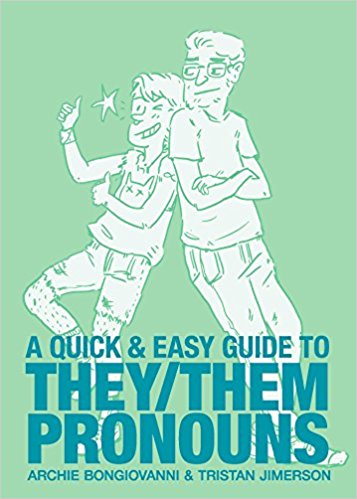 Title: A Quick and Easy Guide to They/Them Pronouns

Creators:
Format: Print

Color: Black and White

Romanceiness: LGBTQ+ Elements
Heat: PG13
Tags: queer nonbinary character educational

Where to Buy or Read
:
Amazon (Pre-order! Comes out Jun 18, 2018)
Synopsis from the Creator
:
Archie, a snarky genderqueer artist, is tired of people not understanding gender neutral pronouns. Tristan, a cisgender dude, is looking for an easy way to introduce gender neutral pronouns to his increasingly diverse workplace. The longtime best friends team up in this short and fun comic guide that explains what pronouns are, why they matter, and how to use them. They also include what to do if you make a mistake, and some tips-and-tricks for those who identify outside of the binary to keep themselves safe in this binary-centric world. A quick and easy resource for people who use they/them pronouns, and people who want to learn more!
Love In Panels' Review
:
I've been waiting for this since Limerence announced it, and I'm super pleased with the result!
The first 25 pages is set-up: what are pronouns and why is it important to use the correct pronouns when referring to or talking to a person.
The middle section is the how-to portion of the book. How to use gender neutral pronouns in a professional setting, when you don't know a person's pronouns, etc. How to correct yourself if you accidentally misgender someone (hint: don't make it a huge thing all about YOU). How to stand up for a non-binary friend OR let them stand up for themselves, and how to know the difference.
There are a few pages aimed toward non-binary folks, directly from Archie (the non-binary half of the creative team) about navigating the process of coming out, figuring out when to pick your battles, etc. It's written for non-binary folks, but that portion is also useful for cisgender (your pronouns match what you were assigned at birth, usually your sex) people as it gives you a source of understanding and empathy.
The book wraps up with a few handy pages that are sort of like cheat-sheets. You could even photocopy them to hang in your work cubicle! (We do not condone copying pages and distributing them without written consent from Limerence because that's illegal and not cool.)
In all - this is a great book and, at 70 pages, a handy reference to leave in the breakroom, your local library, etc. I really appreciate that the creative team put it together specifically to be readable and affordable, and that they made it clear that this is the start of a conversation and the start of the work we all need to do to make our society more inclusive and welcoming.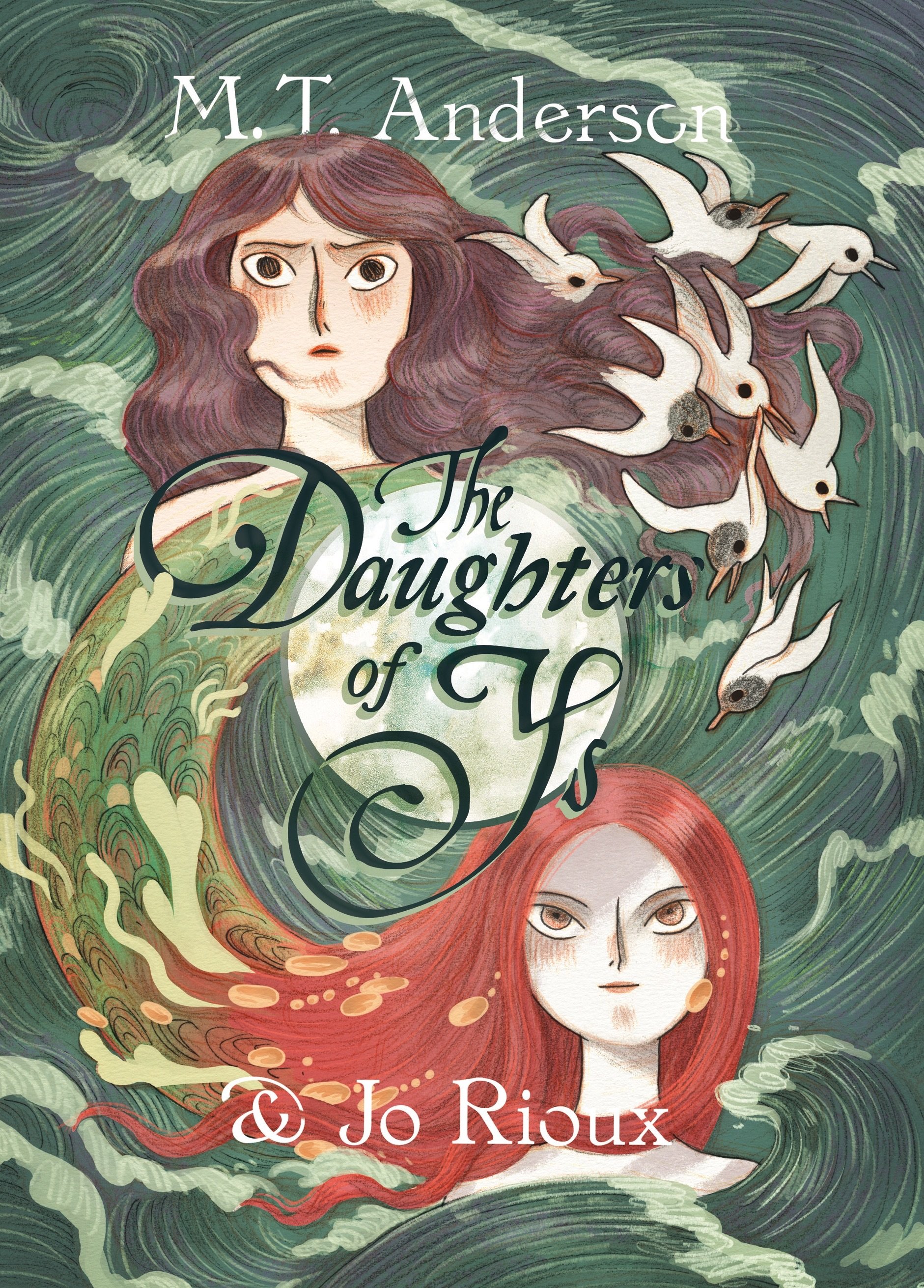 This is the book for you if you like:
1) messy sister relationships
2) magic, used for both good and evil
3) a distinctive art style with emphasis on watery tones and pops of red
4) folktales

The Daughters of Ys is a retelling of an old Breton folktale, set in a magically protected and constructed seaside city called Ys. (Similar to Atlantis, it's a magical city that's now sunken and never seen again.) The Queen, possessed of faerie magic, has just passed away and her two daughters are left with an irresponsible, grieving mess of a father. The elder sister takes to the countryside, bonding with animals and local people, even finding love with a commoner. The younger sister takes her anger and magic and uses them to keep the city going with her father. She does all the things no one else is willing to do and it's unclear whether she's actually "bad" or just does evil things. If she didn't do them, the city would fall into the sea and the sea monsters that guard it would attack all the inhabitants, so is all the murdering she does to feed the monsters and magic really that bad? Hmm.
Read More [fa icon="long-arrow-right"]