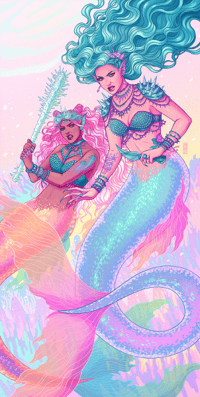 Once upon a time, cartographers would label maps with fun phrases like "here be dragons." This was basically a whimsical way of saying that they didn't know what was past this explored territory but it was probably going to kill and eat you. Pretty xenophobic, but also occasionally realistic because hey, there are actually things in the ocean that can kill and eat you. One of those things, depending on the story you're reading, is the mermaid.
Before we go any further, I would like to say that I am pro-merfolk. I am also pro-manatee, but that particular misunderstanding isn't what I'm talking about today. So, if you're writing about a mer-person (merson?!), I'll probably read your story even/especially if you're a siren leading humans to a watery grave. HOWEVER. This is a romance site and so I will be limiting my examples to merfolk in romance. I'm also not going to talk about The Shape of Water, but you can totally go watch that!
Without further ado, I present to you...
Merfolk in Romance, a Selection of Options for Your Reading Pleasure
Jen Bartel - First up, let's give credit to the inspiration for this entire post and artist of that piece of art above, Jen Bartel. Jen is an illustrator who does tons of beautiful comics covers, as well as prints and pins and such that you can buy in her online store. (It's down for updates right now, but should be up in March.) You can follow her on Twitter @heyjenbartel and get info at www.jenbartel.com. Since you're probably wondering... No, I don't know her and no, she's not even aware of this post. This is an act of pure fangirling here. I love me some battle mermaids.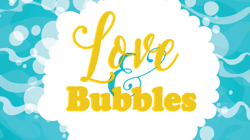 Love & Bubbles - This is an anthology currently funding on Kickstarter. (It ends on March 9, 2018.) From the campaign:
Love & Bubbles is a collection of short stories of underwater romance. The characters range from classics like mermaids and selkies, to creative interpretations on the theme that take you to the Amazon river basin, alien water planets, and an ice-crusted lake... Of the eleven base stories featured, eight feature relationships between queer women.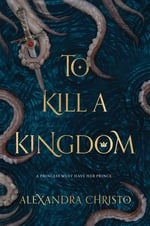 To Kill a Kingdom, by Alexandra Christo
This YA novel comes out March 6, 2018 and is about a siren princess and a pirate prince. A Little Mermaid retelling with 200% more badassery!
Princess Lira is siren royalty and the most lethal of them all. With the hearts of seventeen princes in her collection, she is revered across the sea. Until a twist of fate forces her to kill one of her own. To punish her daughter, the Sea Queen transforms Lira into the one thing they loathe most--a human. Robbed of her song, Lira has until the winter solstice to deliver Prince Elian's heart to the Sea Queen or remain a human forever.
The ocean is the only place Prince Elian calls home, even though he is heir to the most powerful kingdom in the world. Hunting sirens is more than an unsavory hobby--it's his calling. When he rescues a drowning woman in the ocean, she's more than what she appears. She promises to help him find the key to destroying all of sirenkind for good--But can he trust her? And just how many deals will Elian have to barter to eliminate mankind's greatest enemy?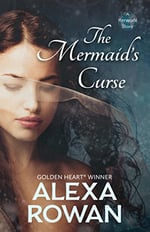 The Mermaid's Curse, by Alexa Rowan
This is a short story (80 pages ish) that came out in December 2017. If you're looking for a short romance with a happy ending, here you go!
As a young mer in the palace guard, Lou had given his heart to sweet, noble Kyria. But he should never have let the princess lure him up to her rooms. Her stepmother, the reigning queen, caught them together and banished him.
Now he's cursed to wander the drylands until he finds his true love—his soul mate. And after three hundred years, he's still waiting. When he meets a human woman who shares his long lost love's face and name, will he let himself fall for her, when he could lose her forever if she loves him back?
This second chance romance from the hero's point of view skillfully combines fairy tale, myth, and fantasy; adds a dash of heat; and tops it off with a happily ever after.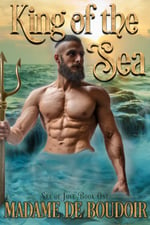 King of the Sea, by Madame de Boudoir
I'm not in love with the cover, but let's do that thing where we don't judge the book on its cover and instead judge it by the totally bananas fabulous blurb:
King of the Sea (Book 1 in the Sea of Love Series) is a shifter merman erotic romance novella. It's Moulin Rouge meets The Little Mermaid with a smoldering hot mythological silver fox demigod twist. No daddy issues, but plenty of yes, please! Madame de Boudoir's Sea of Love Series is a paranormal historical fantasy series of erotic romances featuring daring mermaids, passionate mermen and the humans who have more than met their match.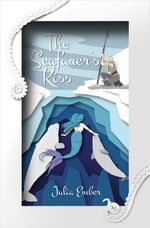 The Seafarer's Kiss, by Julia Ember
A viking and a mermaid fall in love!
Having long wondered what lives beyond the ice shelf, nineteen-year-old mermaid Ersel learns of the life she wants when she rescues and befriends Ragna, a shield-maiden stranded on the merfolk's fortress. But when Ersel's childhood friend and suitor catches them together, he gives Ersel a choice: Say goodbye to Ragna or face justice at the hands of the glacier's brutal king.
Determined to forge a different fate, Ersel seeks help from the divine Loki. But such deals are never straightforward, and the outcome sees her exiled from the only home and protection she's known. To save herself from perishing in the barren, underwater wasteland and be reunited with the human she's come to love, Ersel must try to outsmart the God of Lies.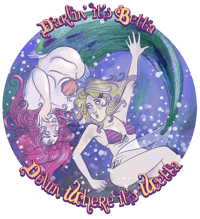 Darlin' It's Betta, Down Where it's Wetta, by Megan Rose Gedris (Rosalarian)
An accident at sea leads to a rescue from a beautiful mermaid named Pearl and some very pleasurable beach sex with a human woman named Chloe. After having such a wonderful experience with a vagina, Pearl now wants one of her own. The only reasonable thing to do it to convince the Sea Witch into helping her. NSFW and 18+ for sexual content.
Buy Links Here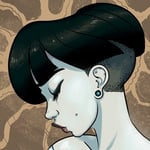 The Sea in You, by Jessi Sheron
This is supposedly a comic about a human girl and a mermaid becoming friends... but I 'ship them. The art is beautiful and it's free to read on Tapas. (Of course we hope you'll tip if you're able.)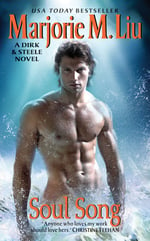 Soul Song, by Marjorie M. Liu
Part mystery, part romance, all shapeshifter adventure. This is one of the novels in Liu's Dirk & Steele series, which centers a supernatural detective group composed of shapeshifting folks who get paired off over the course of the series. In this one, "...a tormented young woman with the precognitive power to foresee terrible futures must place her own fate in the hands of a mesmerizing prince of the sea."
One of the things I liked most about this book is that the female lead saves the male lead, too.