This guest post comes from paranormal romance author Nadia Diament, a fellow lover of romance and comics. Her debut novel, Bloodsucking Lawyer, is out today! He's a vampire and a lawyer. More about that below!
***
I've read both comics and romance novels since I was a teenager, but I now read the former to balance writing the latter. I adore my genre, but comics have also influenced me, inspired me, and kept me grounded.
When I was fifteen, my dad dropped me off at my first comic book store just outside DC so I could track down Spider-Man. I grabbed copies of all the latest issues but stopped when I came across #37 of The Amazing Spider-Man, illustrated by John Romita, Jr. and written by J. Michael Straczynski. Kaare Andrews did the cover and holy macaroni just look at it:
The surprised-yet-not-surprised look on his face as the reader discovers him. The sparkle of the eyes on the mask. The way he blends into the darkness while the bold red in his costume leaps out at you.
My fifteen-year-old heart was sold, and I read Straczynski's entire run on Amazing until its disastrous end in 2007 (yes, disastrous; I will die on that hill). For as long as I've written romance, I've never been able to write a standard alpha hero and about a year ago, I realized why. Straczynski's portrayal of Peter Parker was a major influence on how I write my male main characters—sarcastic yet kind, charming yet awkward, and smart as hell. Not to say that alphas can't have these characteristics, but they are generally not cinnamon rolls. Peter Parker may be a superhero but he smells of cinnamon, and he defined me as a writer the moment I met him.
Years later, when a friend recommended I read Saga (a fantastic space opera by Brian K. Vaughan and Fiona Staples), I realized I could finally describe the kind of romances I write. In the Volume 2 trade paperback, the heroine gushes over D. Oswald Heist's romance novel, A Night Time Smoke:
"The monster and the girl meet, but instead of trying to kill each other, they mostly just hang out and play board games, except sometimes they leave their apartments to eat sandwiches at the movies."
It's a joke, but after a steady diet of action-packed paranormal romance, that line spoke to my soul. I felt seen because I adore the fluffy, sexy Getting to Know You parts of a contemporary romance, but I wanted it with, you know, monsters. I like seeing the spark of connection when people fall for each other, even if they're just sitting on the floor of a grocery store…which, may or may not be a thing that happens in my book. Suffice it to say, when I found out that Heist's novel was secretly a piece of subversive pacifist literature, I'd never felt such solidarity with a book outside my genre.
As for how comics keep me grounded, it's simple. When you're a writer and you pick your genre, it becomes everything to you. If I'm not writing romance, then I'm reading my critique partners' manuscripts; if I'm not reading manuscripts then I'm stumbling my way through promoting my work; if I'm not promoting my work then I'm reading about other authors' books. I eat, sleep, and breathe meet-cutes, flirtatious banter, and HEAs. It doesn't stop. It never. Stops.
I love romance, but between my day job and writing, I sometimes stare at a screen for fourteen hours a day. The thought of picking up a book to read another wall of text makes my eyes cross. Comics, on the other hand, are an entirely different medium. Yes, there is some text, but it's usually brief exposition or snappy dialogue. The experience is completely different because there's so much art—beautiful, jaw-dropping art—to absorb. Another bonus is that I can knock out three trade paperback graphic novels in an afternoon, whereas a single novel might take me weeks. This is why when the romance industry kicks my ass, I turn to comics.
But, as much as comics comfort and inspire me, there may be a middle ground. This is really embarrassing, but I didn't even realize until recently—thank you, Love in Panels—that romance comics existed. What a delightful intersection of things I love! Not only that, but I've seen an illustrated romance novel floating around, too.*
Not only can HEAs and visual art co-exist, but they've collided, and I can't wait to dive deeper into the space between them. With romance and comics alike, there's something for everyone. You just have to find yours.
*Check out Graham: The Broken Duke by Jess Michaels.
In case you're randomly curious about the comics I enjoy, they include:
-The Amazing Spider-Man, J. Michael Straczynski/John Romita, Jr.
-The Graveyard Book, Neil Gaiman/P. Craig Russell et al.
-I Killed Adolf Hitler, Jason
-Monstress, Marjorie Liu/Sana Takeda
-Persepolis, Marjane Satrapi
-The Rabbi's Cat, Joann Sfar
-Saga, Brian K. Vaughan/Fiona Staples
-The Unbeatable Squirrel Girl, Ryan North/Erica Henderson
-Velvet, Ed Brubaker/Steve Epting
***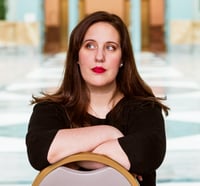 Nadia Diament writes paranormal and contemporary romance with equal servings of heat and humor. No stranger to a U-Haul, she's lived in Arizona, South Dakota, and Washington, DC. She currently lives with her husband in Chicago, where she tinkers with fountain pens and loiters in coffee shops. Bloodsucking Lawyer is her debut novel.
Find her on Twitter @nadiadiament, at her website, Facebook, and Instagram.
A little about Bloodsucking Lawyer (he's a vampire lawyer!), out today, June 18th!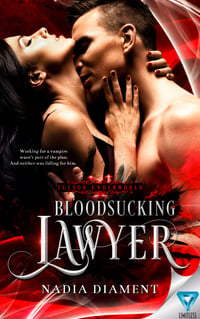 Emma left her career in corporate law to pursue her passion for criminal defense, but she can't seem to catch a break. So when she lands an interview at a small law firm, she's more than thrilled. But she has no idea what she's in for.
Turns out it's not just any law firm, and Henry—her new boss—isn't exactly, well…human.
Apparently he drinks blood instead of coffee, and his client list consists of creatures that go bump in the night. But, the way Emma sees it, if she can get through law school, she can handle a few pothead werewolves and shoplifting witches. So she stays.
There's just one thing she didn't count on, and that's catching feelings for her new vampire boss. Henry and his fangs become a temptation too hard to ignore, and no matter how much she tries, she still falls for him.
Problem is, everyone knows office romances have the tendency to crash and burn. But when your boss is a bloodsucking lawyer, odds are it's a disaster waiting to happen.
Grab your copy at Amazon (also in KU).