If Virginia is for lovers, then Romancelandia is for dreamers. We live in a world that's uncertain and often unfair and while a lot of us are putting in the work the change the things we can no longer accept, sometimes we need to rest and reset. And in those times we dream of escaping to a place where we know, in the end, love really will conquer all. Romancelandia is that place. It's a place where good always (eventually) triumphs over evil, everyone finds their soulmate(s), and "they lived happily ever after" isn't an ending— it's a promise.
And that promise is a beautiful thing that the residents of Romancelandia hold sacred. Everyone gets a happy ending. Period. But for far too long, that "everyone" excluded a lot of us. If you weren't white, straight, non-disabled, neurotypical and Christian, you couldn't simply go into the romance section of your local bookstore (if they even had a romance section) and pick up a book with people who looked and loved like you getting the HEA we've all been promised. All tea, all shade, you still can't. But it's getting better. And authors like Adriana Herrera are a big part of the reason why.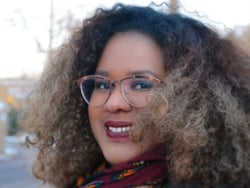 Adriana's debut novel, American Dreamer, came out March 4th and it's a contemporary romance that showcases the cuisine and culture of Afro-Latinx communities and while telling that age old tale of what happens when boy meets boy and they live (and love) happily ever after.
Read about Adriana, her book, and the culture that shaped both in our interview below. And definitely stay till the end for a shot at a couple copies of the book AND recipe cards!
***
When did you fall in love with the romance genre and what moved you to pick up the pen and start writing your own?
I've been reading romance since I was a pre-teen! My mom would buy me these Spanish translations of European young adult romances and that got me hooked. My foray into adult romance started as a teen during summer visits to the States. I'd come from the DR to visit family in New York City and the West Coast and I'd sneak some of my older cousins Johanna Lindsey and Elizabeth Lowell romances.
As for writing, I'd been toying with the idea for a long time. However, what really lit a fire under me was a combination of the narrative around immigrants of the past few years and feeling like I'd waited long enough to see #ownvoices Afro-Latinx representation in romance. I went with Toni Morrison's advice and wrote the book I wanted to read, but could not find.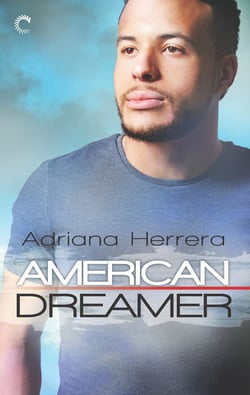 Where did you get the idea for American Dreamer and more specifically, where did the inspiration for Nesto and Jude's characters and backgrounds come from?
I'm not sure I can pinpoint the moment I got the idea! I knew I wanted to write a romance that centered on a Dominican protagonist and their people. Books and food are probably the two things that bring me the most comfort, so having a romance between a librarian and a chef just made sense, lol.
The inspiration for Nesto's character comes from my friends and family. I wanted to write queer communities of color that looked and sounded like the ones I've been around my whole life. Jude was definitely inspired by some of my closest friends from my years in Ithaca.
Nesto is the owner and operator of an Afro-Caribbean food truck and I've heard through the grapevine the food descriptions in this book are everything. Food plays such a pivotal role in culture and community, how did you decide which recipes you were going to feature in the book and why did you choose those specific dishes?
Afro-Caribbean food is very connected. Nesto talks about this in American Dreamer, actually. Because of our African ancestors, all of the islands have cuisines which share many of the same ingredients, flavors and dishes. The names and some of the preparations vary, but there is a thread tying us together. We all have the same roots.
Nesto is a food truck chef, a burrito truck to be exact. He has five varieties of burritos, one for each of the Caribbean islands him and his three best friends come from. Dominican Republic, Haiti, Puerto Rico, Cuba and Jamaica. Each burrito is named after a music legend from the country and is packed with the flavors from there too.
Some, like the Marley, were easier because any Jamaican burrito has to have Jerk and peas and rice. For Puerto Rico and DR it was trickier because our foods are so similar, I had to decide who would get what! LOL It was a lot of fun though, and I'm excited for readers to learn about Caribbean food that goes beyond tostones or rice and beans.
Tell me about the recipe cards you gave out. What gave you the idea?
Everyone that's read the book so far has had such positive reactions to the food and said that they wanted to try them I thought it was a good idea! I specially feel for readers who are not in areas where they can get our food, so I thought the recipes might help with that.
[Scroll down for a chance to win some of your own!]
Let's talk process for a minute. What did you do to move your muse while writing American Dreamer? Did you create a playlist and if so what was on it? Did you have a mood board? Have a character inspiration Pinterest board?
I have a playlist for each of the books. I can't have music when I'm actually writing, but I do listen to it a lot during the process. The playlist is on my website and there's a lot music with Latinx roots. I also have some character inspiration pics on a Pinterest board too. Here's a link to the playlist.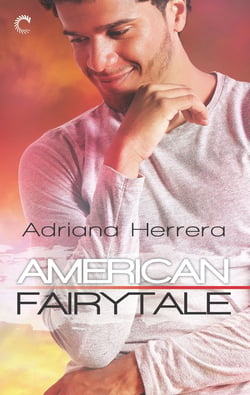 American Dreamer is the first in a planned series. Can you tell us a little bit about the series and what we have to look forward to?
Sure! The plan is for each of the guys to get a book. Nesto, Camilo and Patrice's stories are M/M and Juan Pablo's is an M/F. All four titles have the word American in them. The Dreamers series, like America, are multicultural and diverse. I'm happy the titles highlight that.
Camilo's book, American Fairytale, is the second one in the series and it's coming out on May 20th. It's set in Harlem and the Bronx. Patrice's, American Love Story, will be out in October. Those who read American Dreamer may get a hint of who the love interest is. I am actually in the process of writing Juan Pablo's, American Sweethearts, which will be out in January of next year.
Switching gears a little, there's been a lot of talk in the publishing industry about diversity and inclusion and Romancelandia has been front and center in that discussion. While there are those who have been actively trying to foster positive change, there has also been pushback from members of the community who don't believe AOC deserve a seat at "their" table. Then there are those who have simply continued on as if the discussion and movement isn't taking place. You and I have spoken before about how large segments of the LGBTQ+ romance community, and the M/M community in particular, turn into Mariah (I don't know suddenly, I can't read) whenever issues such as inclusion, diversity, and racist tropes and harmful representation come up. In March of 2018, you and fellow romance author Harper Miller created the PoC Queer Romance Authors Community Page. What exactly is the PoC Queer Romance Authors Community Page, what was the motivation behind creating it, and what are your goals for the collective going forward?
The Community Page was an idea that came from Harper and I having conversations around the time diversity and inclusion was becoming more and more of a topic in Romance. With every discussion that popped up there would always be someone saying they didn't know where to find PoC authors…so we decided we'd create a place where they could!
Mostly we wanted to provide a centralized spot where anyone looking for PoC Queer romance authors could find them. My hope is the page continues to grow and that more industry gatekeepers use it as a resource.
The M/M romance community can be one of the most accepting, supportive, and generous neighborhoods in all of Romancelandia. However, it also has a well documented past (and present) of being openly hostile to authors of color and readers of color who call out poor representation, racist tropes, and other macro and microaggressions perpetrated by authors, publishers, and those with powerful platforms within the community. Are you concerned with losing readers or alienating any of your peers by being such a vocal proponent for change and challenging the status quo?
I came in to the romance space to write stories that are diverse and represent the world I live in, some of those stories are M/M, but not all. I hope that they resonate with everyone, but they may not for some readers, and that's okay.
I must be genuine in every space I'm in and that means speaking my truth, as I see it. I think there isn't enough representation of marginalized voices in romance in general, and the M/M community is no exception. More people need to step up, so that we have a level playing field in our genre. I hope things change and I will do what I can to be a part of that.
Okay, back to the fun stuff now, lol. What's one popular movie or television show people would be gagged to find out you've never seen?
I don't really watch a lot of TV, so probably too many to name. LOL Also my partner and I lived overseas from 2005 to 2011 and we didn't really have a lot of access to the latest cable shows. I missed a lot…
I think for M/M readers the most shocking one would be Supernatural, since there is such a big fandom for that show. I've seen an episode here and there, and definitely know the actors, but never really watched the show.
What's your current Nextflix or tv obsession?
Like I said I'm not a huge TV fan, but I recently watched all of Schitt's Creek over two weeks, which is the equivalent of a full on binge for me! I also love One Day at a Time and I'm so happy there's a new season out.
What books have you read lately and loved or are eagerly anticipating?
I just started Angie Thomas's latest, "On the Come Up" and OMG, she's a genius. I am very much looking forward to Helen Hoang's The Bride Test, because The Kiss Quotient was one of my favorite books last year.
What are your two favorite books and if you were forced to Thanos snap one out of existence, which one's gotta go?
That question is way too hard! I don't even know where to start!

What's up next for you? What should we be on the lookout for?
The Dreamers are coming March, May, October this year and next January. I have a couple more projects in the works and hopefully will have news to share soon!
Thanks so much for having me and all your awesome questions!
***
We had a blast interviewing Adriana and thank her for so graciously giving us her time. If you're interested in Nesto and Jude's love story, you can read Ana's rave review of it here and grab your own copy now:


Adriana can be found on Twitter, Facebook, Instagram and over on her website at AdrianaHerreraRomance.com.
Ready for the giveaway?! Of course you are. Enter below! These are print copies, so US only, ends at midnight EST on 3/16!