I don't mention it in every description, but all of these are queer. There is literally one hetero romance in here and I am not sorry. So if you're like me and you're like "Oh that book sounds great, you know what would make it greater? If it was queer!" --now you already know that it is. :)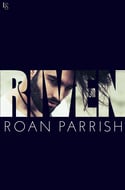 Riven by Roan Parrish. I have read this book over and over and over this year. It's this perfect mix of rockstar artist musicians writing songs together and boys just being awed by the brilliance in each other and wanting to be supportive. Every time I read it I feel less alone and completely understood and feel empowered into making freeing life changes. If you love boys in bands and believe that recovery is possible and music is powerful: Riven.
Buy it: Amazon, Apple Books, Barnes & Noble, Kobo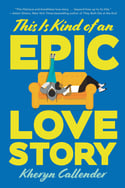 This Is Kind of an Epic Love Story is WOW. I loved this bright cover for so long before I could hold it in my hands and look inside. Then when I read the love story (that IS totally epic and utterly high school and entirely refreshing and awkward and pure) and it featured a boy who has lost his hearing, and (wow am I about to cry just typing this) has friends and family and a school who accommodates him and an author who wrote every precious little detail of that HoH rep in a way that felt so... like it wasn't ever a big deal or a sad thing, it's just a deeply adorable queer YA with a love interest who lost his hearing! I was overjoyed and then DEVASTATED because I wish I could ctrl+c ctrl+v this book and have ten more books like it, I NEED to have more books that are fun and sincere and feature characters who are brown and disabled and casually bisexual and [CRYING EMOJI] !!!
Buy it: Amazon, iBooks, Barnes & Noble, Kobo, The Ripped Bodice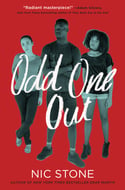 ...Talking about brown teens being casually bisexual... Odd One Out by Nic Stone is a whole book of that!!! It's a book that I sat down to read in a quick tea break at work and ended up finishing in two sittings, and then missing the characters so I read it in two sittings again the next day. It's woke and unapologetic. It's got sooo much going on at that highschool and it's loud about it. And the author's note at the end is wonderful and special and makes the book feel even more meaningful. It's a story dedicated to the Questioning kids, and I think it honours them well.
Buy it: Amazon, Apple Books, Barnes & Noble, Kobo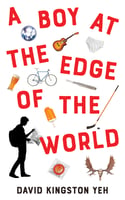 The Boy at the Edge of the World is so entirely everything that I might cry flipping through it and trying to tell you why you should read it. I missed these people SO much when this ended. I couldn't get them out of my head. It felt like I'd lived lifetimes with them, and in some sense I had. It's a romance adventure through a young man's exploration after university. He goes through phases and flings and family hilarity and heartache and a happily-ever-after that fills my heart to the brim! Ugh, LOVE!!! Also it made me NEED to go to all these places in Toronto. (It's set in Canada) It doesn't seem like it, but I am playing it veeery lowkey about this book. My feelings run DEEP.
Buy it: Amazon, Apple Books, Barnes & Noble, Kobo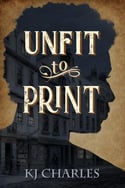 Next up is a book that feels like all my favourite crime shows with an added dash of queer people and humor... add a heap of social justice and the realities of being brown and tons of vintage porn...
Tada! Unfit to Print! (No seriously, it's got it all! Even a cat named Satan.)
Buy it: Amazon, iBooks, Barnes & Noble, Kobo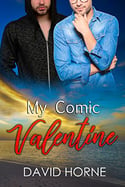 My Comic Valentine is so incredibly delightfully sweet and wonderful that I spent a considerable amount of time online searching the author's name wondering why the heck no one is throwing parties for him having captured this much charming into one book, and I have yet to figure it out but I highly recommend! It's !!!!! Also bisexual rep! I'm literally turning into a heap of butterflies and that very smiley emoji so let me just give you my adaptation of the blurb: Ben is called in to work at the comic store's Valentine's Day author event featuring the webcomic creator, whose mega popular gay romance comic is secretly one of Ben's favorites (because it's funny and because the protagonist is bi, which he likes and knows the importance of. Boys need bi good bi rep!) So they chat, hit it off, and end up collaborating on a comic together and obviously falling in love YEAH ITS MAD CUTE and !!!!! it's told in alternating chapters of Ben's life and his comic book scripts and "This is a delightfully romantic tale about queer superheroes and the men who create them." YES IT IS.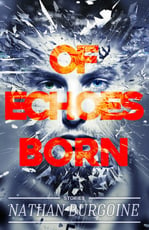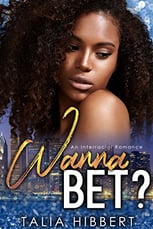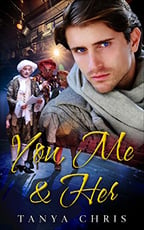 I've left these last three for the end because if I gave them a full paragraph each I'd go on forever and I've already done that in a review blogpost. -- So I'm linking you to them:
I will not stop saying that there should be an Of Echoes Born in every library and every high school and everywhere a queer person might find it and see themselves.
Wanna Bet? is my way of saying YES to unapologetic Black Girl Magic of Talia Hibbert's books (and life tbh) and vision-boarding her essence into my 2019 in a big way!
You, Me and Her knocked me backwards, left me breathless, opened up entire worlds that are made of sunlight and fresh air and trees that carry the words 'You belong here' filled with hope the same way that three-note whistle in The Hunger Games does.
***
Because Andrea is super generous and amazing, she's also giving away a copy of each of these books!
You can enter using this handy form. We'll leave it going until midnight on Dec. 31st, so you have plenty of time to make your choice!