Hi August! We are back from hiatus and sort of ready to tackle the reading world again. Sort of.
You'll notice some changes this month, including reduced social media interaction and less content overall. This team is balacing a lot right now.
Hope you find some books to read... and then tell us about them!
*
This post contains affiliate links.
***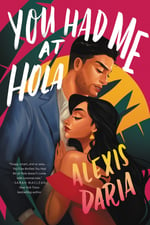 You Had Me at Hola, by Alexis Daria - August 4

RITA® Award Winning author Alexis Daria brings readers an unforgettable, hilarious rom-com set in the drama-filled world of telenovelas—perfect for fans of Jane the Virgin and The Kiss Quotient.
Leading Ladies do not end up on tabloid covers.
After a messy public breakup, soap opera darling Jasmine Lin Rodriguez finds her face splashed across the tabloids. When she returns to her hometown of New York City to film the starring role in a bilingual romantic comedy for the number one streaming service in the country, Jasmine figures her new "Leading Lady Plan" should be easy enough to follow—until a casting shake-up pairs her with telenovela hunk Ashton Suárez.
Leading Ladies don't need a man to be happy.
After his last telenovela character was killed off, Ashton is worried his career is dead as well. Joining this new cast as a last-minute addition will give him the chance to show off his acting chops to American audiences and ping the radar of Hollywood casting agents. To make it work, he'll need to generate smoking-hot on-screen chemistry with Jasmine. Easier said than done, especially when a disastrous first impression smothers the embers of whatever sexual heat they might have had.
Leading Ladies do not rebound with their new costars.
With their careers on the line, Jasmine and Ashton agree to rehearse in private. But rehearsal leads to kissing, and kissing leads to a behind-the-scenes romance worthy of a soap opera. While their on-screen performance improves, the media spotlight on Jasmine soon threatens to destroy her new image and expose Ashton's most closely guarded secret.
Andrea - EVERYTHING about this sounds Fantastic!! and I would seriously buy a movie-poster sized print of this cover.

Suzanne - I've read this and reviewed it for Shelf Awareness. (Review goes up around release date.) It is SO GOOD. Soapy deliciousness with excellent non-PIV sex, use of lube and respectful partners. Lots of family, behind-the-scenes tv stuff and discussion of intrusive media and slut-shaming. Loved it.
Buy a copy: Amazon ◊ Apple Books ◊ Barnes & Noble ◊ Bookshop ◊ Kobo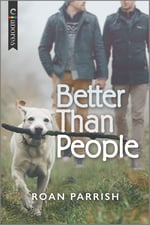 Better Than People, by Roan Parrish - August 25

It's not long before their pet-centric arrangement sparks a person-centric desire…
Simon Burke has always preferred animals to people. When the countdown to adopting his own dog is unexpectedly put on hold, Simon turns to the PetShare app to find the fluffy TLC he's been missing. Meeting a grumpy children's book illustrator who needs a dog walker isn't easy for the man whose persistent anxiety has colored his whole life, but Jack Matheson's menagerie is just what Simon needs.
Four dogs, three cats and counting. Jack's pack of rescue pets is the only company he needs. But when a bad fall leaves him with a broken leg, Jack is forced to admit he needs help. That the help comes in the form of the most beautiful man he's ever seen is a complicated, glorious surprise.
Being with Jack—talking, walking, making out—is a game changer for Simon. And Simon's company certainly…eases the pain of recovery for Jack. But making a real relationship work once Jack's cast comes off will mean compromise, understanding and lots of love.
Andrea - This book is the coziest, most charming comfort read. I 10/10 recommend you preorder it.
[Editor's Note: Andrea received a copy from the publisher and her review is coming soon!]

Buy a copy: Amazon ◊ Apple Books ◊ Barnes & Noble ◊ Bookshop ◊ Kobo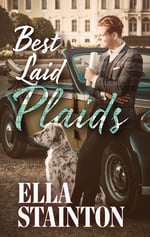 Best Laid Plaids, by Ella Stainton - August 31

In 1920s Scotland, even ghosts wear plaid.
Welcome to a sexy, spooky new paranormal historical series from debut author Ella Stainton.
Scotland, 1928
Dr. Ainsley Graham is cultivating a reputation as an eccentric.
Two years ago, he catastrophically ended his academic career by publicly claiming to talk to ghosts. When Joachim Cockburn, a WWI veteran studying the power of delusional thinking, arrives at his door, Ainsley quickly catalogues him as yet another tiresome Englishman determined to mock his life's work.
But Joachim is tenacious and openhearted, and Ainsley's intrigued despite himself. He agrees to motor his handsome new friend around to Scotland's most unmistakable hauntings. If he can convince Joachim, Ainsley might be able to win back his good name and then some. He knows he's not crazy—he just needs someone else to know it, too.
Joachim is one thesis away from realizing his dream of becoming a psychology professor, and he's not going to let anyone stop him, not even an enchanting ginger with a penchant for tartan and lewd jokes. But as the two travel across Scotland's lovely—and definitely, definitely haunted—landscape, Joachim's resolve starts to melt. And he's beginning to think that an empty teaching post without the charming Dr. Graham would make a very poor consolation prize indeed…
Suzanne - This is a gay paranormal historical romance set in 1920's Scotland. GHOSTS AND GAYS. This genre is so great sometimes.

Buy a copy: Amazon ◊ Apple Books ◊ Barnes & Noble ◊ Kobo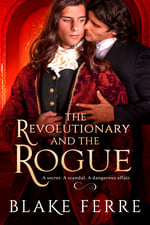 The Revolutionary and the Rogue, by Blake Ferre - August 24

Perrin deVesey knows pain. As a member of Crimson Rose, a secret club for men who love men, he's taken the vow "to stand and shield." Standing together during these perilous times is the only thing keeping their necks from the guillotine. Now their leader is using the club to rescue wrongly accused traitors. After losing a past lover to an unjust execution, the decision to support this treasonous cause is easy…until a devastatingly handsome Committee Officer complicates Perrin's whole world.
Officer Henri Chevalier hates aristocrats. But the man he finds while investigating Crimson Rose is more than just wealthy and fancily clothed. He's a rogue that could take him to the heart of the uprising and stop it before it starts. His plan to get close to Perrin and steal his secrets backfires, though, when Henri finds himself falling for the damned aristo and his dangerous smile. His heart is even more conflicted as he learns the truth behind their cause…and the truth his own people have been hiding.
Together they must make the choice—to stand and shield at any cost—and their love might be the deadliest weapon in all of France.
Suzanne - Gay French Revolution romance! It feels like I've been waiting ages for this book and it's finally time!

Buy a copy: Amazon ◊ Apple Books ◊ Barnes & Noble ◊ Kobo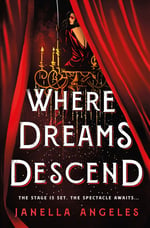 Where Dreams Descend, by Janella Angeles - August 25

In a city covered in ice and ruin, a group of magicians face off in a daring game of magical feats to find the next headliner of the Conquering Circus, only to find themselves under the threat of an unseen danger striking behind the scenes.
As each act becomes more and more risky and the number of missing magicians piles up, three are forced to reckon with their secrets before the darkness comes for them next.
The Star: Kallia, a powerful showgirl out to prove she's the best no matter the cost
The Master: Jack, the enigmatic keeper of the club, and more than one lie told
The Magician: Demarco, the brooding judge with a dark past he can no longer hide
Where Dreams Descend is the startling and romantic first book in Janella Angeles' debut Kingdom of Cards fantasy duology where magic is both celebrated and feared, and no heart is left unscathed.
Suzanne - I am such a sucker for a magician story. This got pushed back from June and it's been on my list this whole year.

Buy a copy: Amazon ◊ Apple Books ◊ Barnes & Noble ◊ Bookshop ◊ Kobo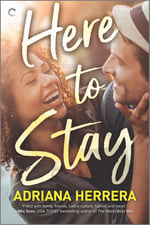 Here to Stay, by Adriana Herrera - August 25

Award-winning, highly-acclaimed author Adriana Herrera delivers the sexy, modern enemies-to-lovers romance you've been waiting for.
Starting over is more about who you're with than where you live…
Julia del Mar Ortiz is not having the best year.
She moved to Dallas with her boyfriend, who ended up ditching her and running back to New York after only a few weeks. Left with a massive—by NYC standards, anyway—apartment and a car lease in the scorching Texas heat, Julia is struggling…except that's not completely true. Running the charitable foundation of one of the most iconic high fashion department stores in the world is serious #lifegoals.
It's more than enough to make her want to stick it out down South.
The only monkey wrench in Julia's plans is the blue-eyed, smart-mouthed consultant the store hired to take them public. Fellow New Yorker Rocco Quinn's first order of business? Putting Julia's job on the chopping block.
When Julia is tasked with making sure Rocco sees how valuable the programs she runs are, she's caught between a rock and a very hard set of abs. Because Rocco Quinn is almost impossible to hate—and even harder to resist.
Suzanne - Adriana Herrera could write a grocery list and I'd read it. I mean, she's such a foodie that the grocery list would be fascinating, but I digress. Her contemporary world-building is excellent and I can't wait to dig in.

[Editor's Note: As I'm writing this on Aug. 1, there isn't a link to the print version anywhere, so I'll fill in as soon as I can! I want one for my own shelf, darnit.]
Buy a copy: Amazon ◊ Apple Books ◊ Barnes & Noble ◊ Bookshop ◊ Kobo
Also out this month:
(All titles in red are links to Amazon)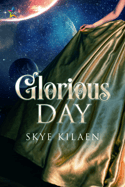 August 3 - Glorious Day, by Skye Kilaen
August 4 - The Dark Tide, by Alicia Jasinska
August 4 - More Than Just a Pretty Face, by Syed M. Masood
August 4 - Midnight Sun, by Stephenie Meyer
August 4 - Vanessa Yu's Magical Paris Tea Shop, by Roselle Lim
August 4 - Murder in the East End (A Below Stairs Mystery #4), by Jennifer Ashley
August 4 - The Heirs of Locksley (Robin Hood #2), by Carrie Vaughn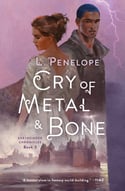 August 10 - Off Balance, by L.E. Royal
August 11 - Kiss My Cupcake, by Helena Hunting
August 11 - Hopeless Romantic, by Georgia Beers
August 11 - Hopes and Dreams, by PJ Trebelhorn
August 11 - Chasing Starlight, by Teri Bailey Black
August 11 - Cry of Metal & Bone (Earthsinger Chronicles #3), by L. Penelope
August 11 - Star Daughter, by Shveta Thakrar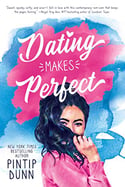 August 18 - Dating Makes Perfect, by Pintip Dunn
August 18 - Loathe at First Sight, by Suzanne Park
August 18 - The Legal Affair (The Singh Family #2), by Nisha Sharma
August 18 - The Switch, by Beth O'Leary
August 18 - Drowned Country, by Emily Tesh
August 25 - Entwined, by A.J. Rosen
August 25 - Now That I've Found You, by Kristina Forest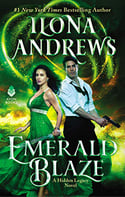 August 25 - Ironspark, by C.M. McGuire
August 25 - Emerald Blaze (Hidden Legacy #5), by Ilona Andrews
August 25 - Like Lovers Do (Girls Trip #2), by Tracey Livesay
August 25 - Harrow the Ninth (Locked Tomb #2), by Tamsyn Muir
Want to support us and indie bookstores at the same time? All print books on this list have been collected in a list over at Bookshop, too!
Reminder!
LGBTQ Reads keeps a list of new releases that includes queer fiction of every genre.
WoC in Romance publishes new release lists roughly weekly.
Girl Have You Read does the same.
What books are you looking forward to this month?
***
If you appreciate our content and wish to support the site, please consider using the affiliate links in this post and below for your shopping needs. Even if you don't buy the book in question, we receive a small % of your purchase from the vendor. As always, you are welcome to leave us a tip on Ko-Fi or join our Patreon!
Support Love in Panels