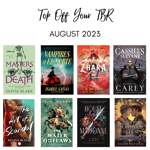 Lots of fun releases on the way in August! For example, I was lucky enough to read an early copy of Regina Black's debut, The Art of Scandal, and I think you should read it. More about that below.
I'm trying to squeeze every last drop out of summer so I'm keeping this short! Hope you find something great to read this month.
This post contains affiliate links.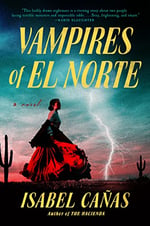 Vampires of El Norte, by Isabel Cañas - August 15

Vampires and vaqueros face off on the Texas-Mexico border in this supernatural western from the author of The Hacienda.
As the daughter of a rancher in 1840s Mexico, Nena knows a thing or two about monsters—her home has long been threatened by tensions with Anglo settlers from the north. But something more sinister lurks near the ranch at night, something that drains men of their blood and leaves them for dead.
Something that once attacked Nena nine years ago.
Believing Nena dead, Néstor has been on the run from his grief ever since, moving from ranch to ranch working as a vaquero. But no amount of drink can dispel the night terrors of sharp teeth; no woman can erase his childhood sweetheart from his mind.
When the United States invades Mexico in 1846, the two are brought abruptly together on the road to war: Nena as a curandera, a healer striving to prove her worth to her father so that he does not marry her off to a stranger, and Néstor as a member of the auxiliary cavalry of ranchers and vaqueros. But the shock of their reunion—and Nena's rage at Néstor for seemingly abandoning her long ago—is quickly overshadowed by the appearance of a nightmare made flesh.
And unless Nena and Néstor work through their past and face the future together, neither will survive to see the dawn.
***
Why I Want to Read It - Cañas' debut, The Hacienda, was one of the best gothics I've ever read. I couldn't fall asleep and I wasn't mad. Can't wait to read what she's got in store for us this time!

Buy a copy: Amazon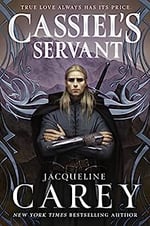 Cassiel's Servant (Kushiel's Legacy, #1.5), by Jacqueline Carey - August 1

The lush epic fantasy that inspired a generation with a single precept: "Love As Thou Wilt."
Returning to the realm of Terre d'Ange which captured an entire generation of fantasy readers, New York Times bestselling author Jacqueline Carey brings us a hero's journey for a new era.
In Kushiel's Dart, a daring young courtesan uncovered a plot to destroy her beloved homeland. But hers is only half the tale. Now see the other half of the heart that lived it.
Cassiel's Servant is a retelling of cult favorite Kushiel's Dart from the point of view of Joscelin, Cassiline warrior-priest and protector of Phèdre nó Delaunay. He's sworn to celibacy and the blade as surely as she's pledged to pleasure, but the gods they serve have bound them together. When both are betrayed, they must rely on each other to survive.
From his earliest training to captivity amongst their enemies, his journey with Phèdre to avert the conquest of Terre D'Ange shatters body and mind… and brings him an impossible love that he will do anything to keep.
Even if it means breaking all vows and losing his soul.
***
Why I Want to Read It - I loved Kushiel's Dart and the relationship between Phedre and Joscelin, so I'm looking forward to revisiting the story in this book. Normally, the "hero's side" books feel gimmicky and end up quite boring, but since it's been two decades at this point, I'm willing to give it a shot!

Buy a copy: Amazon
Books I've Read Early:
Disclosure: I received copies of these books from the publisher for review.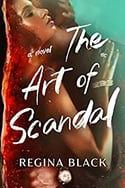 The Art of Scandal, by Regina Black - This is Black's debut, but it really doesn't feel like one. There's a richness of character and an emotional intelligence present that really ground the soapy scandal of it all. The incisive social and political commentary is a big part of the novel, but it doesn't read as a "message book." It's so well balanced, just really well done. I wrote a more coherent review for Shelf Awareness.
Masters of Death, by Olivie Blake - Wow, what a ride. If you like Good Omens or Terry Pratchett's Mort books, pick this up immediately. Very funny, lots of moving parts, a highly entertaining ensemble cast, and an interesting magic system. Two romance arcs! I covered this for Shelf Awareness, too. Steve West does the audio and is fantastic as always.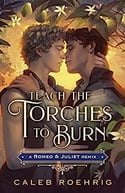 Teach the Torches to Burn (Classics Remixed), by Caleb Roehrig - Roehrig did a great job with this Romeo & Juliet retelling. It's the perfect blend of romance and danger, with an appropriate amount of angst and a happy ending. I loved how the author handled the feud and incorporated Juliet into the extremely male-dominated cast. (I think Juliet is the only woman with actual face time.) Multiple secondary characters lie on the aroace spectrum, which is rare in historical fiction and appreciated by this reader. Friar Laurence almost stole the show. Read this book for him alone.
I read this on audio and Max Meyers did a great job. Again, the cast is almost entirely men, which means a single narrator has a lot of voice work to do.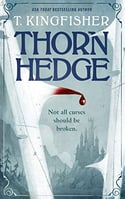 Thornhedge, by T. Kingfisher - Kingfisher's fairy tales are excellent. This one is lighter on the romance than Bryony & Roses, but has the HEA I wanted after the very sweet buildup. The heroine is a toad faerie and the experience of being in her skin was so cleverly done. This is a slower paced story, but it's a novella so it's not a drag. I reviewed this for Shelf Awareness as well, so you can find that review over there when published.
My Roommate is a Vampire, by Jenna Levine - Roommance, vampires and a hot mess heroine. This really should have worked for me, but it fell flat. There were some funny moments, but the old-timey man wakes up after 100 years bit got stale pretty quick. I didn't get the tension or depth I needed, which makes for a pretty fluffy but surface-level read. That said, the book was picked as an Indie Next title, so other people love it!
Also out this month:
All titles in red are links to Amazon. Check out the full list here.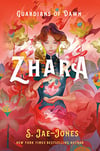 August 1 - Zhara (Guardians of Dawn, #1), by S. Jae-Jones
August 1 - The Art of Scandal, by Regina Black
August 1 - With Love, from Cold World, Alicia Thompson
August 1 - The Roommate Pact, by Allison Ashley
August 1 - The Déjà Glitch, by Holly James
August 1 - Tastes Like Shakkar, by Nisha Sharma
August 1 - Change of Plans, by Dylan Newton
August 1 - Cassiel's Servant (Kushiel's Legacy, #1.5), by Jacqueline Carey
August 1 - Family Lore, by Elizabeth Acevedo
August 1 - Kiss the Girl (Meant to Be, #3), by Zoraida Córdova
August 1 - Bring Me Your Midnight, by Rachel Griffin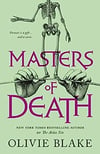 August 8 - Masters of Death, by Olivie Blake
August 8 - Marry Me by Midnight, by Felicia Grossman
August 8 - Accidentally in Love, by Danielle Jackson
August 8 - Forged by Blood (The Tainted Blood Duology, #1), by Ehigbor Okosun
August 8 - Text Appeal, by Amber Roberts
August 8 - Cruel Seduction (Dark Olympus, #5), by Katee Robert
August 15 - This Cursed Light (The Last Finestra, #2), by Emily Thiede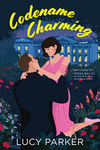 August 15 - Codename Charming (Palace Insiders, #2), by Lucy Parker
August 15 - The Witch is Back, by Sophie H. Morgan
August 15 - The Secret to a Southern Wedding, by Synithia Williams
August 15 - New Adult (Boy Meets Boy, #3), by Timothy Janovsky
August 15 - Thornhedge, by T. Kingfisher
August 15 - Vampires of El Norte, by Isabel Cañas
August 22 - Knockout (Hell's Belles, #3), by Sarah Maclean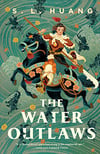 August 22 - The Water Outlaws, by S.L. Huang
August 22 - Teach the Torches to Burn: A Romeo & Juliet Remix, by Caleb Roehrig
August 22 - Foxglove (Belladonna, #2), by Adalyn Grace
August 22 - In Charm's Way, by Lana Harper
August 22 - Shucked, by Kate Canterbary
August 22 - Once a Rogue, by Allie Therin
August 29 - Never a Hero (Only a Monster, #2), by Vanessa Len
August 29 - Kissing Kosher, by Jean Meltzer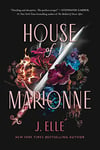 August 29 - House of Marionne, by J. Elle
August 29 - The Love Plot, by Samantha Young
August 29 - My Roommate is a Vampire, by Jenna Levine
Reminder: all of these books are collected in a list over at Amazon for your convenience.
That's a wrap! Hope this list helps and, as always, I'd love to hear what you're picking up this month!
***
If you appreciate our content and wish to support the site, please consider using the affiliate links in this post and below for your shopping needs. As always, you are welcome to leave us a tip on Ko-Fi!
Support Love in Panels