Something a little different today - a subscription box review!
I made an awkward video if you want to listen to me say most of the things I'm writing here. Ta da!
First, a disclosure: I met Thien-Kim Lam, owner of Bawdy Bookworms, at RWA in July of 2018 and we talked about launching a project to tell media and reviewers about diverse romances, particulary #OwnVoices and Indie romance. You can read about the project here.
Before I met her, however, I made a few purchases from the site and was happy with them. So when Lam asked me if I wanted to review the Fall 2018 box, I said "of course!" Make of this what you will.
***
The "Bawdy Book Box Quarterly" is exactly what you think it is - a subscription for a box of stuff that arrives once every three months.
From the description:
Each Bawdy Book Box contains:
-A super steamy book: Sassy woman? Hot guy? Erotic bedroom action? Check, check, and check. Watch out for sparks flying off the page.
-A mind blowing bedroom toy: Need we say more? Yes, batteries are included (if needed).
–2-3 sensual surprises for a complete mind-body experience
–Plus bedroom tips and tricks
-Access to our exclusive, subscriber-only group Bawdy Bookworms Circle: Where else will you discuss the searing kiss from Chapter 8?
The box I received for review is the October or Fall 2018 box, with a theme of Hidden Treasures. I took a bunch of photos as I opened it up, so let's get into it!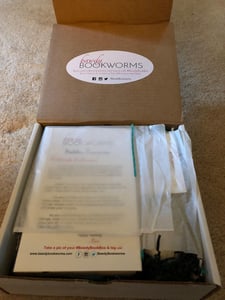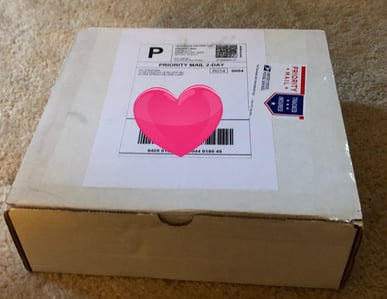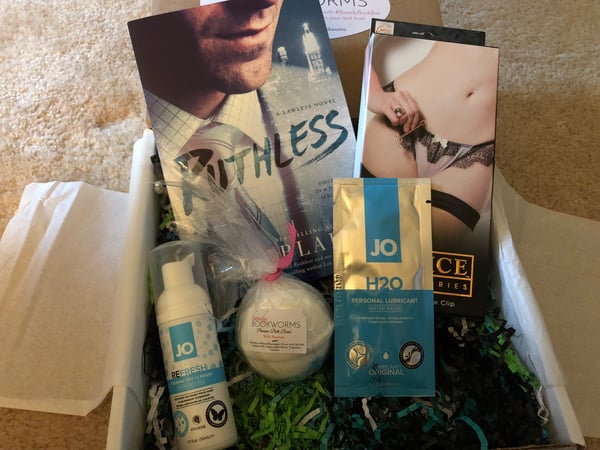 Each box is discreet and the shipping address is nondescript. It's fairly small, but packed full of stuff.
This box has an erotic romance paperback, Ruthless, by Lexi Blake, plus an ebook by Rebecca Hunter, One More Night. It also contains a foaming toy wash and a waterbased lube sample, a bath bomb, and these adorable paperclips that look like dog bones until you put them on paper... and then they look like a different sort of bone.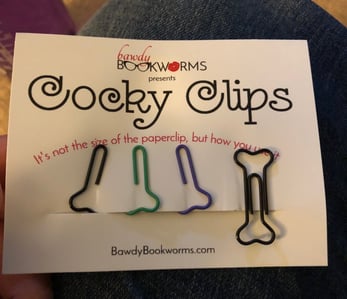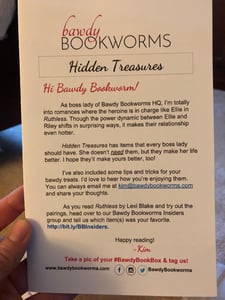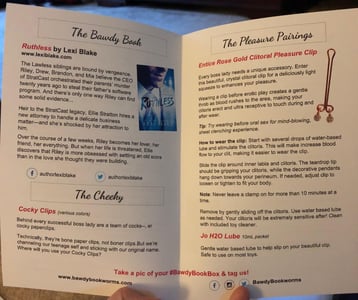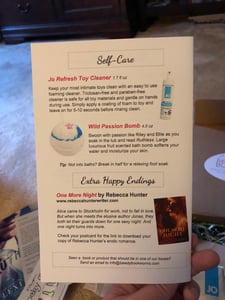 There's also, of course, the toy. This quarter's toy is something I'd never used before or heard of, to be honest - a clitoral clip. It's really cute, but how the heck do you safely use it?
My favorite thing about this subscription is the booklet that comes with the box. In the photos, you can see all four pages, which talk about the books, the accessories, and the toy, with instructions on how to use everything. Lam has a writing voice that's both straightforward and a little funny, as though a friend was walking you through something. Not so sterile as to ruin the whole mood, but without euphemisms or other confusing language that might be cute but isn't helpful.
At $39.95 a quarter (that's about $13.30 a month), I think this box is a great value. Trade paperback books, in this case Ruthless, sell for around $15 (this is $10.50 on Amazon right now) and the toy in each box is about as much. Add in the other goodies and shipping and you've gotten your money's worth.
If you want to upgrade to a bigger, badder toy, there are a couple of specialty boxes available for purchase at any time, priced at around $100. If you want to try things out, I recommend looking at some of the smaller boxes that are for sale in the shop or waiting for one of the BB mystery box sales. Those have been really fun in the past!
But it's also about the experience, right? There's a book chat group each quarter, where you can get together to talk about the book in detail. The Bawdy Bookworms blog is also really fun and keeps you engaged between boxes. I especially like the "Pleasure Pairings" post which pair a toy and a book.
So here's my review:
Good value, great booklet, really fun blog.