I live in a state where fireworks are legal, sold on the side of the road, in the dang grocery store... I have a love-hate relationship with them. That said, I've loved Erin McLellan's So Over the Holidays series, so I was excited to read Bottle Rocket. These erotic romance novellas follow the Holiday siblings and are set around Christmas, Valentine's Day and now Independence Day and they're packed with sex toys, a bit of kink and queerness.
If you haven't already read my review of Bottle Rocket, go check it out!
In today's post, Erin answers some questions about the book, the characters and what it's like writing a book during a pandemic.
***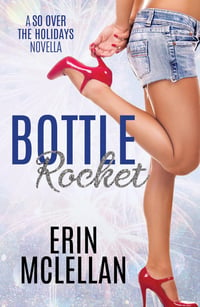 An opposites attract, second chances romance with a good girl heroine learning to take control and a bad boy hero willing to give it up for her.

About the Book:

Freshly single Rosie Holiday is on the hunt for passion and excitement. This leads her to Leo Whittaker—a bad boy who waltzed out of town, and her life, thirteen years ago. Leo isn't the type to stick around, but Rosie's not going to let a no-strings opportunity pass her by.

When a business trip sends Leo back to his hometown, the last thing he expects is for his first love to hand him a list of scorching-hot escapades and a deadline. He's happy to help Rosie discover her bossy side in the bedroom. Or in a fireworks stand. Or at a Fourth of July barbecue.

Their chemistry burns bright and fast, but what tore them apart years ago is still between them. They are polar opposites. A reserved kindergarten teacher and an irreverent artist. A nester and a wanderer. It will take a spark of imagination and a lot of love to keep their second-chance romance from flaming out.

Content Warnings: explicit sex and language; discussions of cheating, gaslighting, and divorce. For more info - https://www.erinmclellan.com/2020/05/03/content-warnings-for-bottle-rocket/

Order now: https://amzn.to/2YN4637

***

Can you share with us something about the book that isn't in the blurb?

There's an orgy … Oh, and also the readers will get to meet a wonderful, large queer cast.

What was the inspiration for the story?

I've been trying for years to finagle a fireworks stand into a story, but I've never been successful. Even this story originally had many more fireworks stand scenes. I grew up working at fireworks stands every summer, and it was always so much fun. When I started plotting this story, I planned for it all to be based around working at a fireworks stand. That didn't hold up, but it was the initial seed of an idea.


What is the key theme and/or message in the book?

I think there are a couple, but the main one is probably that the traditional happy-ever-after with the white picket fence and the marriage and the 2.5 kiddos isn't right for everyone. Sometimes, unconventional is better.


If you had to describe Rosie in three words, what would those three words be?

Reserved, practical, bossy


If you had to describe character Leo in three words, what would those three words be?

Free-spirited, artistic, rebellious


What were the key challenges you faced when writing this book?

I faced quite a few obstacles while writing Bottle Rocket. I actually had to start over more than once, but my main challenge is the challenge that so many people are having right now. I drafted most of this book in February and March 2020 during the beginning of the coronavirus crisis. I was overwhelmed by anxiety, grief, isolation, fear. It made it hard to write a happy, sexy romance, but Bottle Rocket also gave me a light to focus my energy on, and I'm very thankful this was the book I was in the middle of when the crisis began.

What is the significance of the title?

I titled Bottle Rocket before I wrote the book, which is unusual for me. I knew I wanted this book to be named after a firework or firecracker. I kicked around a few ideas, but finally settled on this one. Bottle rockets are dangerous. In fact, they're illegal in some states, like Oklahoma, where I grew up. It felt it was the perfect title for my book about a bad boy and the good girl he helps corrupt.


Does one of the main characters hold a special place in your heart? If so, why?

I love Rosie. Readers of the So Over the Holiday series have met Rosie and know her as the pragmatic and oldest Holiday sibling. It was a ton of fun to write a buttoned-up heroine who wants to let loose a little. As an uptight person myself, I find Rosie very relatable. She wants security, independence, and respect, and asserts control over her life in order to get it. She's a kindergarten teacher, but she's also a badass.


***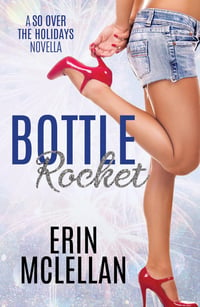 Bottle Rocket released on June 15, 2020.
You can pick up a copy at Amazon (it's in KU) here: https://amzn.to/2YN4637

Connect with Erin: