Today we're super excited to share a guest post and cover reveal from Suleikha Snyder. We've been holding this secret for a little while now, but it's felt like months. We can't wait for you to see it!
Below Suleikha tells us a little about the novella and the cover process. It's a fascinating look inside the growing illustrated-cover trend and you are going to swoon/squee/flail at this cover. Enjoy!
***
It's been almost exactly a year since I published Tikka Chance on Me, my steamy runaway hit of a contemporary romance. What better way to celebrate the novella's first anniversary than by sprucing it up a little with a whole new look? Thank you so much to Suzanne and Love in Panels for letting me ramble and reveal here!
Going illustrated was a no-brainer. It's all the rage right now in both paperback and e-book…and a great way to capture an interracial pairing when stock art in that area is tragically limited. Sure, my original cover for TCOM is extremely cute, but it's a premade cover of two people's legs—and I asked the designer, James at GoOnWrite.Com, to darken the strip of ankle showing above the woman's high-heeled boot. A reader recently told me she'd noticed that. That it meant something to her. That's how desperate we are for representation, to just be seen. And going illustrated meant that I could have more than just a strip of ankle…that I could give my beloved heroine, Pinky, a fully brown body. That, my friends, is heady as hell.
So, I knew that I wanted my protagonists, to still feel real—to have facial expressions and skin tones that matched Trucker and Pinky's descriptions in the book. More than one person recommended Erin O'Neill Jones, at ONeillJones.com, and I immediately knew she was the right artist for the job. Her work for the Romance Sparks Joy book club and Alyssa Cole's Can't Escape Love is pitch-perfect, full of personality and passion…and she brought that same energy to Trucker and Pinky. Even in her initial sketches, they leapt off the page. And her final product…? Wowza. I couldn't be more thrilled!
What do you think?
Check out the brand-new cover for Tikka Chance on Me: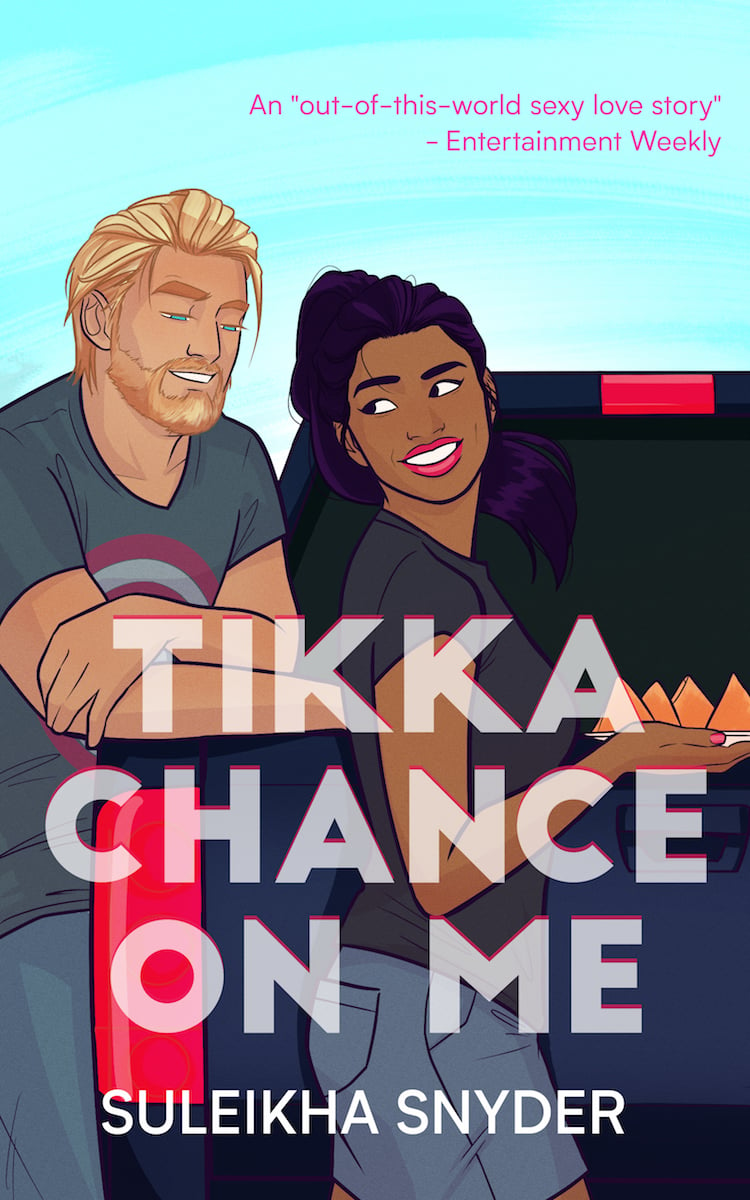 About the Book:

He's the bad-boy biker. She's the good girl working in her family's Indian restaurant. On the surface, nothing about Trucker Carrigan and Pinky Grover's instant, incendiary, attraction makes sense. But when they peel away the layers and the assumptions—and their clothes—everything falls into place. The need. The want. The light. The laughter. But is it enough? In this steamy contemporary romance that Entertainment Weekly calls "so flaming-hot it might just burn you," Trucker and Pinky won't find out until they take a chance on each other—and on love.
Buy a Copy: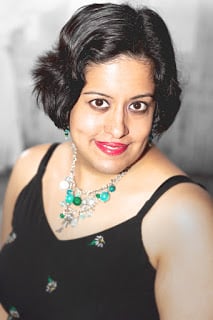 About the Author:
Suleikha Snyder is a best-selling and award-winning author of contemporary and erotic romance, whose works have been showcased in Entertainment Weekly, BuzzFeed, The Times of India, and NPR.
A second-generation Indian-American, Suleikha grew up in the heartland of America and in two cultures. From an early age, Suleikha was enraptured by books, film, and television...finding a place to belong amidst the crew of the Millennium Falcon and outside the glittering ballrooms of the ton, looking in. She soon began writing original stories as well as fan fiction—something she still does today—but detoured into entertainment journalism rather than pursuing creative writing as a career. After more than a decade in print media, and well after her humble beginnings scribbling 21 Jump Street fic, Suleikha is successfully living out her dream of being a romance writer. Her short stories and novellas are sexy, diverse, and sometimes peppered with bits of Bengali or Hindi. Expect masala, masti, and maybe a little mayhem!
A passionate advocate for diversity and inclusivity in publishing, Suleikha is frequently ranting when she should really be adding to her body of work. She currently lives in Chicago, finding inspiration in Bollywood films, daytime and primetime soaps, and anything that involves chocolate or bacon.