Hello, lovely readers!
As I transition Love in Panels back over to a solo blog, the monthly TBR posts will be changing a bit. Not too much, as I've always been the generating most of this list, but now it's just me! LiP will be updated less frequently from now on, but I hope to keep these going for a while. On to the books!
December is usually a pretty light month for new releases and this month has them stacked up on December 1st. Hold onto your seats for January!
*
This post contains affiliate links.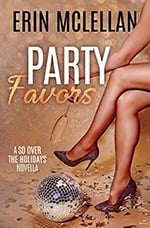 Party Favors, by Erin McLellan - December 1

Three…
Amanda Ellis knows three things: she's tired of doing what's expected of her, she hates her job at her family's business, and the last thing she wants to do is attend her parents' boring New Year's Eve ball with a date her mother picked. A few days of fun with her online best friend is exactly what she needs to ring in the New Year on her own terms.
Two…
Wren Rebello is impulsive and always ready for fun. A last-minute girls' getaway sounds like the perfect way to spend New Year's. But even Wren isn't prepared for the spark of attraction she feels when she meets Amanda in person for the first time. Good thing Wren loves popping Amanda's cork.
One…
After days spent sharing end-of-year resolutions and the one bed in their cottage, the clock strikes midnight and the ball drops on their time together. As Amanda and Wren go their separate ways, they leave new resolutions unfulfilled. Is there enough New Year's magic left to turn their online friendship into real-life love?
***
This series has been really great for when you need a queer, character-driven erotic romance and I'm super excited for Party Favors because it's f/f! And New Year's! Huzzah!

Buy a copy: Amazon (Kindle Unlimited) ◊ Paperback: Barnes & Noble ◊ Bookshop