One last TBR post as we send off 2021!
The whole list is collected over at Amazon and Bookshop for your convenience.
*
This post contains affiliate links.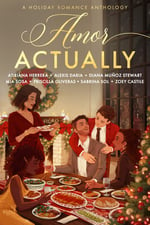 Amor Actually Anthology - December 7

Nochebuena. One Party. Nine Happily Ever Afters.
It's Christmas Eve in New York City, when anything is possible. For these couples, it's the season to find true love. From second chances, big leaps, missed connections, and reconnections, this charming collection celebrates the spirit of the holidays and delivers nine perfect HEAs.
From seven acclaimed and bestselling Latina authors—Zoey Castile, Alexis Daria, Adriana Herrera, Diana Muñoz Stewart, Priscilla Oliveras, Sabrina Sol, and Mia Sosa—comes a holiday romance collection like never before.
Make the Yuletide Gay • Adriana Herrera
After a string of broken engagements, an international Latin Pop Star finds love in her sexy and constant manager. Days before her big live holiday special, Vivi wonders if the woman of her dreams could finally be hers.
Only Yours • Sabrina Sol
The Mayor of New York embarks on a Christmas Eve search to find the woman he loves before she gets away.
Meet Me Under the Mistletoe • Priscilla Oliveras
Challenged by his friends to find a plus one to Nochebuena dinner or else, widower Hector Gutierrez isn't sure he's still got any good moves left. That is until he strikes the right chord with his son's music teacher, Cristina.
All I Want for Nochebuena • Alexis Daria
When sparks fly between adult film stars Honey and Julie, Honey must work up the courage to invite Julie to her family's holiday party or risk losing what she really wants for Nochebuena—a chance at true love.
Santa's Eager Little Helper • Mia Sosa
Sarita's plan to confess her crush on a coworker goes awry when she's tasked with playing the Sexy Elf to his grumpy Santa. Will she seize the opportunity to make Carlos's naughty list, or will she spend another Nochebuena alone?
The Nochebuena Dating Dare • Diana Muñoz Stewart
Eneida Lucero takes a second chance on love with the handsome musical director at her school—even if it means causing some Nochebuena drama with her ex-husband and familia.
Love in Spanglish • Zoey Castile
A heartbroken romance writer gets snowed in with a novel-worthy hero who may just make her believe in love again.
To Us, You Are Perfect • Alexis Daria & Adriana Herrera
Newlyweds Pasquale and Yamilette's Christmas is just short of perfect. The missing piece is their best friend Marcelo, who has loved them from afar for years. This Nochebuena, they'll finally complete their happily ever after.
The Great Holiday Escape • Zoey Castile
Gigi is always on the hustle, making sure her little sister has everything she needs including a big Christmas Eve fiesta with all their friends and family. That night, Gigi receives an all-expenses-paid trip to a luxe South Beach weekend where not one, but two beautiful strangers steal her heart.
***
Why I Want to Read It - We all know Love Actually has some issues, but the mechanism of connected storylines puts me in a holiday mood. Combine that with a stellar roster of authors and I've already preordered it.

Buy a copy: Amazon ◊ Barnes & Noble ◊ Kobo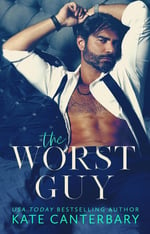 The Worst Guy, by Kate Canterbary - December 28

Eight weeks of forced proximity is a long time to hate someone you're trying not to love.
Sebastian Stremmel doesn't need another headache. He has enough of his own without Sara Shapiro, the noisy new reconstructive surgeon, stomping all around his surgical wing with her chippy, chirpy cheerfulness.
But Sebastian doesn't usually get what he wants.
No one gets under his skin like Sara - so much so a heated "debate" and an exam room left in shambles later, they land themselves in eight weeks of hospital-mandated conflict resolution counseling. Now they're forced to fight fair…which quickly leads them to playing dirty when no one's looking.
They know it's a mistake.
They promise themselves it will never happen again.
They swear they got it out of their systems.
They didn't.
Author's Note: Grumpy/recovering people-pleaser sunshine. Introverts attract. Enemies-to-lovers in the workplace. Banter, bicker, and button-pushing foreplay. Don't tell the friend group, get jealous when the friend group tries to fix her up.
Heat: rip her clothes off before you get the front door open.
Angst: big laughs, big feels, no ugly crying.
***
Why I Want to Read It - Kate Canterbary is on my must-read list because she writes fantastic character arcs and the kind of queerness that feels genuine. Think Kate Clayborn but higher heat.

Important! This is up for preorder at places other than Amazon until release date, then it's going into Kindle Unlimited.
Buy a copy: Amazon ◊ Barnes & Noble ◊ Kobo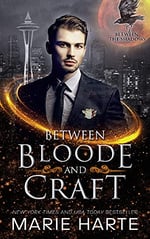 Between Bloode and Craft, by Marie Harte - December 14

A dark grimoire. An enterprising witch. One very annoyed vampire.
Once the enchantment ends, the witch will pay. With her life, or her love?
A paranormal vampire romance from NYT and USA Today bestseller Marie Harte.
Duncan has lived for over two hundred years. As a vampire, he's aware there is very little that can do him harm. Certainly not a sexy young witch he thought he'd seduced. Even worse, he learns she's in possession of a grimoire that has the ability to end all vampires. Forever. Tasked with finding the spellbook, he'll do whatever it takes to destroy it, and he'll take pure pleasure in devouring her.
Macy had no idea she'd ensnare herself by using the grimoire. She found it accidentally. She thinks. Except lately, she keeps using it, even when she's not sure she wants to. When Duncan captures her, the book disappears, and her neck is literally on the line. She can't find the book. He doesn't believe her. And then there's that weird demon guy who wants it too.
With few options left, Duncan uses all his wiles to persuade Macy to give him what he wants. But somehow, he finds himself wanting her more than the book. And when it turns out she has a special connection to him and his kin, it's all he can do not to claim her for his own. But doing so might send him straight to Hell, eternally tortured, with the end to everything he holds dear.
***
Why I Want to Read It - I just listened to the first in the series and while it's got some of the typical paranormal romance nonsense, I'm hopeful that this one will have less info-dumping and more vampire/witch absurdity.

Buy a copy: Amazon

Also out this month (beware, not all are romance!):
(All titles in red are links to Amazon)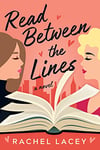 December 1 - Read Between the Lines, by Rachel Lacey
December 1 - Child of Mine, by Karen Grey
December 1 - The Mistletoe Motive, by Chloe Liese (Kobo Original)
December 1 - Fake Santa Apology Tour, by Julie Olivia
December 1 - Innate Magic, by Shannon Fay
December 1 - The Shattered Crown, by Maxym M. Martineau
December 7 - Best Women's Erotica of the Year, Vol. 7 (Collection)

December 7 - Shifters and Mistletoe (Collection)
December 7 - The Darkest Destiny, by Gena Showalter
December 7 - The Excalibur Curse, by Kiersten White
December 7 - If This Gets Out, by Sophie Gonzales

December 7 - The Righteous, by Renée Ahdieh
December 7 - Fools In Love: Fresh Twists on Romantic Tales (Collection)
December 7 - The Big Reveal, by Jen Larsen
December 7 - The Midnight Girls, by Alicia Jasinska

December 7 - Heart of the Impaler, by Alexander Delacroix
December 7 - The Coldest Touch, by Isabel Sterling
December 7 - High Jinx, by Kelley Armstrong
December 12 - Twelve Naughty Days (Collection)
December 14 - An Accidental Odyssey, by KC Dyer
December 14 - Return All, by Eve Dangerfield
December 14 - The One Night, by Meghan Quinn
December 14 - Crooked Shadows, by M.A. Grant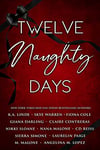 December 14 - Spectacle, Vol 4., by Megan Rose Gedris (Graphic Novel)
December 14 - The Love Con, by Seressia Glass
December 17 - Fast Acting, by Adele Buck
December 20 - Grey Magic, by Jeffe Kennedy
December 21 - How Not to Fall in Love, by Jacqueline Firkins
December 22 - Fire of the Frost, by Darynda Jones, Jeffe Kennedy, Grace Draven and Amanda Bouchet
December 28 - Here's to Us, by Becky Albertalli and Adam Silvera
December 28 - A Most Unusual Duke, by Susanna Allen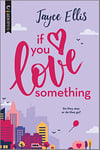 December 28 - If You Love Something, by Jayce Ellis
December 28 - Better Off Wed, by Susanna Craig
December 28 - The Bad Boy Experiment, by Reese Ryan
December 28 - Proper Scoundrels, by Allie Therin
December 28 - The Redemption of Philip Thane, by Lisa Berne
All of these books have been collected in one easy Amazon list.
Want to support us and indie bookstores at the same time? All print books on this list have been collected in a list over at Bookshop, too!
Reminder!
LGBTQ Reads keeps a list of new releases that includes queer fiction of every genre.
WoC in Romance publishes new release lists roughly weekly.
Girl Have You Read does the same.
What books are you looking forward to this month?
***
If you appreciate our content and wish to support the site, please consider using the affiliate links in this post and below for your shopping needs. Even if you don't buy the book in question, we receive a small % of your purchase from the vendor. As always, you are welcome to leave us a tip on Ko-Fi!
Support Love in Panels